---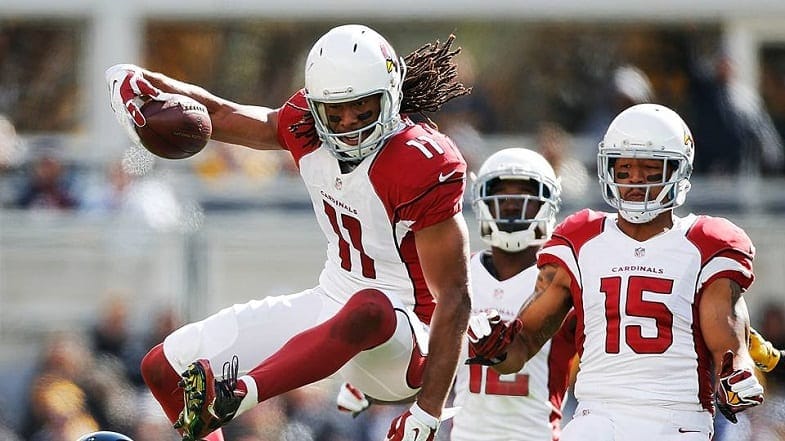 Larry Fitzgerald has quietly had one of the best careers for a wide receiver in the history of the NFL. The reason I say "quietly" is simple. People annually underestimate him, and he continues to prove everyone wrong.
Fitz will turn 35 years old prior to the start of the 2018 season (August 31 to be exact). And although the general public has tried to put a cork in his career, he just comes out and piles on one 1,000 yard season after another. In fact, he has reached the 1,000 yard mark three years in a row, and in the process he has averaged 108 catches during that time frame.
Such achievements would be considered great for any receiver, let alone an aging athlete, who is staring Canton straight in the eye.
What makes all of his accolades so much more impressive, is the fact that he has had to endure so many quarterback changes throughout his career. When Carson Palmer arrived in the desert a few years ago, people didn't really give him much credit. But together with the future Hall of Fame wideout, he made a name for himself, and found himself resurrecting his career, after being cast off from Cincinnati for an annually disappointing Andy Dalton.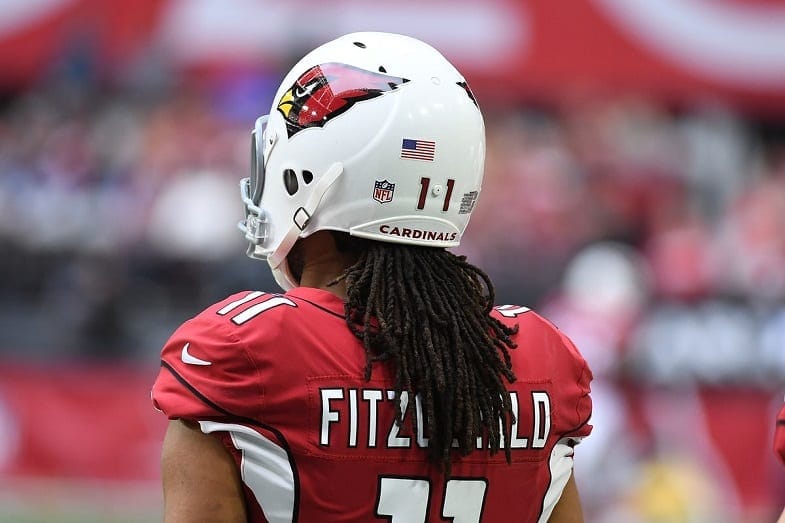 Last season was extremely challenging for Fitzgerald. Palmer only played five games all year, after suffering a broken arm, Fitz was left to deal with another quarterback carousel, which included four games with Drew Stanton and another five games with woeful Blaine Gabbert, who wasn't good enough to keep his job in Jacksonville. But none of this deterred the dreadlocked beast, who charged forward to finish the season with 109 receptions, for 1,156 yards and six touchdowns.
The new season brings a new sense of optimism. The Cardinals drafted an exciting new quarterback in Josh Rosen, while also signing Sam Bradford during the offseason. The changes at quarterback are nothing new for Fitz, and this could all be a blessing in disguise. Rosen could be the x-factor the team has been looking for. If all goes well and he gets on the same page as his leading receiver, he could shine early in his rookie season.
For his part, Fitzgerald no longer has anything to prove. His legacy is as secure as it gets. Over the course of his incredible career, he has accumulated 1,234 receptions for 15,545 yards. He also holds the record for the most seasons with 90 or more receptions (8 seasons). But this season provides new opportunities even for him.
Fitz has a good chance at reaching three major milestones this upcoming season. First, he needs 92 catches to surpass Tony Gonzalez for the second most receptions in NFL history. Tony G called it a career with a total of 1,325 catches. Moreover, Fitzgerald needs just 389 yards to leapfrog Terrell Owens for second all-time in yards (15,934 yards).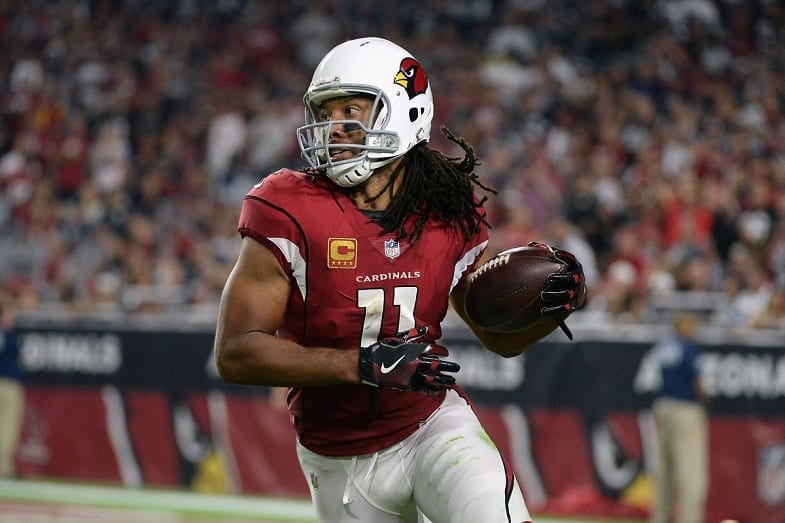 Currently in eighth place in receiving touchdowns, he would need five more TDs to move into sole possession of 6th place on the all-time list. If he reaches this accolade, he would pass two great tight ends, in Tony Gonzalez and Antonio Gates (although Gates could be back with Chargers after Hunter Henry tore his ACL this offseason).
If he is able to achieve all three of these milestones, it would likely solidify him (at least statistically), as the second best wide receiver to ever play the game. The best would be the great Jerry Rice of course, who had an absurd 1,549 receptions and an unfathomable 22,895 receiving yards.
No matter what he does in 2018, Larry Fitzgerald is a model for any young wide receiver (or player for that matter) on how to be a professional. Taking care of his body, not losing motivation or effort, and being a great teammate, are all characteristics that have made him one of the best wide receivers to ever play this game. And if he chooses to retire, it certainly doesn't appear to be because of a decline in his abilities, as he continues to defy father time.