---
The last few months have been emotional for fans of the Indiana Pacers. It was bad enough when their team was struggling through the 2016-17 season, but then Paul George announced he wasn't going to stay with the team.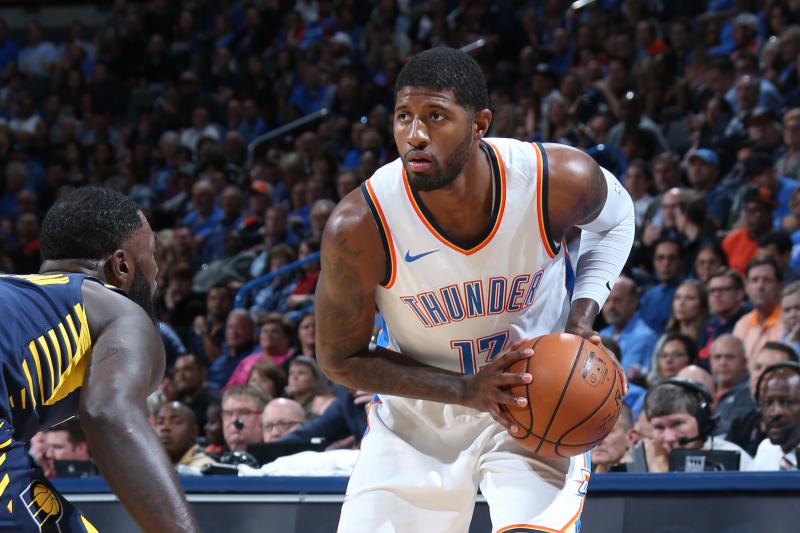 As bad as that news was, it was buoyed by the thought of what the team could get in a trade for a player of George's caliber. Surely with the combination of draft picks and players, the team could come out on the other end in good shape for the 2017-18 season, right?
The Pacers traded him to the Oklahoma City Thunder for Victor Oladipo and Domantas Sabonis.
That's it.
The move was widely criticized by the media and had fans and other players wondering why the Pacers didn't hold out for more. Kevin Durant went as far as to say he thought the Pacers gave him away during an appearance on the Bill Simmons Podcast:
"So that was shocking because Indiana just gave him away. And I ain't think OKC would even think about giving up anything to trade for him. I didn't think they would do it, but that was a ballsy move."
Durant wasn't the only person to feel that way. But with the news of his intent not to return to Indianapolis and his desire to play for the Los Angeles Lakers so well-known, the Pacers didn't exactly have a ton of leverage.
Surely, they could have done better than a couple of marginal talents like Oladipo and Sabonis, right? How could they have let the Thunder rob them? Could it be because they knew both players were severely under-utilized in Oklahoma City? Could it be because they knew both guys were better and could be cornerstones of the Pacers going forward?
Because about a month into the season, Oladipo and Sabonis are looking like they could be just that.


It is still early in the season (21 games), but Oladipo is leading the team in scoring with 23.0 points/game (a new career high). He's ranked 12th in the league in scoring ahead of Paul George and Russell Westbrook.
The increase in scoring (he averaged 15.9 points/game for the Thunder last year) can easily be explained by more shot attempts. But he's also become more efficient with career highs in shot percentage (47.4 percent) and three-pointers (46.2 percent).
His 3.3 turnovers a game is more than the team would like. But considering everything he adds to the team, they'll deal with them as they come.
As for Sabonis, after a so-so rookie season last year, he has made the most out of his time with the Pacers. He's played in 19 of 21 games and started eight. When he does play, he is producing well. So far, he is averaging 13.3 points and 8.8 rebounds a game. He had one stretch here he recorded a double-double in five of six games.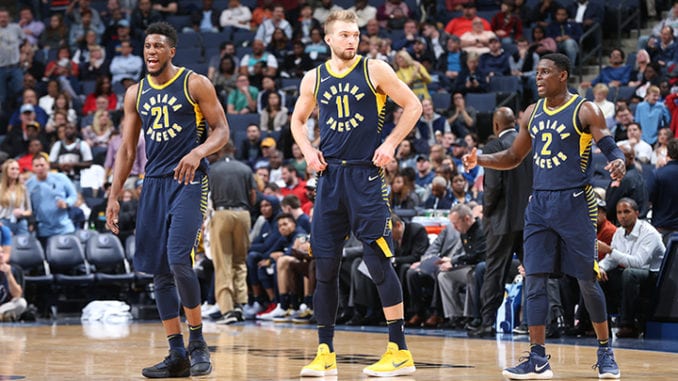 Both guys have become much better players than they appeared to be when the Pacers traded Paul George for them. Sabonis is only 21-years old and Oladipo just 25. So, both could very well become the core of the Pacers for years to come.
Paul George was going to leave. Had the Pacers sat on their hands and done nothing, they would not look as good as they have this season. Instead, they look like a potential playoff team. They also appear to have the beginnings of a solid core for years to come. That doesn't sound like a team that lost a trade, but more like one who won a trade.
Did they?
Nineteen games into his time with the Thunder, George is averaging 20.4 points/game. So far, the Thunder have lost more than they've won (8-11). But they are also figuring out how to integrate their Big Three (George, Russell Westbrook and Carmelo Anthony). That can take time. Maybe they are not playing as well as fans would like, but Big Three's take time to gel.
Chances are good the Thunder have yet to play their best basketball.
So—did the Pacers lose this trade? Absolutely not. Could the haul have been bigger? Maybe, but there isn't anything wrong with what they got.