---
In Part I of Sports Retriever's running NBA Draft preview, I took a look at some of the year's most pro-ready prospects. This time I'll look beyond the top of the draft at a handful of players who could be steals outside the lottery.
As of right now, the NBA lottery hasn't been held, so it's tough to compile a very strategic mock draft. Generally speaking though, mocks and rankings around the internet settle into something that loosely speaks to the range in which different players are being projected. Based on these early evaluations, the following players seem unlikely to become lottery picks. But don't be surprised if at some point they look like some of the most valuable selections of the 2018 draft.
Lonnie Walker IV – SG, Miami 
Lonnie Walker came into the 2017-18 season as one of the most highly touted freshmen in the country (13th in the ESPN 100) but underwhelmed early. Part of that, though, can be chalked up to the fact that he had barely recovered from knee surgery in time to play this season. Once he got going, Walker looked a lot more like the player he was supposed to be coming out of high school.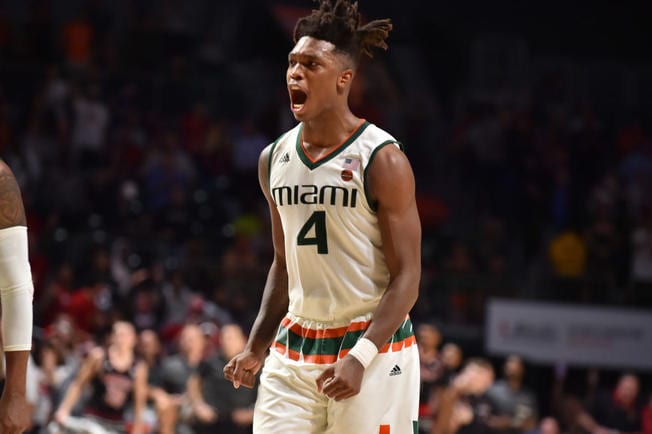 His stats won't wow you (largely because of that slow start), but at 6'4'' with a 6'11' wingspan and electric athleticism, he looks the part of a modern NBA wing. Walker shoots well enough from behind the arc (just under 35 percent) to make you believe he can at least be a decent NBA shooter, and he has no trouble getting to the rim or scoring in transition. His defense isn't quite where you'd like it to be, but defense from one-and-done prospects is tough to project anyway, and he has the tools to improve.
Looking around, it seems that Walker has a chance to go late in the lottery. But even if he slips out, it's easy to imagine him turning out better than about half the guys considered to be lottery locks. 
Omari Spellman – F, Villanova
People just don't seem to have caught up to how good Omari Spellman is. Coming out of high school he was visibly overweight, and ranked just 18th in his class. He then sat out a year due to academic eligibility issues. Finally, he played his freshman season for the 2017-18 national champions – only he was running alongside a lottery prospect in Mikal Bridges and one of the most accomplished college guards this century in Jalen Brunson. That, plus the fact that you could still see some baby fat on him, seemed to keep him under the radar.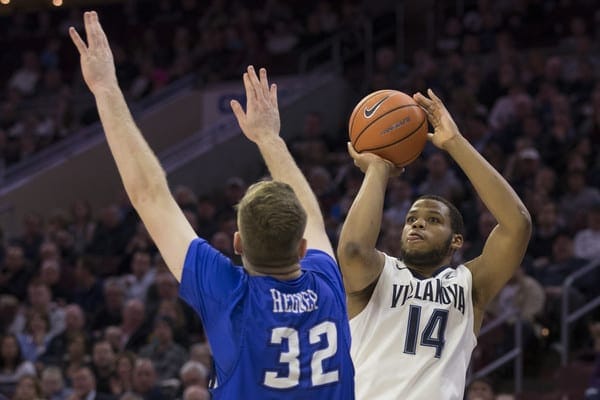 So let's frame him another way: Spellman is now 6'9'', 245 lbs with a 7'1'' wingspan. He grabbed 8 rebounds and 1.5 blocks in just 28 minutes per game, and he shot 47.6 percent from the field and 43.3 percent from three (on nearly 4 attempts). He's a big man with an excellent midrange game, solid three-point shot, and natural shot-blocking ability, and he undeniably played himself into shape, as evidenced by his ability to contribute in Villanova's blistering transition offense. Considering a few NBA forwards known for their shooting, Spellman is a better defender and comparable shooter to Lauri Markkanen; his freshman stats compare favorably to Al Horford's as a junior. And he's got room to improve.
Spellman is still eligible to withdraw his name and return to Villanova, but if he stays in the draft he's going to be a massive steal in the mid- to late-first.
Khyri Thomas – G, Creighton
No disrespect to Creighton, which has a terrific basketball program, but if Khyri Thomas were playing at a "blue blood" school or anything like one, he'd likely be a projected lottery pick. Granted, he's also a little old for the lottery coming off of his junior season, but he's the type of guy just about every team wants (and needs).
Thomas is known primarily for his defense. He uses his nearly 7-foot wingspan to harass opposing guards and wings alike, and he's an effective player in transition when he forces a steal. He's also a very reliable shooter, having hovered around 40 percent from behind the arc throughout his three years at Creighton. Thomas isn't the most effective setup man just yet, but his floor seems to be a rotational 3-and-D guy, which where he's being projected (late-teens to mid-20s) is a very valuable pickup.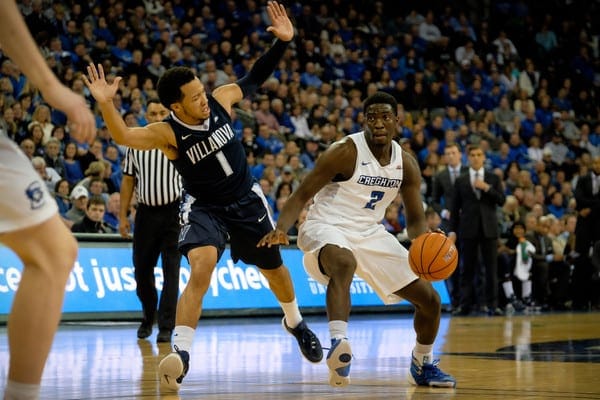 To use a comparison relevant to the NBA playoffs, there's nothing stopping Thomas from becoming a slightly bigger version of Terry Rozier. (For that matter, he might just be that perfect blend of Rozier and Marcus Smart that Celtics GM Danny Ainge probably wishes he could create rather than eventually having to pick one.)
Shake Milton – G, SMU
Shake Milton is a guy who's being projected mostly outside of the first round. CBS Sports' Gary Parrish had him 30th in a recent mock, but just about everywhere else you look he's more of a mid-second rounder. From a brief eye test, I kind of get it. There's something almost indescribably awkward about Milton's game – a narrow shooting release, a lanky build, and even a tendency to fall down a little too often.
That said, Milton is a gifted player with NBA height and length who should become a versatile pro guard. He's a 6'6'' player who can play either guard position, and he scored 18 PPG this past season while shooting 43.4 percent from three on 5.9 attempts per game. His 4.4 assists per game aren't turning any heads, but watching him play leaves no doubt he can get the ball where it needs to be. He's just a guy who can pick a defense apart, even if he looks a little strange doing it. And as Parrish pointed out in the aforementioned CBS Sports mock, SMU – which went 17-16 overall – went just 2-9 over its last 11 when Milton was out with a hand injury. That's a small sample of the impact he can have.
Defense and strength are potential issues at the next level, but Milton profiles as a nice combo guard and a potential second round steal.
Theo Pinson – G/F, North Carolina 
As I noted in a piece on potential Spurs picks a couple months ago, it's baffling to me that Pinson's NBA potential isn't a bigger talking point. He's a versatile guard/forward type who can defend just about anybody, from opposing point guards to Marvin Bagley (on whom he did about as good a job as anyone else in the country this past season).
Pinson is already 22 years old and has yet to develop a 3-point shot, which is likely the main thing holding him back. But he works incredibly hard on the court, he's the main reason North Carolina largely outperformed its talent level the last three years, and he'd bring toughness to any team that picks him. And if that team happens to be able to teach him how to shoot, look out.
Pinson is so far down draft boards it looks as if he may not be picked at all, but someone will pick him up one way or another, and be very happy to have done so.