---
There is no exact definition of a dynasty in sports. But we can go ahead and start calling the Warriors one. Golden State's third title in four years solidifies it as one of the truly great teams in NBA history, and there's more than a little potential for them to win a few more in the coming years.
By all appearances, this was the Warriors' easiest run through the Finals these last four years. The series lasted only four games, and it's clear that the Warriors were challenged more in their Western Conference Finals matchup against the Houston Rockets. That said, it's hard to imagine a more interesting NBA Finals sweep than the one we just saw. The broad narrative doesn't really need a write-up: LeBron James played great and the Warriors swept anyway. But here are some other takeaways from a series that was frustrating, fascinating, and all too brief.
This Was Almost A Competitive Series
It's impossible to know how significant the Cavs' debacle at the end of Game 1 was. We don't know that the Cavs would have scored and won the game if JR Smith hadn't gotten the score wrong and run out the clock. But he'd have had either a good look or a kick-out to a scorching hot LeBron James. If either happens, we're at least waiting on Game 5 right now. Plus, James would have had no reason to punch a whiteboard and injure his hand – which doesn't seem to have held him back much, but can't have helped.
The Cavs were tied at the end of regulation in Game 1 and down two at home after three quarters in Game 3. This was about as close as a sweep can be to going 6 or 7 games.
These Warriors Never Peaked
As dominant as it is to sweep in the Finals, the Warriors just weren't quite what they were in the 2017 playoffs. In fact, they were at least a little worse by almost every meaningful offensive measure. Here are some of the stats (per 100 possessions):
2017: 116.3 points, 29.7 assists, 49.4 FG%, 38.6 3P%, 12.4 3PM
2018: 111.9 points, 29.0 assists, 48.0 FG%, 35.7 3P%, 11.2 3PM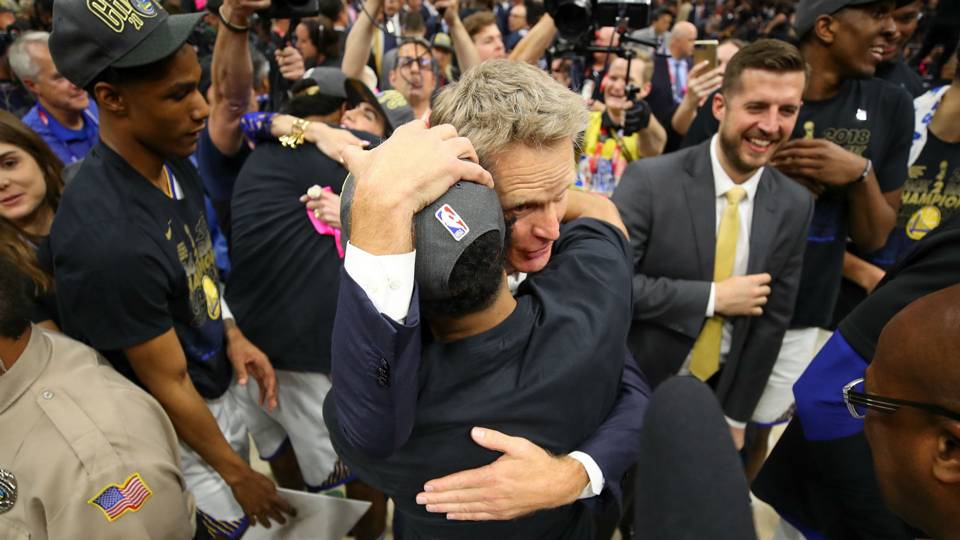 It's not as if those 2018 numbers aren't spectacular. The Warriors just played incredible basketball for the better part of four games. But we didn't see them get quite as machine-perfect as they've been at times these last few years.
In 2015 the Warriors looked unbeatable because the Cavs weren't ready; in 2016, they were beaten. Last year, they simply looked invincible, without any qualifiers. This year – possibly, weirdly, even more than in 2016 – they actually looked like they could've been beaten by a team on its game.
The Dynasty Needs To Be Nurtured
Because of the above, it's fair to say the Warriors' dynasty needs some gentle pruning if it's to endure. Yes, the core of Kevin Durant, Stephen Curry, Klay Thompson and Draymond Green can (and should) keep winning titles. But in a series like the one we just saw, role players were vital too – and the Warriors' are phasing out.
Veteran leader David West, garbage man Zaza Pachulia, and big men Kevon Looney and JaVale McGee (the latter of whom actually had a pretty good Finals) are all hitting free agency. Shaun Livingston, who still played well down the stretch, and Andre Iguodala, a captain in every sense of the word, have slowed down. There still won't be a drastic overhaul this summer. But the Warriors need to give real thought to their post rotation, decide how big of a role to give promising rookie Jordan Bell, and make a good choice with the 28th draft pick if they're to keep maintaining a strong bench.
Stephen Curry Was The MVP
This is nitpicking a little bit. Kevin Durant actually had the better stats almost across the board, even managing more assists (7.5/game to Curry's 6.8) and coming within less than a point of Curry's 3-point percentage. But these numbers are skewed a little bit by the fact that in one game (Game 3), Curry was awful and Durant spectacular.


Not that it's fair to do so, but take away Game 3 and Curry averaged 33 points and hit 21 of 43 3-pointers in these Finals. More intangibly, he was the killer in Game 1 (his shot at the end of the first half was a huge moment in this series that already seems forgotten), he hit a record nine 3-pointers in a Finals game in Game 2, and he was the one to step on the Cavs' throat with a 37-point performance in Game 4. It's a close call but – acknowledging that Durant was terrific and had the better overall stat sheet – Curry was the most valuable Warriors player in this series.
The Cavaliers Need A Violent Shake-Up
Perhaps this is a little obvious, but the Cavs looked like an ill-conceived group utterly devoid of belief. Somehow, it still seems conceivable that LeBron James will choose to stick around. He said a few words about his free agency decision being different this time around because his kids are older – which could be interpreted as a desire to avoid upending their lives with another move (but definitely doesn't mean that for sure).
If that's even a remote possibility, these Finals showed that the Cavs will need to make serious adjustments. Kevin Love was decent, but will probably have to be let go simply because he's the most valuable player Cleveland could trade, and change is vital. JR Smith and George Hill were disastrous, but might have contracts that can't be traded. And if James is open to returning, the #8 pick becomes trade bait.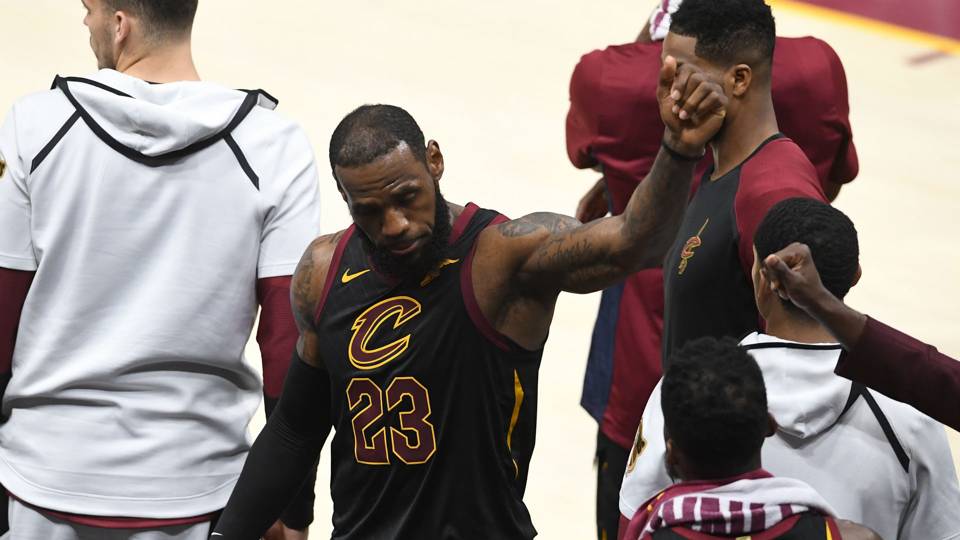 Love-to-Portland has been floated by a few analysts (as an idea, not a report), and that could be a start. If the Cavs could swap Love and change for CJ McCollum and somehow clear cap room for James to recruit his buddy Chris Paul, they'd be onto something. But with their aforementioned ugly contracts, even that is a long shot.
The King May Have A New Mission 
I have no evidence to support this theory, but if I were LeBron James, this series would have shifted my priorities. Beating the Warriors now seems more important than winning a ring, even if the two are likely to go hand-in-hand. Chasing down Michael Jordan's six titles looks less and less likely – but hunting down and destroying the best dynasty of his time is, perhaps, doable. This probably counters the staying-in-Cleveland narrative. If indeed he decides to make it his mission to end the Golden State dynasty, his best shot of doing so is probably in Houston, where he could trip them up before the Finals, or in Boston, where he might be able to put together the best team (as outlined by The Ringer's Jonathan Tjarks).
We'll find out how he's thinking in July – and with his decision, we'll learn who the favorite is to take on the Warriors in 2019.