---
It seems safe to say we're through the bulk of the NBA offseason. Occasionally there are late offseason blockbusters we just don't see coming – such as Kyrie Irving being traded to Boston toward the end of August last summer. But after a fairly active July, we've undoubtedly seen most of the significant player movement we're going to see during the 2018 offseason (and I'm counting trades as part of the broader offseason player movement discussion). So now it's time to look at some of the teams that got better, and some that got worse.
TEAMS THAT GOT BETTER
Los Angeles Lakers
A lot can be said about what the Lakers did in free agency after signing LeBron James. A new supporting cast of Lance Stephenson, Rajon Rondo, JaVale McGee, and Michael Beasley seems almost intentionally and comically dysfunctional. But this group could go any number of ways. Maybe McGee can't stay focused, Beasley is unproductive, Rondo stunts Lonzo Ball's growth, and Stephenson is a cancer and attempts to electronically trim LeBron's nostril hair during timeouts. Or, maybe Stephenson winds up getting Draymond Green suspended from a playoff series, McGee is a suitable defensive anchor, Beasley is a reliable bench scorer, and Rondo mentors Ball and establishes savant chemistry with James. Either situation, or any blend of the two, is perfectly plausible.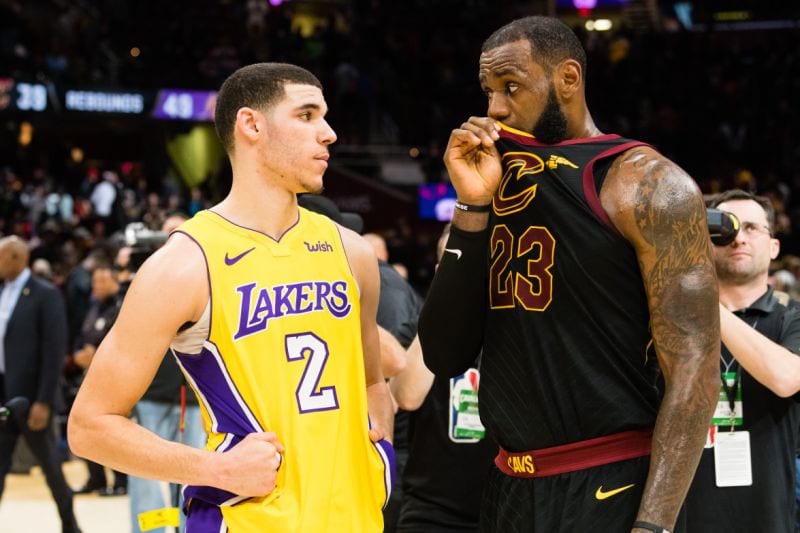 The bottom line though, is that the Lakers signed LeBron and held onto their own young core in the process. The guys mentioned above, as well as Kentavious Caldwell-Pope, are on one-year deals that will expire and allow the Lakers to chase a star to join James next summer. They're set up for an extremely interesting year, a likely playoff berth, and a major free agency reload in 2019.
Golden State Warriors
Re-signing Kevin Durant was just about a given, but it still had to get done and it's a positive for the Warriors. But the big move was signing DeMarcus Cousins for one year, $5.3 million. Cousins is recovering from a nasty injury and may not play until January, if not later. Even then, he could well be a shell of himself (and likely will be judging by the history of Achilles injuries). But if he's even 80 percent of his former self, the Warriors might legitimately have the most talented starting five in history. This was a low-risk, high-reward move.
Not for nothing, the Warriors also extended head coach Steve Kerr, who was entering the final year of his contract and has had some serious health problems stemming from back surgery. It wasn't inconceivable, from the outside looking in, that Kerr might have called it a dynasty and packed his bags after 2018-19, so this was a nice commitment to secure.
Brooklyn Nets
The Nets didn't have a very sexy offseason, but it was undeniably a positive one for their future. They let go of Jeremy Lin and brought in Kenneth Faried and Darrell Arthur on expiring deals. In the process however, Brooklyn set itself up to have anywhere between $50 and $70 million in cap space next summer, and picked up a protected first round pick from Denver in the meantime. Slowly but surely, this team is amassing picks and financial flexibility to build a playoff roster. The Nets won't be better this season, but for what they're doing, the offseason was a major success.
San Antonio Spurs
It seems insane to say a team got better by trading Kawhi Leonard away. But it's important to remember that Leonard not only missed almost the entire 2017-18 season, but was also a huge distraction for San Antonio. Ideally, the Spurs could have smoothed things over with Leonard, but since that really doesn't seem to have been an option, they did the next best thing. Turning Leonard's conspicuously empty chair and Danny Green into DeMar DeRozan and Jakob Poeltl was actually an incredible bit of dealing under the circumstances. The Spurs also lost long-time point guard Tony Parker to Charlotte, but there's an argument to be made that letting Dejounte Murray and Patty Mills handle the point is better at this point anyway. San Antonio should be significantly better this coming season.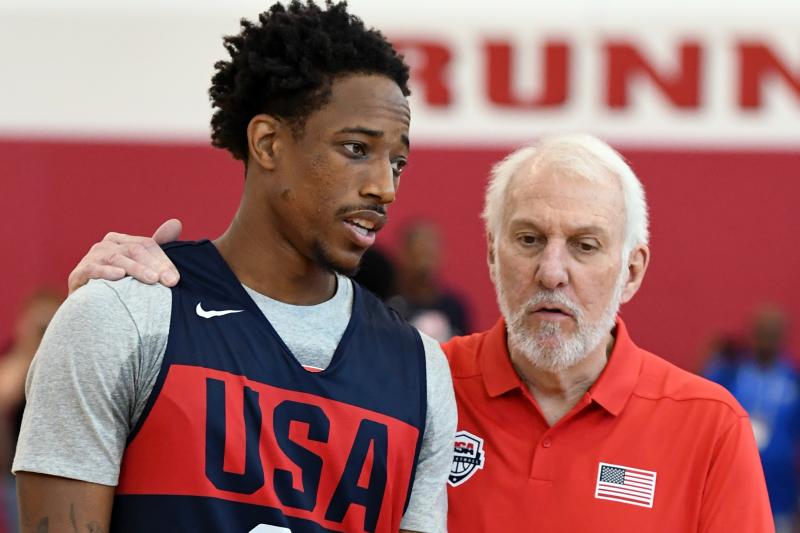 Oklahoma City Thunder
Thunder GM Sam Presti might've pulled off the biggest magic trick of the summer in turning Carmelo Anthony's disastrous contract into Dennis Schroder via a bizarre deal with the Hawks. Schroder will be Russell Westbrook's best backup since Reggie Jackson and could even enable him to play off the ball a little bit, and in the meantime the Thunder will save an incredible amount of money by getting out of the Anthony deal. OKC also re-signed Paul George against the odds, brought back Jerami Grant, and secured Nerlens Noel to back up Steven Adams on a sneaky good deal. This team should be tough, motivated, and free of some of the burdens of 2017-18, such as George's potential departure and Anthony's contract.
TEAMS THAT GOT WORSE
Cleveland Cavaliers
The Cavs actually did well for themselves in extending Kevin Love. It's his team now, which means he can either lead Cleveland back to the playoffs in an incredibly weak Eastern Conference (definitely not out of the question) or he can showcase his talents enough to convince another team to overpay for him in a trade, helping the Cavs jumpstart their rebuild. That said, losing LeBron James in free agency pretty much automatically lands you in the "worse" category.
Houston Rockets
Houston had a quietly disastrous offseason. After engineering a roster specifically designed to take down the Warriors, holding Golden State to 105 points or less in four out of seven playoff games, and winning the series in several parallel universes in which Chris Paul didn't hurt his leg in Game 5, the Rockets lost some key defensive pieces and replaced them with pure offense. Stepping back, the effective swap of Trevor Ariza (who signed with Phoenix) and Luc Richard Mbah a Moute (Clippers) for Carmelo Anthony looks like a reversal of everything Houston built last season. I expect Anthony to be better with the Rockets than he was with the Thunder, and this will still be a very good regular season team. But it probably can't take on the Warriors like it did last season, which makes this offseason a major loss.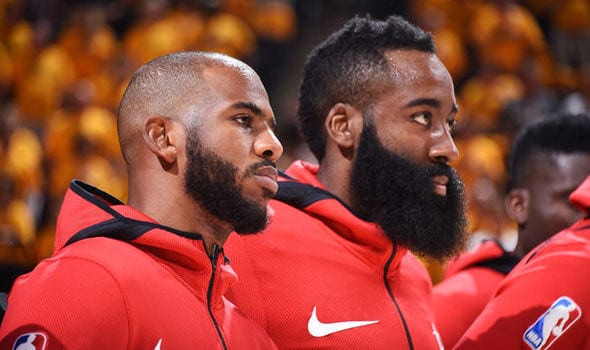 New Orleans Pelicans
The Pelicans essentially lost DeMarcus Cousins and Rajon Rondo and brought in Cameron Payne and Julius Randle. On paper that's not necessarily a disaster, given Cousins's injury and Rondo's inconsistency. But Rondo was so good for the Pelicans down the stretch, and alongside Anthony Davis and Jrue Holiday in general, that this still feels like a net loss – and possibly a pretty big one.
Washington Wizards
The Marcin Gortat-for-Austin Rivers trade was the big splash of Washington's offseason, and I actually don't hate it. Gortat was more or less openly unhappy in Washington, and Rivers, for his sulky posture and cushy history playing for his own father (both of which earn him bad press disproportionate to his impact in the league), can be a solid backup guard at his best. But even if Rivers works out, the Wizards also went out and signed Dwight Howard and Jeff Green in the same offseason. Howard can still have pretty box scores and Green had moments in the 2018 playoffs, but there's just no way these signings go well. Howard, in particular, seems like a disaster waiting to happen. Adding the NBA's most famously disliked locker room guy to a team full of guys that seem to have issues learning to like each other just seems nonsensical. The Wizards are on the verge of completely squandering the Wall/Beal era. Come to that, we probably shouldn't call it an era….