---
For a while now there's been buzz about the idea of a play-in tournament for the NBA playoffs. The Ringer's Bill Simmons has been pushing his version (which he calls the Entertaining As Hell Tournament) for a decade, and in February ESPN's Zach Lowe wrote that the league is seriously considering such an event. There have been various format proposals, but there are essentially two core concepts. The first is that a few final playoff spots would be up for grabs, allowing for the possibility of something of a Cinderella storming the NBA postseason. The second is that in some form or fashion, would-be non-playoff teams would be incentivized to try harder toward the end of the season, rather than tank for picks.
A lot of fans (including myself) might agree that the Simmons version would be – well, entertaining as hell. It would involve 16 teams playing for the two 8-seeds in the playoffs, with the finalists getting in and the #10 pick the following year thrown in for the winner. It would be a mini-March Madness, and that pick would have the potential to significantly de-incentivize tanking. Unfortunately, this idea is probably considered for no real reason to be too radical to be picked up anytime soon.
What Lowe relayed is more conservative, and thus more plausible – but still a ton of fun.
The idea actually involves two small tournaments, each with four teams. In each conference, the team ranked #7 would host #8, with the winner earning the 7-seed. Meanwhile, the #9 team would host #10, with the winner playing the loser of the first game for the 8-seed. Effectively it means that in each conference teams ranked 7-10 would have the opportunity to squeak into the playoffs. This proposal has less potential to really affect tanking (though some teams might try harder down the stretch) – but it would still make for an enjoyable prelude to the postseason.
On a related note, the league just kind of inadvertently proved this is a good idea. The final playoff spot up for grabs this year didn't just come down to the last night, but specifically to a head-to-head battle for the West's 8-seed. The Denver Nuggets and Minnesota Timberwolves basically had a play-in game, and it was beautifully tense and wound up in overtime. The play-in tournament under consideration would basically mean six games just like this.


Why wouldn't we do this? Literally everyone would love it. I promise – I asked everybody, we're all in.
Just to further emphasize how clearly fun this would be, I wanted to explore what it would have looked like this year.
EASTERN CONFERENCE
Game 1: (7) Milwaukee Bucks vs. (8) Washington Wizards – This would be an absolute blast. The Bucks and Wizards finished within a game of one another, and split their season series 2-2. We'd get to see Giannis Antetokounmpo in a winner-take-all slugfest against definitely the grumpiest and possibly most talented backcourt in the East. Not to mention it would immediately become the biggest basketball game played in Milwaukee in decades. Also of note: I'm genuinely not sure which of these teams better deserves a playoff spot. How nice that there would be a game to give us the answer!
Game 2: (9) Detroit Pistons vs. (10) Charlotte Hornets – It's a little less sexy, but there would still be plenty of interesting narratives here. It might give Stan Van Gundy a chance to save his job (which is on the line this summer). It would open up the possibility of Blake Griffin sneaking into the playoffs out of nowhere. And perhaps best of all, seeing Kemba Walker back in a single elimination format would be terrific given how many fans fondly remember his college heroics.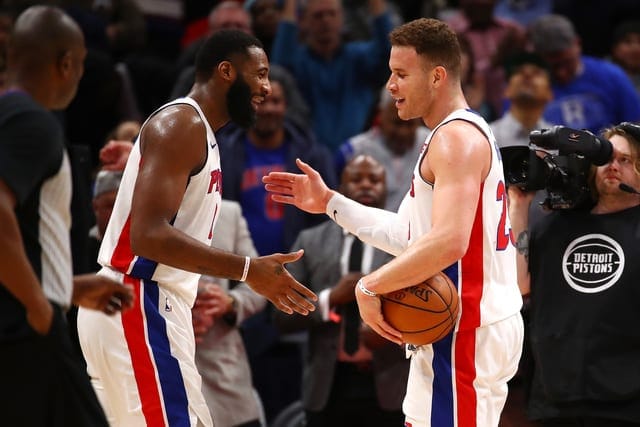 Game 3: Loser Game 1 vs. Winner Game 2 – We can't say as much about Game 3, but most factors from the first games would hold up here, and the stakes would make it inherently more exciting. The winner would get the 8-seed (and a totally winnable series against a Raptors 1-seed with a history of postseason letdowns), and the loser would go home.
WESTERN CONFERENCE
Game 1: (7) San Antonio Spurs vs. (8) Minnesota Timberwolves – The West was very close from about #3 through #9, so this first game would theoretically be tight between any number of teams. The Spurs and Timberwolves happened to finish with the exact same record, yet are also mirror opposites. San Antonio plays stingy defense and get all they can out of a less-than-stellar roster. The Wolves allow more points per game than all but three playoff teams, and play beneath their overall talent level. It would be a fascinating, bizarre game.
Game 2: (9) Denver Nuggets vs. (10) Los Angeles Clippers – This game would be interesting largely because it would feature two teams desperate to prove themselves. The Nuggets have drafted and developed well but just haven't reached that higher tier out West (though they'd be a 6-seed in the East). The Clippers had quite a bit of misfortune this year, but would undoubtedly love not to miss the playoffs given that former point guard Chris Paul is leading the runaway 1-seed. As for the action on the court, both teams have high-powered offenses, which would likely make for an entertaining game. They played a 122-120 thriller back in late February.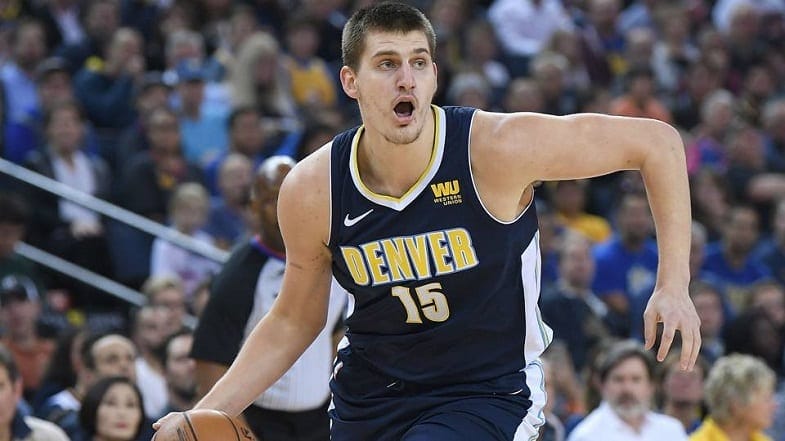 Game 3: Loser Game 1 vs. Winner Game 2 – Here again, everything would be on the line. And just as a reminder, in this hypothetical we still would have gotten the incredible Denver-Minnesota "play-in" that happened on Wednesday night, as securing the #8 spot is still an advantage in this format. In fact, we'd probably get a few more games like it every year as teams postured for seeding in the play-in brackets.
That, really, is the whole point. This idea, in whatever form it takes, has the potential to make late-season basketball a lot more competitive and a lot more exciting.
Let's hope it happens soon.