---
The NBA community may never have decided upon a Rookie of the Year winner as quickly as it seemed to in 2017. Philadelphia's Ben Simmons exploded out of the gate, with double-doubles in his first three regular season games and a triple-double in the fourth. By the end of October he was averaging 18.4 points, 7.7 assists, and 9.1 rebounds per game, and he'd helped the 76ers to three wins in their first seven games (it took them 13 games to reach the same total last season). Not even LeBron James started quite that quickly as a rookie. Through his first seven games in the league he averaged 16.8 points, 6.4 assists, and 7.3 rebounds, and the Cavaliers went 2-5.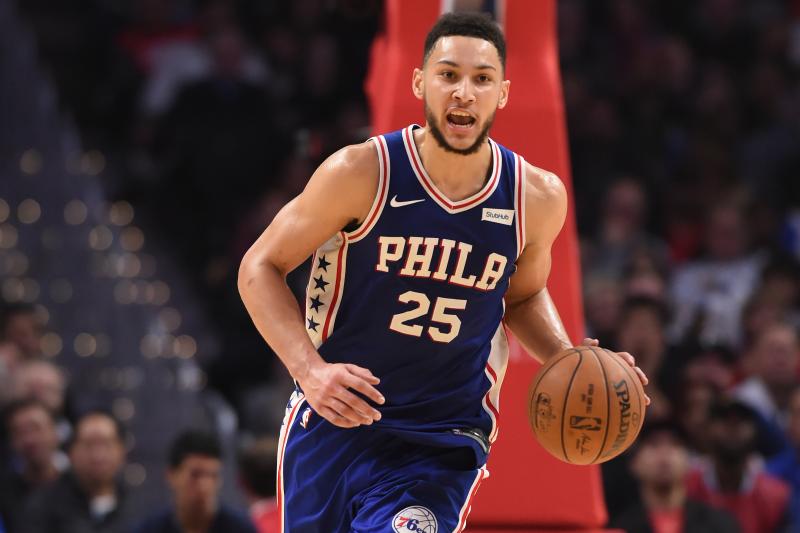 Understandably then, most everyone involved with writing or talking about the NBA anointed Ben Simmons the prospective 2017-18 ROY before we were 10 games into the season. And let me be clear: I believe Simmons is special; it can be even more impressive to watch him than to look at his gaudy stats. He's sensationally talented for his age (or really for any age), and he has an uncanny feel for the game with which he's going to improve the careers of untold dozens of teammates for the next ten or 15 years. The guy has perennial All-Star written all over him, and there aren't many players you would choose before him to start a franchise with in 2018.
Even so, I'm not wholly convinced the Rookie of the Year race should be decided yet. It probably is decided, because the narrative of Simmons being our most statistically alarming and creatively gifted rookie since LeBron James was drilled in early (and fairly). But two other members of this incredible rookie class have made pretty loud arguments as well.
DONOVAN MITCHELL
Donovan Mitchell was a good but not great guard during his time at Louisville. He didn't have the success of Peyton Siva and wasn't as strategically erratic as Russ Smith or as pesky as Terry Rozier. Yet after deciding to turn pro after his sophomore season, Mitchell started to get a lot of good buzz. Heading into the draft, strong workouts had him trending up, though he was still only selected 13th, by the Utah Jazz (via the Nuggets). The hype continued, however, during summer league – which we can all be forgiven for ignoring, because recent Vegas League MVP winners include the likes of Josh Selby and Glen Rice Jr., who are now playing in Korea and Israel, respectively. Nevertheless, in this case it appears we should have heeded said hype.


Mitchell was slow out of the gate with a Jazz team that was trying to find an identity following the loss of Gordon Hayward and the addition of Ricky Rubio. While Simmons was topping LeBron's early career numbers, Mitchell scored two points each in three of his first five games, and went 8-for-28 from 3-point range in October. Eventually, however, he found his rhythm, almost immediately catapulting to significantly more minutes when November arrived and making himself an essential part of the Utah rotation. By December, he was impossible to ignore.
On December 1st, Mitchell erupted for 41 points – a record for a Jazz rookie, and incidentally two points higher than Gordon Hayward's career scoring high. From that point through the middle of the month – an eight-game stretch – Mitchell averaged about 26 points per game and shot 49 percent from the field and 40 percent from three. He had one monster performance after another, and was unquestionably December's most exciting rookie. His season-long averages can't touch those of Simmons (and won't), but his biggest games have arguably been better than those of any other rookie.
He's also the leading scorer on a Western Conference team with an outside shot at the playoffs.
JAYSON TATUM
For Tatum to even be part of this discussion ought to be maddening to Philadelphia. In case anyone's already forgotten, the 76ers traded the #3 pick (eventually Boston's selection of Jayson Tatum) to move up two spots and grab Markelle Fultz – a scorer whose newly adopted toddler heave of a jump shot makes Michael Carter-Williams look like JJ Redick. They also gave up a good shot at the Lakers' first round pick to do it – a pick that could wind up landing Boston a player like Marvin Bagley III or DeAndre Ayton. Seriously, even if The Process ultimately nets Philly a 2024 NBA Championship (which it won't, because the Bagley/Ayton-and-Tatum-led Celtics will be in the way), it might have spawned one of the worst draft night deals in history. But I digress….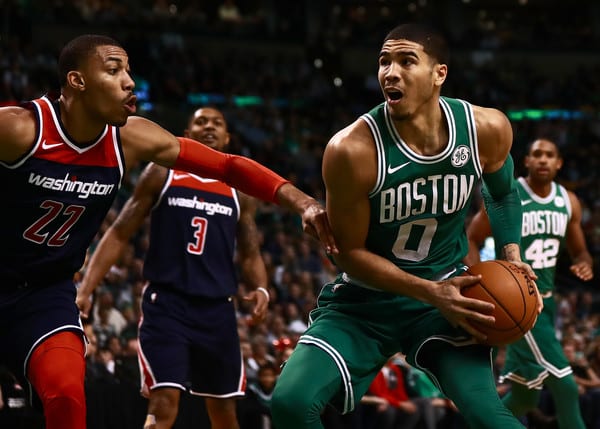 Tatum doesn't have Simmons's LeBron-esque, future triple-double machine stat line. He doesn't have Mitchell's eye-popping scoring totals. What he does have, however, is a track record as arguably the most consistent rookie of the season. Asked to play a far bigger role than expected when Hayward went down with a horrific opening night injury, Tatum answered the call immediately by becoming a reliable component in one of the league's most fluid, fun, and balanced rotations.
In the Celtics' 49 games as of this writing, Tatum has scored in double figures in all but nine of them. He's also already looking like one of the best shooters in the league. He's second in the league in 3-point percentage (45 percent) and ranks fifth among small forwards in field goal percentage (behind LeBron, Michael Beasley, and Kevin Durant and TJ Warren) at 48.6  percent. And incredibly, those ridiculous rookie percentages get even better – significantly better – in the 4th quarter. So far, Tatum is shooting 61.3 percent from the floor and 54.8 percent from behind the arc in the final quarter of games.
Barring a sensational Hayward comeback, and possibly even in that event, Tatum will be a key starter on a legitimate Finals contender.
THE RACE
Ben Simmons should still be the frontrunner for Rookie of the Year. His numbers are nothing short of amazing, and his performance has been fairly consistent. There are months to go in this season, however, and the two players discussed above can still make this interesting.
It's also worth considering that Simmons has enjoyed some built-in advantages. He's significantly older than Tatum, for instance, having turned 21 in July while Tatum won't be 20 until March. He also spent a whole year with an NBA franchise without touching the court, meaning he's at least kind of a fake rookie. Simmons plays for the worst team of the three, which can lead to more stats for a talented rookie (see Michael Carter-Williams, 2014 Rookie of the Year), and he's averaging more minutes (35.1) than either Mitchell (31.9) or Tatum (31.0).
Despite those advantages, there are areas in which Simmons clearly falls behind his competition. He hasn't shown an ability to carry his team the way Mitchell has (the Sixers win and lose largely according to Joel Embiid's performance, for now), and he's a primary ball-handler who's 0-for-10 from three on the season, while Tatum is nearly leading the NBA in long distance shooting.
Simmons will probably still win this award. And he'll probably deserve it. He's certainly the most complete rookie since LeBron James, if not the best. But don't let anybody tell you there isn't a race. This class, and particularly Mitchell and Tatum, are good enough to make him work for it.