---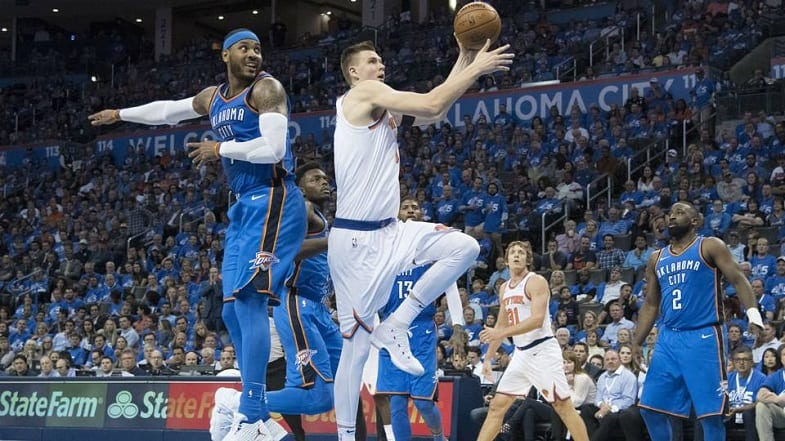 We all know the saying 'out with the old, in with the new.' It seems as if in the last few years, and even more so over the last 12 months, New York teams have taken that saying, altered it a bit, and adopted it as their own.
Out with the old, in with the young.
No one expected to see the 'rebuilding' New York Yankees make it all the way to the ALCS behind the bats of young studs. The Knicks have managed to somehow weather the Carmelo Anthony-Phil Jackson firestorm and are now 10-9 and only 2.5 games behind second place in the East. Even the Giants look like they may be heading towards a new generation, or at least that's what some are suggesting on Twitter. As are the Jets, who aren't tanking but are definitely scouting.
The young Knicks are what NY has been waiting for
It seemed the New York Knicks lost their best player this past September when Carmelo Anthony was traded to Oklahoma City for Enes Kanter, Doug McDermott and a second-round pick. Now it seems their best player is still running the show in the world's most famous arena.
In 17 games (he sat out two), 22-year-old Kristaps Porzingis is averaging 27.3 points, 7.2 rebounds and 2.3 blocks a game and has the Knicks in 8th place in the East with a 10-9 record. Yes, they've now lost two in a row to the 4-15 Atlanta Hawks and the 15-4 Houston Rockets who are currently leading the West. Porzingis sat out that second game with a tight lower back, as did Enes Kanter (who sat out against the Hawks as well), and Michael Beasley and Kyle O'Quinn stepped up, scoring 30 and 20 points respectively. These new look New York Knicks are giving fans a reason to be excited again, and two losses in a row – especially one in which Porzingis didn't play a single minute – aren't going to wipe that away so easily.
The current Knicks roster has an average age of 26.11 years old. Kanter, who is leading the team with 10.2 rebounds a game, is 25 years old. Frank Ntilikina, who is turning out to be an outstanding defender, is 19 years old and Tim Hardaway Jr. is 25. The oldest player on the team is 32-year-old Jarrett Jack, who is the same age as LeBron James and a year younger than Carmelo Anthony.
They are young, fun to watch, have proved they can fight back and they're proud.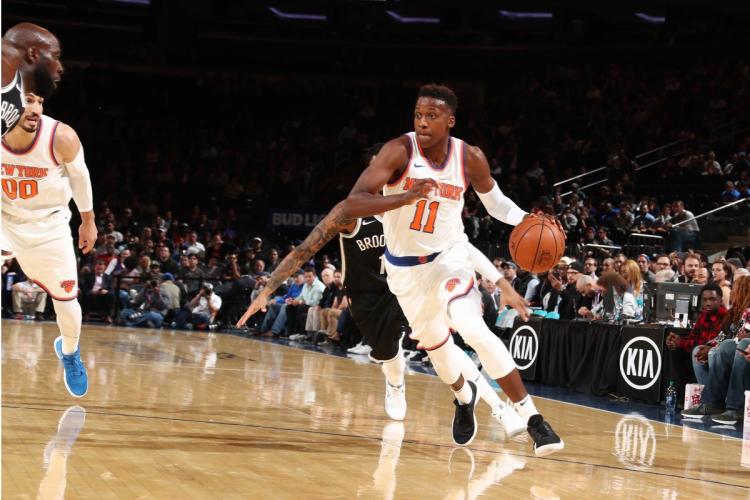 Just look back at the last game between the Knicks and the Cavs. LeBron James proclaimed himself the King of New York after the Cavaliers' comeback at the Garden on November 13th. Before the game, the King had criticized New York's decision to draft Ntilikina rather than Dennis Smith Jr., though later clarified it was a shot at Phil Jackson not the rookie PG. Did his remark irk Ntilikina? Perhaps. On the court the 19-year-old from France made clear he was here to stay and wasn't afraid to get physical. His teammates had his back.
It's true, Ntilikina is no Dennis Smith Jr. who is averaging 14.3 ppg in 28 minutes for the Mavericks, but that's just fine. So far he's making an impact for the Knicks.
The real test for the Knicks is whether or not they can keep this up. They've had an entertaining start to this season but have also given up some big leads. And most importantly, can Porzingis lead the Knicks back to the postseason? If so he may lead this team from a youth movement to a golden generation.
The farm system is still pumping them out
Aaron Judge captivated MLB fans this season, winning AL Rookie of the Year, breaking Mark McGwire's rookie home run record and coming in second to Houston's Jose Altuve in the AL MVP race. The 25-year-old finished the 2017 season with 52 home runs, 114 runs batted in, and 128 runs, adding four home runs and 11 RBI in the postseason. He was also surrounded by other young Bronx Bombers who came up through the system.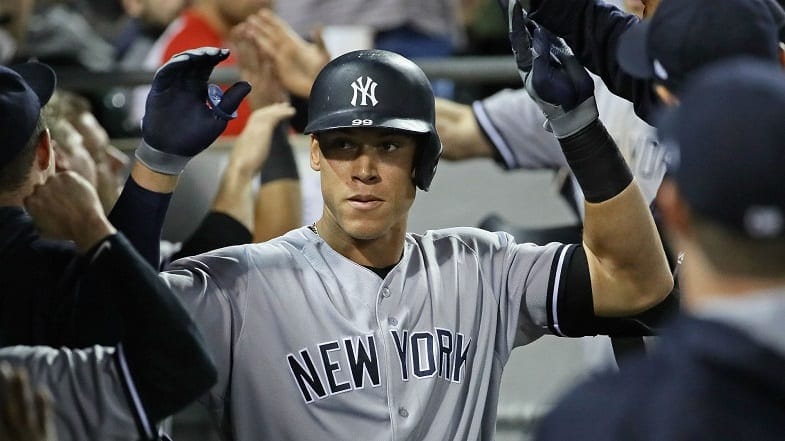 23-year-old Luis Severino finished third in the running for AL Cy Young. Gary Sanchez, 24, joined Judge in winning a Silver Slugger Award. 25-year-old Greg Bird had a rollercoaster of a season, but stepped up in the postseason with 10 hits, 3 home runs and 6 RBI.
The Baby Bombers are here, and there are more coming through the farm system.
Yankees owner Hal Steinbrenner recently listed his top six prospects coming through their farm system, including 3B Miguel Andujar. Todd Frazier is a free agent and Chase Headley is going to have to fight to save his spot as Andujar, who hit .317 with nine home runs in 58 games in Triple A, makes his way to the Majors.
Who were Steinbrenner's five other prospects? Four starting pitchers: Chance Adams who went 11-5 with a 2.89 ERA in his 21 starts in Triple-A, Domingo Herman who made seven appearances after coming back from Tommy John's surgery, Justus Sheffield who still has to go through Triple-A and may take a bit more time and last but not least Albert Abreu.
Then there's also Gleyber Torres, MLB.com's top prospect, who may have made his Majors debut this past season if it weren't for Tommy John's surgery.
Beyond the Yankees and Knicks, the New York Jets and New York Giants may be looking to young talent to take the lead, if not next season then pretty soon after. Let's face it, leading a team at 37 years old and 39 years old is a tough task, even if you are Eli Manning and definitely if you are Josh McCown.
The future of New York sports is in the hands of the young, and from where we're standing, that future looks pretty bright.