---
Madison Bumgarner's dirt bike accident raises a lot of questions: how long will the Giants' ace be out? Will his pitching arm be the same when he comes back? How will his absence affect the season? And of course, what was he thinking?
What was he thinking?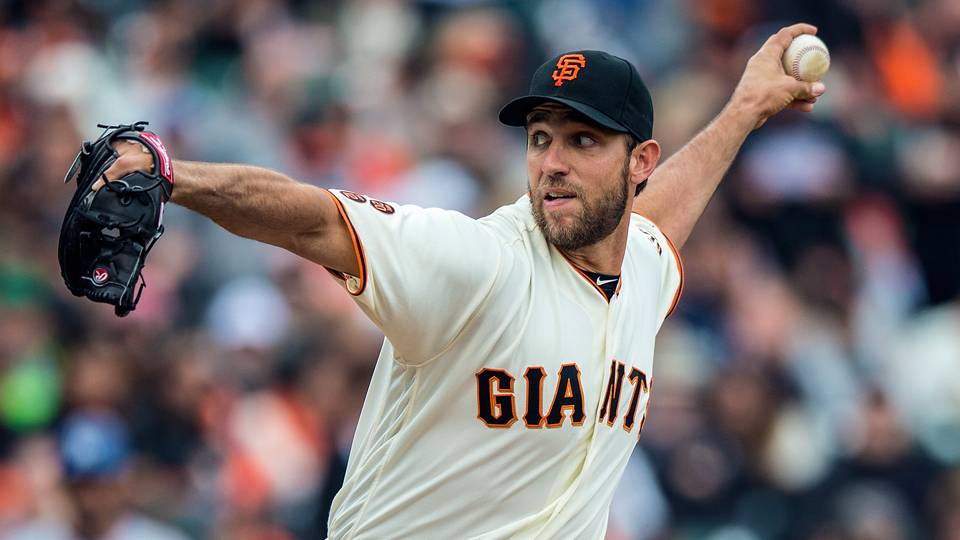 Off the field injuries have been a topic worth discussing since 1967, when Cy Young winner and Boston Red Sox ace Jim Lonborg was injured in a skiing accident. After the incident, he was never the same, and off-field injuries became a hot topic and a contract must-have.
Each league, team and player have different specifications for penalties due to injuries or activities players can engage in. Take Arian Foster's contract with the Houston Texans as an example. It specifically states,
"Without prior written consent of the Club, Player will not play football or engage in activities related to football otherwise than for Club or engage in any activity other than football which may involve a significant risk of personal injury. Player represents that he has special, exceptional and unique knowledge, skill, ability, and experience as a football player, the loss of which cannot be estimated with any certainty and cannot be fairly or adequately compensated by damages. Player therefore agrees that Club will have the right, in addition to any other right which Club may possess, to enjoin Player by appropriate proceedings from playing football or engaging in football-related activities other than for Club or from engaging in any activity other than football which may involve a significant risk of personal injury."

(**Contract example supplied by the SEC)
Again, every league, team and player is different. As The Washington Post notes, the NBA prohibits activities such as boxing, wrestling and sky diving while encouraging swimming and softball instead. The NFL's rules are more vague, saying players cannot take part in "any activity other than football which may involve a significant risk of personal injury."  
Professional athletes are human and should be allowed to live life to the fullest, but they also have a responsibility to leave their all on the court, field or ice and ensure that they are healthy. So does that mean they may have to give up some activities for the years they're in the game or at least during the season?
In my opinion, yes.
I don't care if Bumgarner rode dirt bikes all the time as a kid and knows what he's doing, that doesn't mean accidents can't happen. An accident did happen. When you're the ace of your team or a Super Bowl winning wide receiver (I'm talking to you Plaxico), it's your responsibility to take care of your body, even if it means giving up certain activities for the duration of the season and walking away from situations that put you at risk.
You owe that to your teammates, your management and most importantly your fans. Those who go out and buy your jersey, pay to come watch you play and support you through everything, even dirt biking accidents that sideline you for two months.
That brings us to another question: should athletes who get injured from these activities suffer consequences?
So far, the San Francisco Giants have chosen not to penalize Madison Bumgarner in any way. As ESPN's Buster Olney argues, they shouldn't cut from his paycheck, because, simply, he's worth it. Olney notes that,
"It would be incredibly shortsighted and stupid for club officials to pick a fight with Bumgarner over a few dollars, in light of how much value he has provided to the franchise. They all know his belief in his own invincibility and his willingness to plow past physical barriers (that would stop most others) is the reason why they all have 2014 championship rings."
Olney is right, it may be stupid for the franchise to argue over nickels and dimes with a pitcher who has done so much, and helped win the ring on their fingers. But is that that? Should we shrug our shoulders and accept that embarrassment and apologies are enough? Be thankful that he was at least truthful, unlike former Giant Jeff Kent? Is money the only way a club can think of reprimanding a player who engaged in an activity he knew could result in injury during the season?
Perhaps Bumgarner should take more responsibility and think of a way of paying it forward himself.
New York Giants defensive end Jason Pierre-Paul lost a finger in a July 4th fireworks accident. In the immediate aftermath, JPP also lost a contract extension worth $60 million. He only recently signed a new contract with the team.
But besides the monetary loss, which he now won back, JPP also acknowledged his mistake, the fact that it could have ended his career, and decided to help prevent other accidents like that with a PSA.
Be safe this #July4. I teamed up with @uscpsc @elliotkayecpsc on #fireworks safety. View my full PSA HERE – https://t.co/mgymKQa5Vh

— Jason Pierre-Paul (@UDWJPP) June 30, 2016
Maybe this is the answer to athletes who aren't penalized financially: to find some way to help the community they live in and represent while they're out of the game. It doesn't have to be a PSA like JPP, there are plenty of ways to help the fans who surround you and support you year in and year out.
As a player you should, and should want to, find a way to make it up to them.