---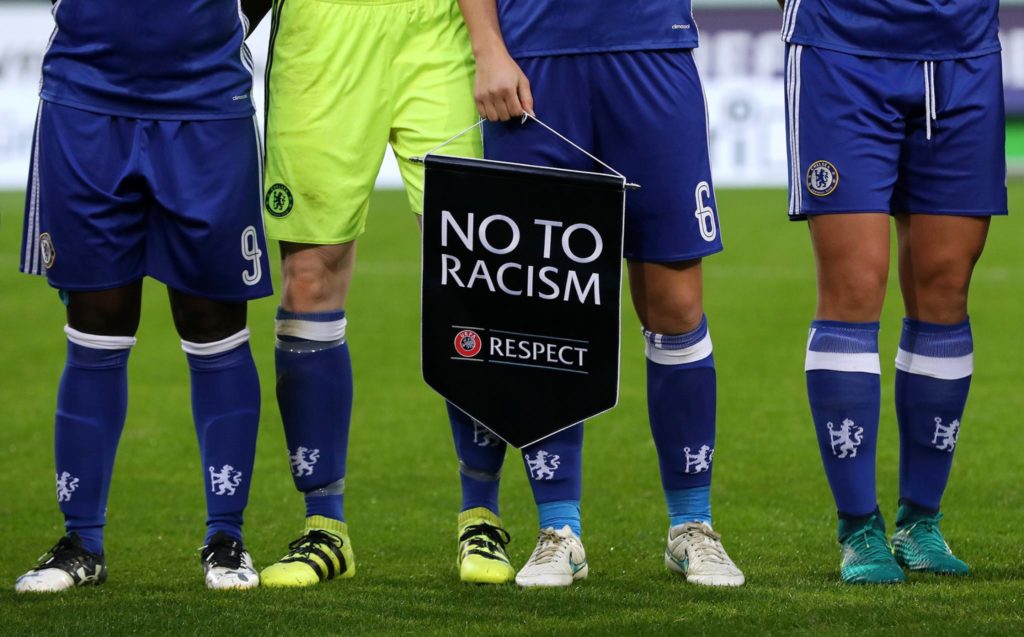 Boston sports were in the spotlight in recent weeks and for all the wrong reasons.
You may have already guessed what I want to address: the racial taunts directed at Adam Jones at Fenway Park at the beginning of May.
But I don't want to focus just on Boston. Yes, the Adam Jones incident put a spotlight on Boston's history of racism in sports, but it's only one city, one example that is making one big uproar (which may soon be forgotten).
Halfway around the world, in Italy's Serie A football league, Pescara midfielder Sulley Muntari was banned for a game after he walked off the field in the middle of a match in protest. He was given a yellow card for dissent after approaching referees saying he was being racially abused by fans, then walked off, earning him a second yellow. According to officials, not enough fans were taking part in the taunting to prompt any action on their part.
Muntari claims he was racially abused, but since it wasn't that many fans, officials did nothing and Muntari ended up with a suspension for taking action.
How does this even make sense? Why do a certain number of fans need to take part before action is taken? Why isn't one fan enough?
As sports fans, we need to take a look in the mirror and evaluate our role in these incidents, and there are a lot of them.
According to the University of Central Florida's Institute for Diversity and Ethics and Sports, last year, racist incidents in sporting events in the US tripled, from 11 incidents in 2015 to 31 the following year. While worldwide there were 104 reported racist incidents in sports.
Those are just the reported ones. Now that we hear from baseball players (and other athletes who chimed in) about the continuing racial slurs from Boston fans, I wonder how many incidents we've missed around the world, and why we haven't done enough to stop it.
Where is the outcry year round? Why must we wait for these types of incidents to cause an uproar then forget a few weeks later, and find ourselves in the same situation, dealing with the same issue, time and time again?
Why do we have to wait for Marcus Smart to shove a fan, for Sulley Muntari to walk off the field in protest, for Adam Jones to get fedup with fans and only then address the topic.
Sports have often been used as a mechanism to end racism, yet in the year 2017, we cannot even find a way to put an end to racism in sports.
In light of the Adam Jones incident, Boston has already reviewed its policy towards fans who are caught using racist slurs. Within a day they took action against one such fan, after another fan reported hearing this unnamed man use a racial slur more than once. The unnamed man was banned for life, and it's all thanks to another fan who took action.
So let's go back to what us fans can do. Yes, it's up to organizations and leagues to make good on their threats and take action against racist fans. But with tens of thousands of fans packing into stadiums, it's nearly impossible for them to keep track of what every fan says while at his or her seat.
This is where we come in.
As fans we adore our favorite players. We support them. We back them for better or for worse. We win with them and lose with them. Now let's have their back in a battle to oust racism from sports for good. Racism as a whole may never really be a thing of the past, as LeBron James recently speculated, but that's an unfortunate reflection on our societies.
James noted that the issue is a longer conversation than a post-game press conference, saying it's "a real, real longer conversation, but if we can keep the conversation going, I think it helps."
So let's keep it going. Let's not forget about this within a few weeks and act all surprised again the next time an athlete is subjected to racism.
Let's take it a step further. You know the tagline "if you see something say something"? We must adopt a similar one of our own, if you hear something say something. Now I'm not asking that you say something to the fan and possibly start a bleacher brawl (who knows how far and fast these things can escalate), but be the tattletale who calls security, no one is going to judge you, and if someone does, let that be a reflection on him or her.
Let's see if teams and organizations are really going to step up to the plate and take action.
As we've all heard, actions speak louder than words, so let's push forward with our actions to hopefully, hopefully, put an end to racism in our favorite pastimes (and in our societies).