---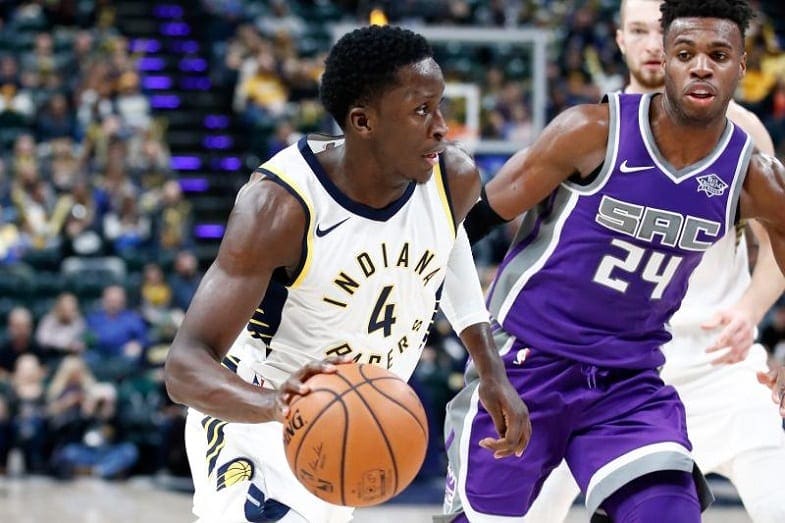 The Pacers shocked the NBA world last summer by trading Paul George to the Oklahoma City Thunder with virtually no warning. While George had let it be known that he likely wouldn't be re-upping with Indiana, there weren't any public rumors that OKC was in the mix. This is pretty unusual for an NBA trade in the modern era, when fans are used to reporters like Shams Charania and Adrian Wojnarowski using nano-drones to extract scoops from general managers' brains before trade negotiations even begin. But it happened. One minute George was a Pacer, the next he was on the way to Oklahoma City in exchange for Domantas Sabonis and Victor Oladipo.
Trades involving star players demand instant takes, and particularly when a transaction comes out of nowhere, people are bound to jump the gun. But in this case, no take seemed too dramatic. It appeared as if Indiana had dealt away its All-Star for pennies on the dollar. Sabonis had just turned in a disappointing rookie campaign after flashing some pro potential at Gonzaga, and Oladipo had seemingly regressed in his lone season as a member of the Thunder. Just about everybody thought the trade was a clear loss for the Pacers. Offering his own take on the Bill Simmons podcast, ex-Thunder star Kevin Durant stated bluntly, "Indiana just gave him away."
That about summed up popular sentiment. Some six weeks into the NBA season, however, it's seeming less like Indiana got fleeced. In fact, it's becoming fair to question whether they even lost the trade.
For his part, Sabonis has improved dramatically. Coming off the bench seems to suit him (he mostly started for the Thunder), and he's improved fairly significantly in most every meaningful statistical category.
The real surprise, however, has been Victor Oladipo. I've actually always been an Oladipo believer. He was electric at Indiana, and showed some promise early in Orlando despite often playing out of position. The stint in Oklahoma City was year four though, and it was beginning to seem as if Oladipo was settling into what would be a fairly average career. He also isn't quite as young as so many other fourth- or fifth-year players these days, having spent three years in college before turning pro. Theoretically, he should be a little less likely to make a major leap after four years than, say, a guy who entered the league at 19.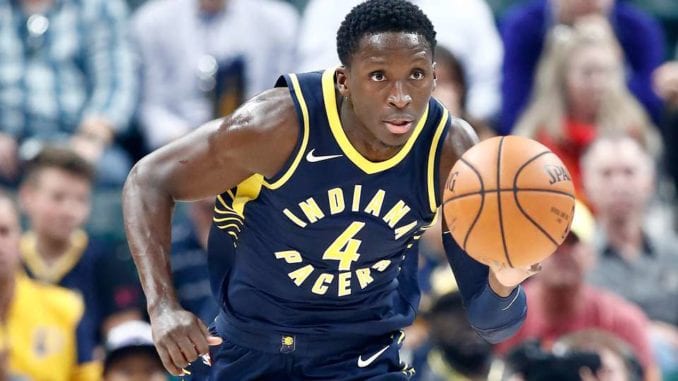 Scratch all those concerns, because 2017-18 Victor Oladipo looks like an All-Star. He's upped his scoring average by about 7 PPG, and he's rebounding more than he ever has before. He's shooting his best ever from behind the arc by about 8 percent, and he's also recording his best ever field goal percentage on the most attempts he's ever taken. Some of his defensive metrics have taken a little bit of a hit, but that's at least partially a result of the fact that the 2016-17 Thunder were a better overall defensive team than the current Pacers. Oladipo's individual defensive rating is, per NBA.com, almost identical to what it was last season.
If you're still skeptical that all of those improvements make Oladipo an All-Star caliber player, take a look at some of these stats. These are current averages for Oladipo and the last three players to be voted in as starting shooting guards for the Eastern Conference All-Stars.
Demar DeRozan: 22.9 points, 4.3 rebounds, 4.6 assists, 47.4% FG, 29.6% 3P, 21.40 PER
Dwyane Wade: 10.2 points, 3.9 rebounds, 3.9 assists, 42.4% FG, 23.5% 3P, 14.48 PER
John Wall: 20.3 points, 3.4 rebounds, 9.2 assists, 43.4% FG, 31.7% 3P, 22.00 PER
Victor Oladipo: 22.8 points, 5.0 rebounds, 3.7 assists, 46.1% FG, 44.9% 3P, 21.21 PER
Dwyane Wade is a clear outlier in this comparison. He made the starting lineup in 2016 but has since become a far less productive player and isn't particularly relevant in the 2017-18 conversation. But among the other three, it's difficult to argue any one player is best at the moment. They all score in a similar range, and each has an advantage elsewhere. DeRozan shoots the best field goal percentage; Wall (who is a point guard, but was basically the 2 when he started alongside Kyle Lowry) earns the most assists; Oladipo is the most effective rebounder and the best three-point shooter. Their PERs are virtually identical.
Based solely on the stats, you'd have to say a starting spot on the All-Star roster could conceivably be a toss-up (at least between these three – of course other guards will be in the equation). But when you consider overall impact, and the fact that the Pacers are overachieving while the Wizards have been disappointing and the Raptors are at best matching expectations, you might give Oladipo the inside track – if not on a starting spot, at least on a roster position.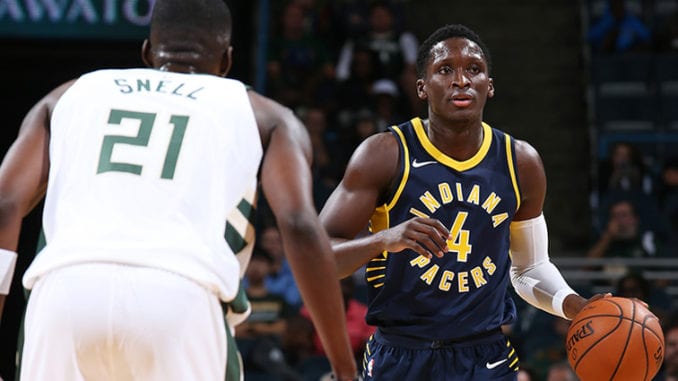 Meanwhile, the conversation about Oladipo's leap this season isn't just about how he compares to recent East All-Stars. We should also compare his performance to that of the man he was traded for. Paul George has ticked slightly down in just about every statistical category so far this season. This doesn't appear to be a reflection of any deterioration as a player, but rather a result of the fact that he now shares a court with Russell Westbrook and Carmelo Anthony – arguably the two best teammates he's ever had, and certainly the two most ball-dominant. Still, however, the numbers are interesting. George is averaging 20.4 points (2.4 fewer than Oladipo), 5.9 rebounds (0.9 more than Oladipo), and 3.0 assists (0.7 fewer than Oladipo). He's shooting 42.2% from the field and 40.3% from three (to Oladipo's 46.1% and 44.9%). His PER is 18.21. Oladipo's, as you saw above, is 21.21.
I am by no means suggesting Oladipo is the better player. Right now he's having the better season on paper, but George remains one of the best and most versatile defenders in the NBA when he's locked in (though the two share a similar defensive rating right now as well). George is a proven playoff performer who was brought to the West ultimately to battle Golden State in the playoffs. He's also in a trickier situation, attempting to build a superteam on the fly. By contrast, Oladipo is in the best situation of his career, trusted to lead the offense and presumably comfortable playing in the same state he chose for college.
It's still clear though that Victor Oladipo is a heck of a lot better than we all gave him credit for when he was first traded to Indiana. He's turned into an absolute stud in 2017, and at 25 he's probably only starting to sniff his prime. If he keeps this up, we may well look at the East in another season or two and think of him – not DeRozan, nor Bradley Beal, nor anyone else – as the best shooting guard in the conference.
Plus, throwing away stats and predictions, Oladipo has quietly been one of the most exciting players in the league this season. He led the way in the Pacers' opening night blitz of the Nets, with 22 of the team's 140 points; he scored 35 and shot 5-8 from three in his first trip back to Oklahoma City; he's averaged 27.5 points in two games against Orlando, his original team; he's had a 4-block game and a 7-steal game; he hasn't been held to single digits scoring in a single game in which he's played, and he's always good for some impressive highlights. He hit a game winner against the freaking Spurs and then claimed Indianapolis as his own.
His city indeed. Maybe this guy wasn't such a bad return for Paul George after all.
Sorry, Dipo. Our bad.