---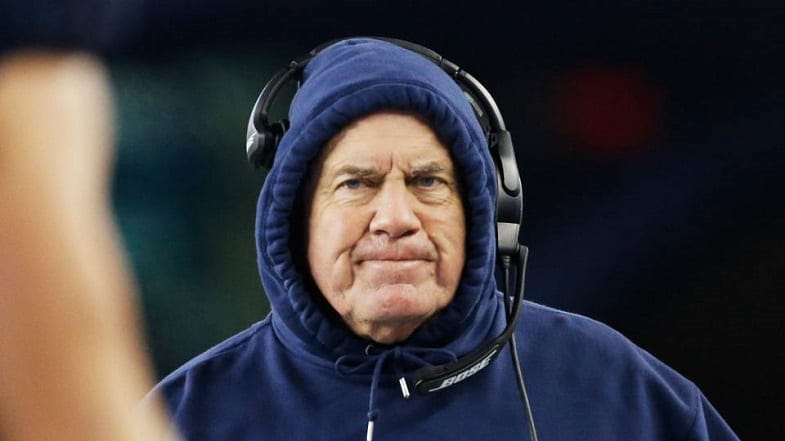 The NFL offseason is great. It doesn't contain any real action on a football field (Pro Day workouts and the Combine don't count). But there is more than enough drama going on around the league to satisfy the biggest reality television show junkie.
Like any reality show, the NFL offseason often contains a lot of legal issues. But the stuff that really gets viewers eager to watch is the internal family/team drama. Who's up for a new contract? Will he re-sign with the team or test free agency? Trade prospects? Arrests? What about the draft? The list of possibilities is endless.
This year some of the best drama is coming from an unlikely source, the New England Patriots. Most of the time, the Patriots are the masters of keeping things in-house– but not this year. One story gaining steam in recent weeks involves their superstar tight end, Rob Gronkowski.
If the rumors are true, the Patriots might be considering putting the Gronk on the trade block.
Crazy, right?
Then again, this is the 'Emperor' we're talking about here, Bill Belichick. Over the years he has made it clear that he has his own way of doing things. Someday that 'way' may be explained to the rest of us– and much to the delight of future football coaches. But for now, there is no sense in wondering why Belichick—and essentially the Patriots – does what he does.
He's never going to tell us, so we'll never really know.
In the meantime, all we can do is sit back and watch. Some of the moves Belichick makes will be logical and easy to figure out. Others will not be so logical or easy to figure out. Some of them may even appear to be downright crazy. He's made crazy moves in the past that paid off.
But anything this crazy?
Trading Rob Gronkowski would be par for the course for Belichick. During his tenure as the head coach and de facto general manager of the Patriots, he has made a habit of getting rid of players right before their production starts to slip.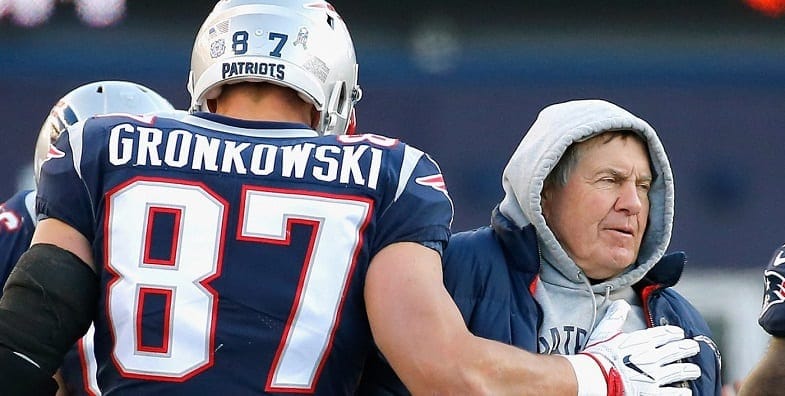 Their production doesn't always slip, but it often does. But in some cases, the team simply didn't need that particular player. Yes, it would be great to have quality depth at a position. But it is even better to use someone that doesn't play to acquire someone who potentially will play.
The following are all guys Belichick traded away for one reason or another:
Randy Moss: Despite the reputation Moss had developed in Oakland as a malcontent and slacker, Belichick used a fourth-round draft pick he got from the 49ers to acquire Moss from the Raiders. Belichick got three very productive, relatively drama-free seasons out of Moss. But early in his fourth season with the team (2010), he started to complain about not feeling wanted. He requested a trade following the season opener and got it after Week Four. Belichick sent him back to Minnesota along with a seventh-round pick for a third-round pick.
Chandler Jones: The Patriots selected Jones with the No. 21 pick in the 2012 Draft. He turned in four productive years for them and was ready for more. He was also ready for his contract extension– which was expected to be a big one. Rather than sign him to an expensive, long-term contract, Belichick traded him to the Arizona Cardinals for Jonathan Cooper (a guard) and a second-round pick. He's still one of the better linebackers in the league, but the Cardinals are the ones paying his five-year, $82.5 million contract.
Jamie Collins: It was a shock when the Patriots traded Collins to the Browns during the 2016 season. The former 2013 second-round pick had been a productive member of the Patriots defense. But in the wake of the trade, it became public knowledge that Collins tended to freelance during games and had inconsistent effort. If there is anything that doesn't fly with the Patriots, it's doing what you feel like rather than your assignment (that, and questionable effort).
Richard Seymour: From 2001 to 2008, Seymour was one of the better defensive linemen in the NFL and an integral part of the Patriots defense. But after a solid season in '08, the Patriots traded him to the Oakland Raiders for a first-round pick in the 2011 Draft. From 2004-2006, Seymour's season ended early due to injuries. His 2007 season began with a stint on the PUP list. He remained relatively healthy in 2008 and was productive. But when you have a guy with injury issues that is eight years into his career that you can get a first round pick for—you don't pass up that deal.
The Quarterbacks: There was Drew Bledsoe after he healed from the injury that opened the door for Tom Brady. Matt Cassell's value wasn't going to be higher after his season as the starter (due to Brady's injury in 2008). He was certainly not going to play again; unless Brady was injured again, that is. Once they figured out Jimmy Garoppolo was good but wasn't going to be the next starter, they got something for him. Jacoby Brissett had a decent enough debut after Garoppolo was injured that they were able to get a former first-round pick (Phillip Dorsett) for him.
Other players traded away while they still had value include Logan Mankins, Mike Vrabel, and Deion Branch.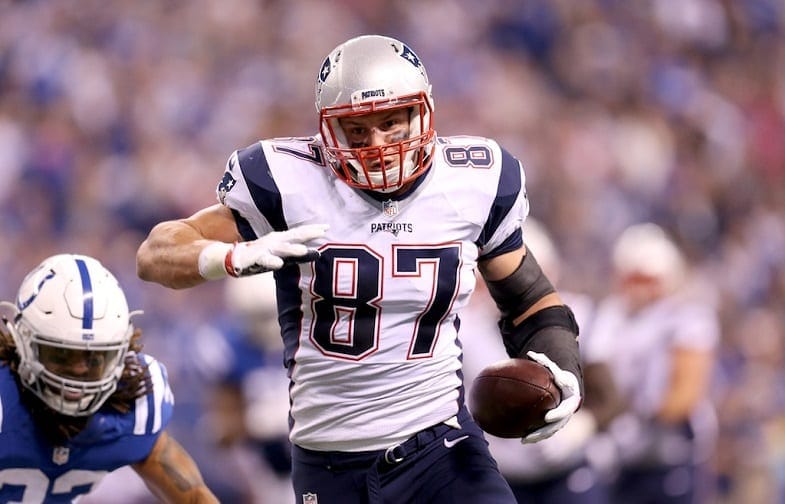 Gronkowski is a fantastic talent and will only be 29 years old when the 2018 season kicks off. But he also has an extensive injury history. The Patriots also have to be concerned that he has yet to say that he is definitely coming back in 2018. If there is anything to the rumors of a 'disconnect' between Gronkowski and Belichick, well—it may be time for a trade to happen.
All the tell-tale signs are there. Then again, they did trade Brandin Cooks away and let Danny Amendola walk. It may not be the smartest thing for the Patriots to do this season. But is it crazy?
Not even a little bit.