---

There is a line that Rod Tidwell uses on his agent, Jerry Maguire, twice in the 1996 Tom Cruise hit, Jerry Maguire that must really speak to Philadelphia Eagles quarterback Nick Foles. He says the line as he watches Jerry walk away from him the night before the draft and again as they were trying to catch a cab the next day. Each time, it meant something different.
"You're loving me now, aren't you?"
When he signed the contract that brought him back to the Eagles, he was probably feeling a lot like Tidwell did before the draft. He was important enough to be there, but that was it. Fast forward to after the Super Bowl, and he's a lot more confident about his value to the team (like Tidwell was with Jerry now that he was his only client).
But the love the Philadelphia Eagles will feel for Nick Foles has only just begun to blossom. Yes, he rescued the team after Carson Wentz went down with a season-ending knee injury. He did end up leading them to the Super Bowl. Oh—and he did decimate the New England Patriots defense, win the game, and earn MVP honors.
What more can a guy do to earn a team's love?
He's not going to do it again barring a set back in Carson Wentz's recovery that somehow forces him to miss next season (yes, that would be an incredible setback). But what else is there?
The answer is simple. He's going to command a king's ransom on the trade market.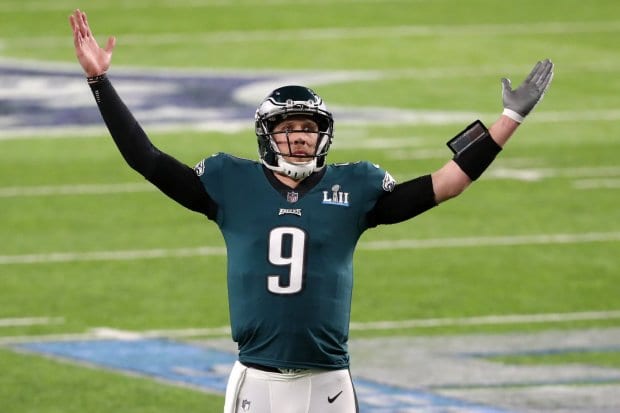 To no one's surprise, the Eagles will be open to trading the Super Bowl MVP if the price is right (via Ian Rappaport of the NFL.com). Why wouldn't they? Carson Wentz led the team most of the way last season. Foles just had to play a few games. They just so happened to be the most important ones of the season, but he still only played a few.
If they were to sit on him for any period of time, his value is going to diminish. He will always be a Super Bowl Champion and MVP. Only two quarterbacks have had a higher completion percentage throughout a postseason run than him: Joe Montana and Troy Aikman. Talk about elite company, right? But if the Eagles wait too long, teams will not care as much. Instead, they'll wonder if he still has 'it.'
So, they will have to strike while the iron is hot. However, they may actually want to let it cool down some.
Carson Wentz went down with an ACL injury in Week 14 against the Los Angeles Rams. To be precise, it was December 10. Injuries like his often require a year of rehab. That would mean he's not going to be ready to play next season.
Now, there is always the chance that he could heal fast and breeze through rehab and be ready to go for training camp or the start of the 2018 season. Then again, the Eagles may want to make sure he doesn't rush back. Rushing back certainly didn't do Robert Griffin III any favors.
Of course, Wentz may worry that the Eagles will want to ditch him if Foles continues to play well and try to rush back. After all, it wasn't that long ago that Foles was a Pro Bowl quarterback.
But the Eagles are not going to jettison a talented 25-year old quarterback for one that is four years older. An historic run during the postseason doesn't guarantee long-term success. But, odds are the Eagles will probably need Foles to start next season as well.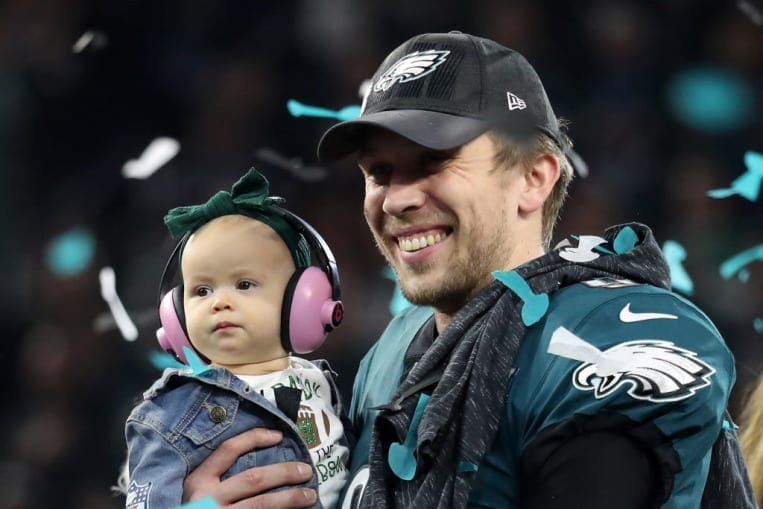 If the team takes a cautious approach with Wentz's recovery, they will not even think about having him play until late November or early December. At that point, they might as well shut him down. Yes, even if they are in contention for a playoff spot.
If they are, then that must mean Foles is playing well (or at least well enough). They may not want to upset the proverbial apple cart by inserting a new quarterback into the lineup. But if they are somehow contending and Foles is not playing well, they may do like the Packers last season. They may play him until they are out of the running and then sit him down.
If they aren't in contention, then there will be no reason to activate him and risk him re-injuring his knee.
So, that would mean Foles will have a full season to make sure not only the Eagles love him, but that every quarterback-needy team in the NFL loves him as well. The Eagles may not get much for him in trade since teams will just wait until he hits free agency.
But if there is someone that wants to make sure they get him, a trade could still net the Eagles a draft pick or two.