---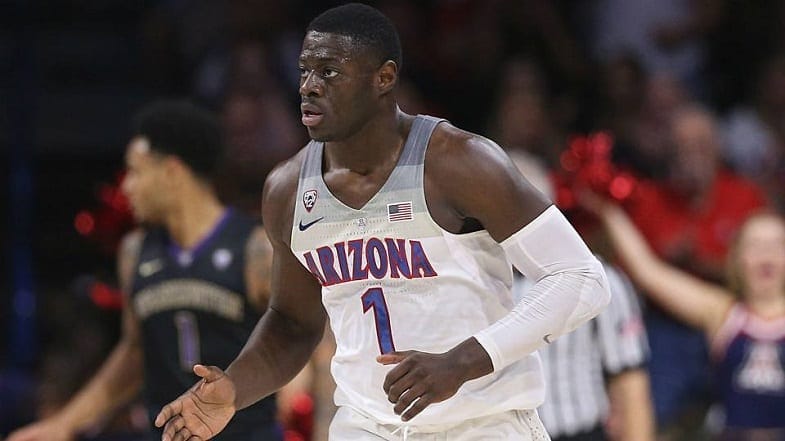 Trying to predict March Madness in March is notoriously difficult; doing it in October is essentially a fool's errand. Nevertheless, when it comes to college basketball we're all happy fools. It's irresistible at the outset of a new season to look at the landscape and wonder which teams have the stuff to make it all the way to the final weekend. As this is something I've been doing pretty much since the final buzzer sounded last April, I have some thoughts.
I'm splitting this up into four categories, rather than a straight ranking. This doesn't look like a year in which we have a truly dominant team or teams, and because of this it's likely that all these teams will shuffle around in rankings throughout the year. But I'm betting on these four tiers holding up pretty well as we approach the 2018 Final Four in San Antonio.
Apologies to everyone I'm about to offend.
NOT BUYING IT
Florida – This is the team that's baffling me most. Florida made a surprise run to the Elite 8 last season, and now everyone's all excited. Florida got a first place vote in the USA Today Coaches' Poll and placed 12th in ESPN's Power Rankings. But here's the full picture: En route to the Elite 8, the best team Florida had to beat last March was 5-seed Virginia (the Gators were a 4-seed); the team graduated three of its top four scorers, including starting point guard Kasey Hill, and the best recruit coming in is center Isaiah Stokes (62nd in the ESPN 100). The Gators do have a couple of transfers arriving, and will also return their best player in KeVaughn Allen. Head coach Mike White, an up-and-comer, may have this team looking as good as last year's – but I have a hard time believing the Gators will be better.
Miami – Miami is going to give a lot of teams a lot of trouble. While this team will miss Davon Reed badly, Ja'Quan Newton and Bruce Brown Jr. will return to give the Hurricanes a formidable backcourt, and Lonnie Walker should be one of the best freshmen in the ACC. The problem is that those guys are all guards, and so are the next best couple guys on the roster. Brown (a guard) is the leading rebounder among the returning players at 5.8 RPG. This team and head coach Jim Larranaga may also not be out of the woods regarding the Adidas scandal, but I think they'll play through skepticism. The lack of a single decent big man will be harder to overcome.
DON'T COUNT 'EM OUT
Notre Dame – Bad news, college basketball lovers. You know how every year there are a few guys who seem like they've been in school for 15 years? Your Trevor Cooneys, your Perry Ellises, your Spike Albrechts…. Well, this year Bonzie Colson is going to be that guy. Mike Brey's undersized wrecking ball should be in the running for ACC Player of the Year, and as long as that's the case I'm not overlooking the Fighting Irish and you shouldn't either. Colson's fellow senior, the pesky and talented point guard Matt Farrell, should be in for a big season as well.
USC – On paper, this team is loaded with talent and experience. Bennie Boatwright, Chimezie Metu, Elijah Stewart and Jordan McLaughlin, all scored in double figures last season, and will all be back for more. Charles O'Bannon Jr., a small forward, is a promising freshman, while their transfer from Duke, Derryck Thornton, will add depth to a strong guard rotation. The only reason I'm not higher on the Trojans is that they went only 10-8 in the Pac-12 last season, so there's a lot of ground to make up. That said, they have the goods to do it (and Boatwright was hurt for much of last season).
North Carolina – The Tar Heels will miss Justin Jackson and the whole rotation of big men from the team that won the 2017 National Championship. But Roy Williams will once again have a veteran team that should be a tough out. Senior point guard Joel Berry II recently broke his hand throwing a tantrum when he lost to a teammate in a video game, which is pretty low on the list of ideal ways to start a season. But Berry will be back in a matter of weeks. He'll be joined by fellow upperclassmen Theo Pinson and Luke Maye (who was turning into a pretty good player long before his legendary shot to beat Kentucky in last year's tournament), as well as Cameron Johnson, a versatile and talented guard/forward who transferred from Pittsburgh. Fans will also be excited to get a look at Jalek Felton, a freshman guard and the nephew of former UNC great Raymond Felton. This team doesn't quite look like a contender out of the gate, but it could become one.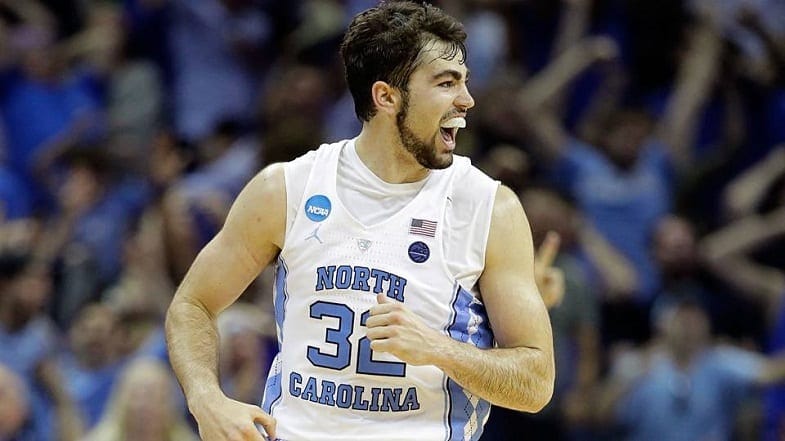 Kentucky – It says a lot about how well Kentucky has recruited under John Calipari that this team looks pretty weak by comparison to recent predecessors. The Wildcats will bring in six recruits from inside the top 50 in the ESPN 100 – but there's no surefire stud at the top like there usually is, and the guards in particular look to be a little below par. Nevertheless, there's still a lot of raw talent here and Calipari always seems to have his guys ready come March. A lot will hinge on the performance of Kevin Knox, the #10 freshman and Kentucky's best shot at a star.
FINAL FOUR CONTENDERS
Villanova – Realistically, I think this team is probably a season away from getting back to the Final Four. But that doesn't mean they can't contend for a spot in 2018. Jalen Brunson will be one of the best and most experienced point guards in the country (and he's still just a junior). Redshirt freshman Omari Spellman could be the best big man the typically guard-heavy Wildcats have had in years. Mikal Bridges and Donte DiVincenzo should be ready to step in and contribute in the gaps left by Josh Hart and Kris Jenkins, though Hart in particular is a massive loss. Villanova will be missing some depth, but perhaps gaining some versatility with the addition of Spellman. I'm betting Jay Wright can make it work.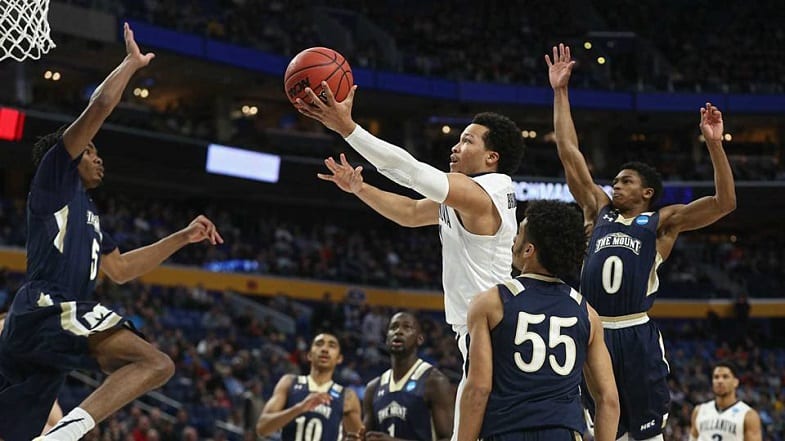 Wichita State – I covered Wichita State pretty thoroughly in a look at college basketball's veteran powerhouses, so I won't go into too much detail here. Suffice it to say virtually everyone important is back this season for a team that won 31 games and very nearly knocked off a 2-seed Kentucky team in 2016-17. There's actually a chance Gregg Marshall is about to show us his best team yet.
West Virginia – West Virginia too made it into the veteran powerhouse discussion, and the report here is pretty similar to the one for Wichita State. It's going to be a talented group of veterans with tournament experience and something to prove. Expect Bob Huggins to unleash the nation's best defense.
Michigan State – Most have the Spartans as a top-two or –three team, and I understand why. Miles Bridges passed up a potential lottery spot in the NBA Draft to return for his sophomore season, and is expected to be one of the country's best overall players. A host of additional talented sophomores will make major contributions, and 6'11'' forward Jaren Jackson Jr. is one of the country's top freshmen. Senior Louwrals "Tum Tum" Nairn should provide some veteran leadership. All of that, under Tom Izzo, is enough to get you to a Final Four. The only reason I'm keeping the Spartans out of my "favorites" category is that their guards just aren't that good. Tum Tum is a known name because, well, it's Tum Tum for some reason, but he averaged just 3.5 points and 3.6 assists last season. Cassius Winston nearly doubled him up with 6.7 points and 5.2 assists; and Joshua Langford added 6.9 points and 1.1 assists. They're all fine, but this team won't make the Final Four unless at least one of them makes a major leap.
FINAL FOUR FAVORITES
Arizona – Sean Miller waved goodbye to some pretty talented players in the offseason, but the Wildcats are more loaded than ever moving forward. Allonzo Trier and Rawle Alkins combine to form one of the nation's best backcourts (though Alkins will be hurt for at least the first few weeks of the season). Additionally, Arizona will add five freshmen – four of whom rank in the top-10 at their positions. DeAndre Ayton, a towering center with an incredible skillset, could be the best freshman in the country, and will give the Wildcats frontcourt strength to match the Trier/Alkins backcourt. If this group clicks, it could become the title favorite. Miller is under enormous pressure to make it to his first Final Four.
Duke – Duke lost most of the main players from its extraordinarily talented 2016-17 roster. That said, the Blue Devils would probably like to forget last season anyway, as it was marred by a string of injuries and Grayson Allen controversies that robbed the team of its overwhelming potential. Mike Krzyzewski will basically be starting fresh this season. Though Allen is back (and healthy) and could challenge for the Wooden Award, Duke will ultimately go as far as its monstrous group of freshmen will take it. Big men Wendell Carter and Marvin Bagley III and guards Trevon Duval and Gary Trent Jr. all ranked in the top-10 of the ESPN 100, giving Coach K arguably his best class ever. There are always challenges for such a young group, but with Allen leading the way (and sophomores Javin DeLaurier and Marques Bolden looking to contribute as well), Duke is more than capable of a Final Four run.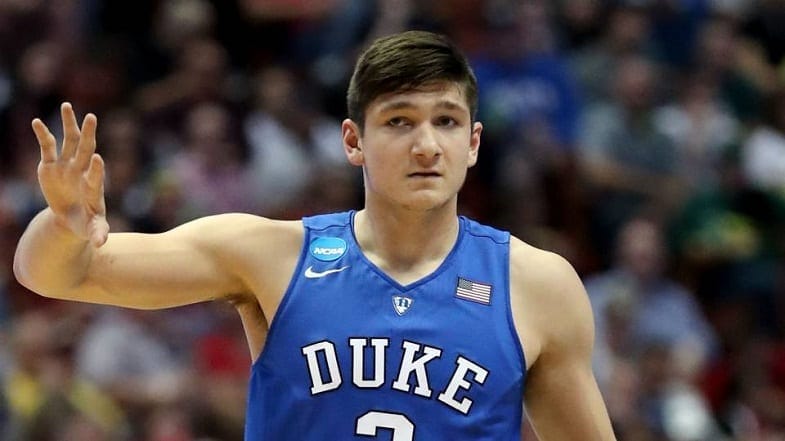 Kansas – By this point in the article you've probably gotten the idea that I put a lot of stock in veteran backcourts. Well Kansas, another "veteran powerhouse," may have the best of them. Senior Devonte' Graham is poised for a huge year with Frank Mason III having graduated. 6'8'' shooting guard Sviatoslav Mykhailiuk, also a senior, has shot right around 40 percent from three for two seasons running. And Malik Newman, a redshirt sophomore who sat out last season, should be the most talked-about transfer in the country. The Jayhawks will need a big leap from sophomore center Udoka Azubuike (which seems entirely possible) or a quick emergence for freshman forward Billy Preston (#18 in the ESPN 100 out of Oak Hill) to have much of anything going on inside. But it's going to be hard for anyone to keep that backcourt trio away from San Antonio come March.