---
There are going to be takes that suggest we just witnessed the best or craziest first weekend in NCAA Tournament history. They're hard to resist, but "best" and "craziest" are also impossible to quantify or measure. They're subjective ideas for every fan to consider independently, and that's part of why March Madness is great – there's something for everybody. What I do feel comfortable saying though is that we probably just saw the unlikeliest first weekend in tournament history – or at least this century so far.
It's an arbitrary line to draw, but one of the most striking things about the Sweet 16 field we're left with after a first weekend of dizzying carnage is the relative lack of top-4 seeded teams. There are only seven such teams remaining: Gonzaga (4), Michigan (3), Villanova (1), Texas Tech (3), Purdue (2), Kansas (1) and Duke (2). This has only happened once before this century, and it was all the way back in 2000. Oddly enough, in both instances, the average seed of the remaining teams at this stage was 5.3; but 2018 has two 11-seeds remaining, while 2000 had nothing higher than a 10-seed. And, most importantly, 2018 brought the first ever 16-over-1 upset, even if the 16-seed UMBC Retrievers didn't make it into the Sweet 16.
It's not an ironclad case, but it's really as far as we need to go to establish that what we just saw was, in the truest sense, madness. With the shocking start behind us though, it's now time to look ahead to a Sweet 16 field that, frankly, just looks bizarre. Here's what we've got left.
South Region
Far and away the wackiest region in recent memory, this is where American East champion UMBC toppled mighty Virginia to become the first 16-seed in tournament history to advance. Don't let that singularly incredible upset obscure the rest of the insanity we saw in the South though. This is also where 4-seed Arizona – a trendy Final Four pick led by possible #1 draft pick Deandre Ayton – fell to Buffalo, as well as where 2-seed Cincinnati surrendered a huge lead to fall in the second round and 11-seed Loyola Chicago has already won two games. What happens next is anyone's guess, but here are the matchups in Atlanta.
Kansas State (9) vs. Kentucky (5)
These are two teams most people didn't expect to see in the Sweet 16. Kansas State was supposed to lose to Creighton or Virginia, and Kentucky to Arizona. Credit to both teams for beating the teams in front of them though. Both teams have played excellent defense so far, and Kentucky point guard Shai Gilgeous-Alexander has boosted his reputation about as nicely as anyone else in the field so far. This game may hinge largely on the status of K-State big man Dean Wade, who missed the opening weekend but could return and make it a real battle – though Kentucky will be favored.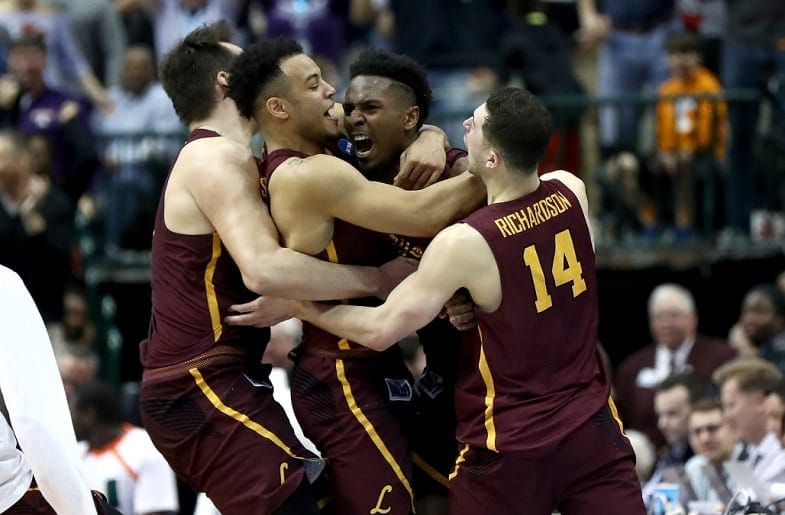 Loyola Chicago (11) vs. Nevada (7)
Loyola Chicago has arguably the best two wins of any team in the tournament, having taken down Miami (6) and Tennessee (3) en route to the Sweet 16. They also have the best super fan in the bracket in 98-year-old Sister Jean, who's become an international sensation. Nevada, meanwhile, has flashed its high-powered offense, but has also needed two major comebacks and one overtime period to make it through. If anything, it actually feels like the Loyola Ramblers have a bit of an edge, but this one's more or less a toss-up.
West Region
The West gets the runner-up trophy for craziest region so far. While we haven't seen the same breed of Cinderella as we saw in the South, the West's top-two seeds fell on Sunday. 1-seed Xavier blew a second half lead to Florida State (9), and 7-seed Texas A&M took it to 2-seed North Carolina pretty much from the opening tip. Thus, while the 3- and 4-seeds got through as expected, there's still a sense that this portion of the bracket was also turned upside down. Here's a look at the action ahead in Los Angeles.
Florida State (9) vs. Gonzaga (4)
Florida State has frankly been more impressive in two tournament games than it was all season. The Seminoles made quick work of Missouri in the 8-9 game and then hung around just long enough to take control late against a 1-seed Xavier team that seemed to tighten up. Gonzaga, meanwhile, shook off a bit of a battle with 13-seed UNC-Greensboro to earn a convincing win against Ohio State (5). The Zags will have an advantage in the frontcourt, and will be favored because of it, but right now Leonard Hamilton's balanced, veteran attack looks formidable.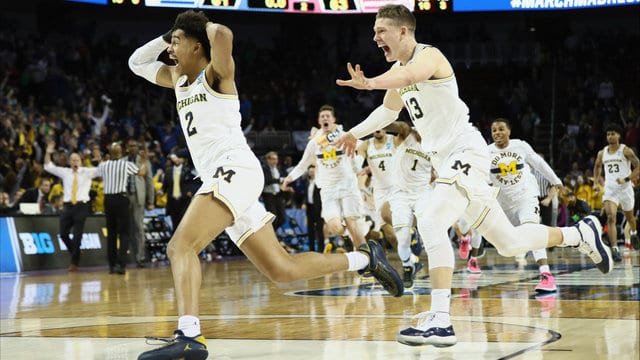 Michigan (3) vs. Texas A&M (7)
Facing a heating up Rob Gray (the dude on Houston with the man bun who went all Trae Young in the first round) and an early exit, Michigan pulled off arguably the most dramatic win of the tournament so far, draining a deep three at the buzzer to advance to the Sweet 16. That kept the Wolverines among the hottest teams in the country, and set up a matchup with a Texas A&M team that absolutely thrashed UNC on Sunday. The Aggies' frontcourt duo of Tyler Davis and Robert Williams looked borderline unstoppable in the second round, but Michigan is still (probably) the better team.
East Region
This East is the only part of the bracket in which it feels like we've more or less seen an ordinary tournament. Sure, Butler beat Arkansas, but this is a 10-7 upset a majority of people picked, if only because there's some lingering magic in the Butler name. And we got one fairly major upset when 13-seed Marshall knocked off 4-seed Wichita State. Otherwise though, things have turned out largely as expected, which has the matchups for Boston looking almost refreshingly conventional – and very competitive.
Villanova (1) vs. West Virginia (5)
This might be the best-looking matchup of the Sweet 16. Villanova has looked like one of a small handful of true contenders through two rounds, and has the guard play and experience to handle Bob Huggins's famously frenetic defense. The Wildcats will and should be favored. That said, the way Jevon Carter and Co. took it to Marshall on Sunday night has West Virginia looking good enough to at least challenge the 1-seed. I'll put it this way: Villanova is the smart pick, but if the Mountaineers were playing any team left in the South or West, I'd probably have them advancing.
Texas Tech (3) vs. Purdue (2)
This is a tricky game to project because we don't know the status of Purdue center and registered titan Isaac Haas. Haas broke his elbow earlier in the tournament, reportedly wanted to play in the second round game anyway because he's made of stone, and wasn't able to. The Boilermakers had to scrape by Butler without Haas, but they did look weakened. Meanwhile, Texas Tech gutted out a strong win over Florida in the second round and seems to be the team we're all overlooking. Senior guard Keenan Evans has been one of the best players in the entire field so far.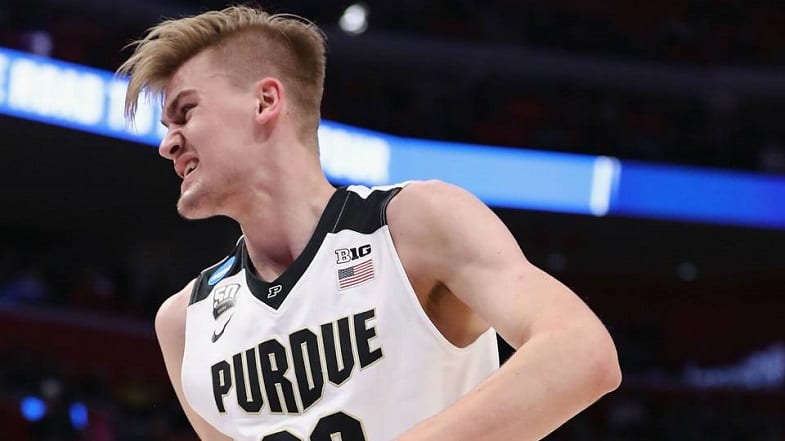 Midwest Region
In ways it feels like we narrowly escaped insanity in the Midwest. Penn – a team heralded as perhaps the toughest 16-seed in history while we all ignored UMBC – hung with top-seeded Kansas for a while before falling away, and 8-seed Seton Hall was actually with the Jayhawks until the final minute. 13-seed Charleston had 4-seed Auburn on the ropes for a while, and 14-seed Bucknell just about clipped Michigan State (3) also. We did still wind up with a few surprises though, as 5-seed Clemson absolutely laid waste to Auburn in the second round and 11-seed (and First Four winner) Syracuse upended Michigan State. Here's a look at an Omaha bracket that's all of a sudden down to three ACC schools and Kansas.
Kansas (1) vs. Clemson (5)
As mentioned, Kansas had to fight through each of the first two rounds, despite the fact that injured big man Udoka Azubuike is now healthy and playing. The Jayhawks have looked fine, but not great so far. They'll also have a nice home crowd in Omaha, but Clemson isn't going to be a pushover in this game. The Tigers, who rank 7th in defensive efficiency per KenPom, have given up just 60.5 points per game so far while avoiding a popularly picked 12-5 upset and dismantling Auburn. Kansas is the favorite, but if you're looking for more madness, this is a good place to start.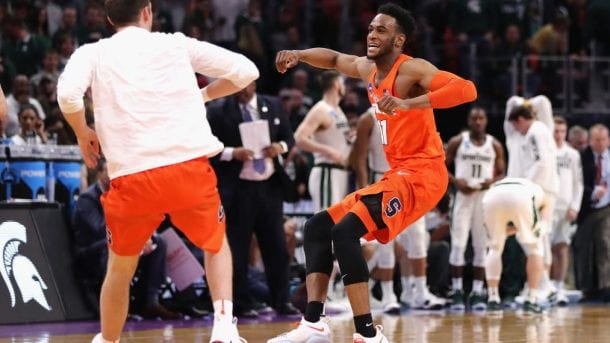 Syracuse (11) vs. Duke (2)
For what feels like the 50th time, Syracuse has jumped off the bubble straight into the Sweet 16. The Orange got by Arizona State in the First Four, handled TCU in an 11-6 upset, and, to their own benefit, kept things sloppy in an upset of 3-seed Michigan State. Duke, meanwhile, has been right there with Villanova as one of the few teams looking like a contender so far. The Blue Devils won handily when these two teams played in Durham last month, and are playing well enough to do so again – but Syracuse has nothing to lose, and a neutral court could certainly make it closer this time.