---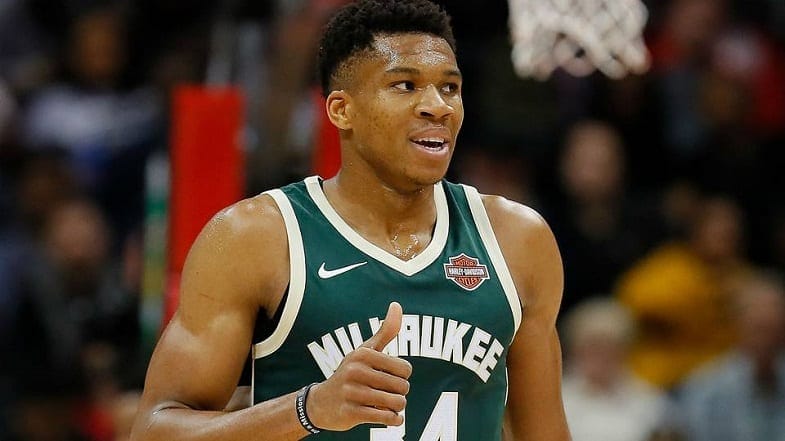 Throughout the ludicrously prolonged ultra-prime of LeBron James, we've seen various potential heirs materialize. Two years ago it looked like Stephen Curry had answered the question of who the unofficial Best Player On Earth would be once LeBron declined – but is that timeline still going to line up? Kevin Durant once looked like an obvious answer too, and some like to imply he's already neck-and-neck with James – but LeBron may just stay great so long that he and Durant will start to slip at the same time. Basically, LeBron is Federer'ing him.
It's too easy to poke holes in James Harden and Russell Westbrook. Trying to figure out what's going on with Kawhi Leonard is suddenly about as clear as making predictions for Westworld's fifth season. Jimmy Butler and Paul George are a tier below, and Kyrie Irving is hurt too often.
All things considered, we probably have to start looking further down the bench for James's heir (though Durant may get a year or two). That really leaves us with three candidates: Anthony Davis, Ben Simmons and Giannis Antetokounmpo. My own opinion is that a healthy Davis is as dominant a player as we have in basketball, and he's gotten to that point with an organization that hasn't typically set him up for success. I'd put decent odds on all of us looking up in three years and evaluating Davis as obviously the best player in the world. Then again, he has a worrisome injury history already, so I'm not sure I'd actually take the bet. Ben Simmons, meanwhile, is as promising a rookie (ahem, "rookie") as we've seen this decade – but he can't shoot, he doesn't have too much room to improve, and he may already be in the best situation of his career. Mostly, we just haven't seen enough yet.
That leaves Giannis, who looks increasingly like a clear pick as the heir apparent to Best On Earth honors. Only five months ago he was being tabbed as the leader in the 2017-18 MVP race, and though he won't win the award, he'll probably finish top-five. For what it's worth, he's 23 now; James finished fourth in MVP voting at the same age. In fact, while we're at it I'll break my rule about not comparing players to LeBron:
When they were 23…
Giannis: 26.9 points, 10.0 rebounds, 4.8 assists, 52.9% FG, 30.7% 3P FG, 76% FT
LeBron: 30.0 points, 7.9 rebounds, 7.2 assists, 48.4% FG, 31.5% 3P, 71.2% FT,
Not too far off, right? And the more meaningful comparison isn't in the numbers. It's that like James in 2007-08, Antetokounmpo is producing this way without anyone thinking he's reached his ceiling. As with James, this isn't a what-if so much as a waiting game. We're knowingly watching the making of Prime Giannis.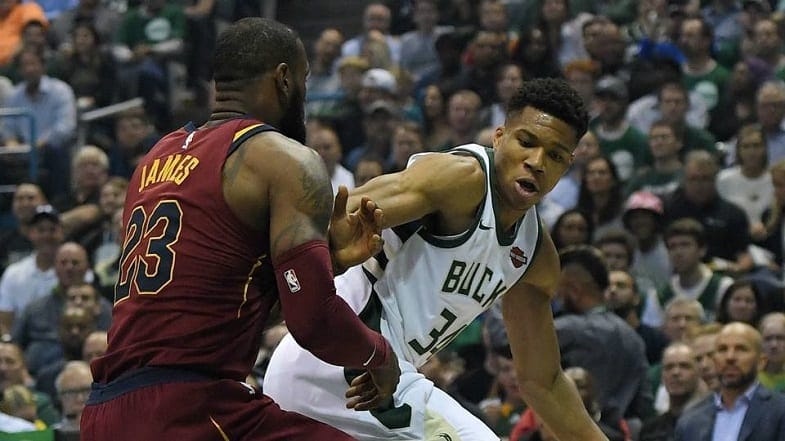 The Greek Freak's improvement this season has been awfully impressive. He's raised his field goal percentage (and attempts), shot more free throws (maintaining the same percentage), and scored and rebounded more. He's even raised his three-point percentage by almost 4 percent – not a huge number, but a good start for a guy about whom commentary often begins, "if he ever gets a three-point shot…." Furthermore, he's done all this despite significant team drama: two important teammates missing meaningful time (Malcolm Brogdon and Jabari Parker), a major midseason trade, and an abrupt coaching change. The Bucks have been a bit of a mess compared to expectations. But Giannis has transcended his team's turmoil.
We've also seen a more assertive Greek Freak against top competition of late. Some of his best performances in 2018 have come against Philadelphia (with Simmons and Joel Embiid both active), against Houston, at Cleveland, and in a recent win over Golden State. He's simply started showing up in a way that makes Bucks vs. Anyone Good must-watch basketball, whereas in the last few years Milwaukee was mostly an interesting League Pass team in theory.
What's left is fire. By all accounts Giannis Antetokounmpo is an extremely nice, humble person. He's spent much of his NBA career living with his mother, brother and girlfriend. He's discussed his childhood selling goods on the street, and how those memories keep him from taking his career for granted. He's even indicated he likes being in Milwaukee because it has fewer distractions than bigger markets. This is all great to hear, and it makes Antetokounmpo an admirable figure and a strong role model. As a superstar though, he still needs to unlock a level of intensity that can kick him up a notch, and there have been subtle hints that he's finding some of that fire.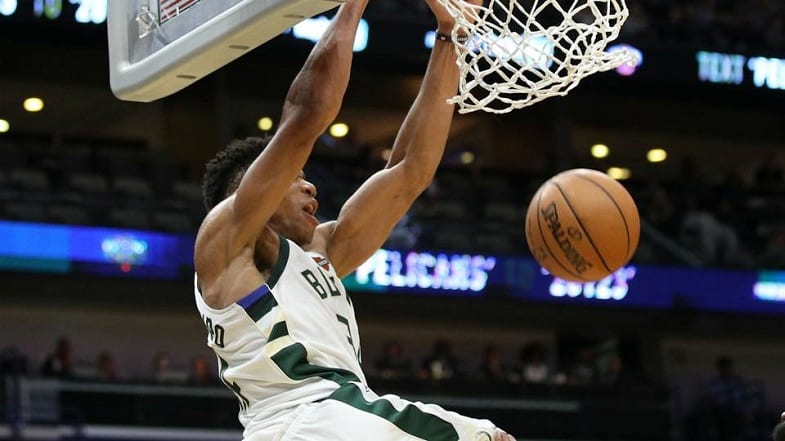 What first caught my eye in this regard was Antetokounmpo's public hint that he offered to save Jason Kidd's job when the coach was fired midseason. It was actually calm – almost vulnerable – but it also made it clear that Antetokounmpo is fully aware of his clout. Since then it almost seems as if he has, at times, been more expressive on the court. He was even ejected from a game recently after arguing a foul call. Meanwhile, on a seemingly unrelated note, a few figures in NBA media have started to whisper that Antetokounmpo might seek a new team if Milwaukee can't build a contender (talk that Antetokounmpo has refuted). Oh, and there's buzz that he's Nike's next signature athlete also, and that he'd like to work out with Kobe Bryant, a notorious offseason maniac, this summer.
That last paragraph looks like a random hodgepodge. Altogether, though, it paints the picture of a great young player who's starting to treat himself, and be treated, like a superstar. Giannis controls the Bucks. Giannis knows it. Giannis wants the calls. Giannis will yell and thump his chest against the best. Giannis wants to bring his city a championship. Sometime in the next two years we'll see a cool story about Giannis giving a bunch of Giannis 1's to a bunch of kids in Greece.
The mixture of all this – the self-awareness, the budding air of supremacy, the on-court improvement, and more generally the growing aura – feels like more than the development of another regular All-Star. It's the incubation of an MVP, and quite possibly the first non-American best basketball player alive.