---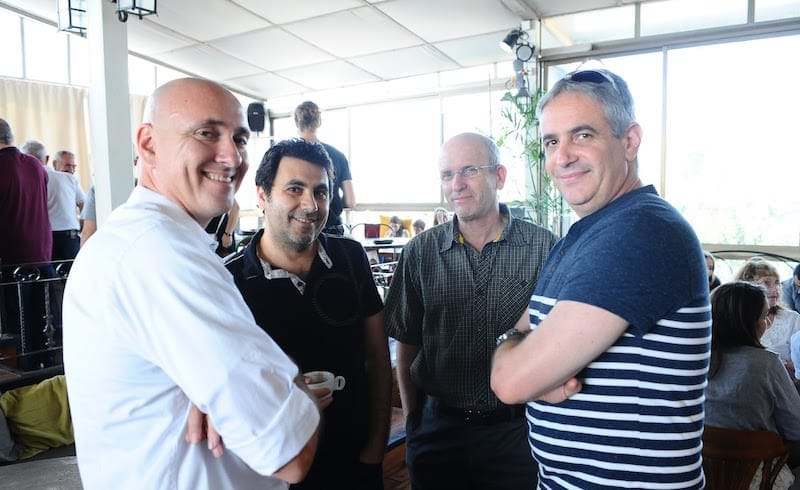 PlaySight Interactive is looking to change the way people train and play sports. The Israeli company is still fairly young, and the concept itself was only developed about seven years ago by the original three co-founders. Today, the technology, which uses cameras on the court to deliver real time analytics to players and coaches, is used by the best in the world, including the reigning NBA Champion Golden State Warriors and tennis star Novak Djokovic.
We sat down with the Chen Shachar, the CEO and one of the co-founders of PlaySight (along with Evgeni Khazanov and Yoram Bentzur), to talk about the company and their technology.
---
---
Q: How does a PlaySight court work and how does it help athletes train?
A: We know that [in the future] the sports world will turn to smart courts and gyms and rings, and when I say smart I mean they are going to be connected to the internet and they will have built in cameras on those courts. Those cameras will record and analyze all the activity going on. Not only record and analyze but also communicate with smart shirts, smart shoes, wearable clothing, smart scoreboards, with everything. All that information will be connected to the digital world.
PlaySight is already bringing that future with more than 700 smart courts around the world.
What we do at PlaySight is connect the physical activities on the court to the digital world. You can think of PlaySight as a combination of wearables and smartwatches that tracks your running with let's say a Go Pro camera. We are combining the personal tracking and video for the mass market.
For example, with tennis we put five cameras all around the court, the court is connected to the internet, and those cameras and the system can provide four main services. One is live streaming, so it's automatic production. We provide instant video replay on the court with full analytics, we analyze the players performance, movement, activity. We track the ball, so we understand everything that goes on on the court. We also provide officiating, we have automatic line calling in tennis. All that information, all the video and data, is being uploaded to your cloud based platform. As a player or coach you can review it, share it, you can edit it, you can create clips, you can compare yourself with others.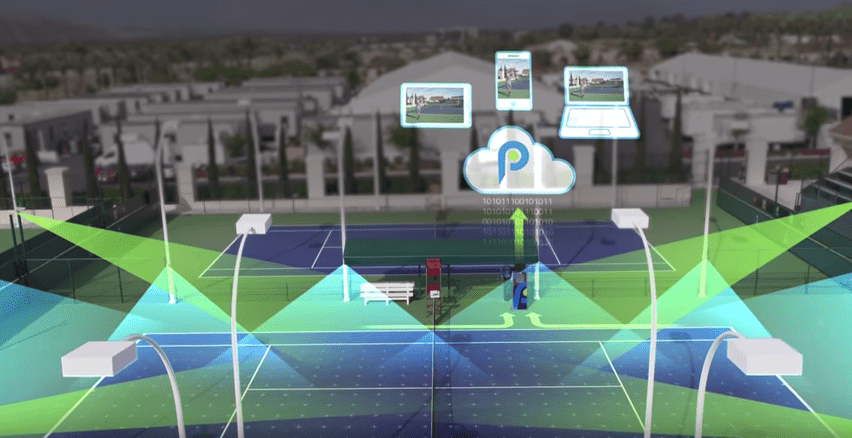 Q: How did the idea for PlaySight come about?
A: We are three founders that started the company and later on we joined forces with an additional founder who led the first investment round and all of us come from a military background and developing systems for the army.
The idea was to bring the most advanced concepts and technologies which existed in the air force and only at the elite level and bring it to the mass market. The funny story [about how we started] is that our CTO, Evgeni Khazanov, who is also one of the co-founders, his daughter was playing tennis and he was a crazy tennis dad and he was coming home after every practice very frustrated by the fact that tennis was still being played the way it was a century ago. Then we started playing around with the idea of what we can do in bringing technology to tennis, and this is how we started.
Q: You recently secured another $11 million in investments, who are your biggest investors at the moment?
A: The last round is Verizon Ventures and Greg Norman's fund, the Great White Shark Opportunity Fund, it's Greg Norman and David Chester who are partners. The other big shareholder is a group led by George Mackin, which used to own Tennis Media Company which was Tennis Magazine and Tennis.com, it was recently sold to Sinclair. They are the largest shareholders.
If we are talking about individual shareholders, the biggest individual shareholder is Novak Djokovic, the tennis player. He invested in the rather early stages of the company's life.
Q: What high profile teams, universities and individuals does PlaySight work with?
A: We were blessed with a dream team of tennis players and coaches. We have Novak Djokovic, Ana Ivanovic is one of our ambassadors, Billie Jean King, Pete Sampras, Tommy Haas. We have famous coaches like Paul Annacone and Darren CoHill, Stefan Edberg. We're installed in Wimbledon, Flushing Meadows, on their practice courts. Also in Indian Wells.
With regards to teams, in the NBA we work with the Golden State Warriors and Phoenix Suns and hopefully some others will follow soon. Universities we work with all the Meccas of sports, USC, Cal, Mississippi, UNC, Purdue and the list is long, even Harvard and Princeton.
Hopefully we'll have another ten or 15 schools this year. In soccer which we just started we are going to install our first Bundesliga team, which is Hoffenheim, a very hi-tech team.


Q: You started with tennis, made your way to basketball. What other sports are you targeting for your product?
A: We started with tennis, and tennis was a big market and opportunity of its own. Just as a side note, when we started with tennis, tennis was second to last in sports in incorporating technology at all levels, and today it is becoming one of the leading sports in incorporating technology, not just with PlaySight.
After tennis, the next big sport is basketball, and the reason for basketball is because it's a huge American sport but also an international sport. The other one is soccer.
Our platform is generic, so when we install a basketball court we can also serve volleyball and let's say in Europe, handball. It can be used for gymnastics and cheer-leading and martial arts, everything that is practiced in the same gym. Especially in the US when we install a soccer field it can be used for lacrosse and football.
(Side note: PlaySight is also venturing into golf)
Q: What is the cost of building a smart court and what are the maintenance fees?
A: It really depends on the sport and the configuration. We have different configurations, from what we call Smart Court Pro, which is the most expensive and comprehensive solution, all the way to what we call Live Courts, which are a lighter version which provide video streaming and online access to the video but not on court feedback.
The prices range between $7,000 a year all the way to $15,000 a year and for professional teams even $30,000 a year. It is an annual license, the customer signs a multiyear agreement and they pay an annual fee which includes everything, the hardware, the installation and so on.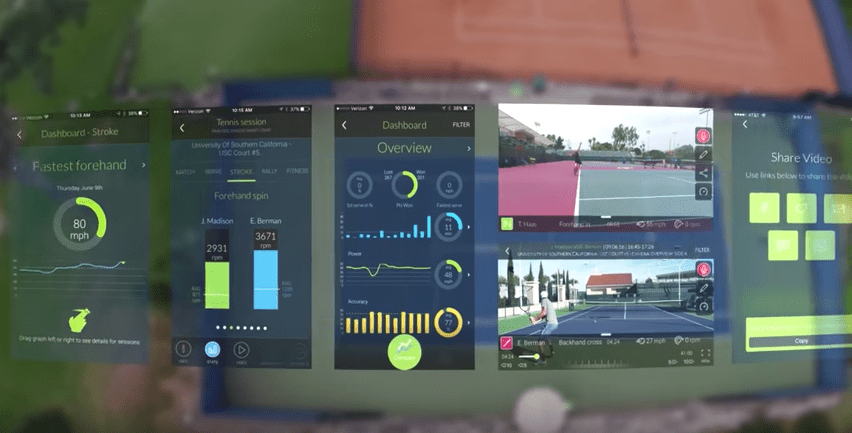 Q: What is the future for PlaySight, how do you see the company and technology advancing?
A: First of all, with regard to the number of installations, 700 installations are just the peak of the iceberg. We see a future where every facility and court and gym and rink is going to be smart, so we're talking about tens of thousands of installations in all sports and this is what we are trying to do. We are trying to connect and bring the technology to all levels, mainly the junior and amateur and recreational. That's our goal, to install over ten thousand smart courts around the world.
With regards to wearables, it's interesting to see how the technology develops. Today in the market there are two major technologies, one is camera based and the other, which is becoming very popular, is wearables and sensors.
Our platform is generic and it's an open platform, which fuels information from different sources. So it can be from our cameras, it can be information that we get automatically from the scoreboard, but it can also be from the wearables that players wear.
The other thing is to fully integrate the system with real time location sensors that can tell us the location of the players and in games like basketball and rugby and American footballs, which are contact sports, we think that we can do what we did in tennis by integrating sensors.
Q: Sports lovers tend to be data junkies. Do you see this technology being available for consumers as they watch games on TV?
A: It's something that one, we can do, and second we've started doing. From very basic information all the way to complex information.
Today we live stream hundreds of tennis courts at the collegiate market, we have over 30 D I universities and all of them are using our technology to stream live. When they stream their matches they stream it with an overlay of the scoreboard on the video. That's the very basic information that we provide. We also live stream basketball with the scoreboard. At the USTA center, they stream over 70 courts live with scoreboards.
We also have the capability to stream video live with more advanced data. For example, in tennis we know the speed and spin of every shot. We know the exact placement, we know distance covers and accelerations, which we can screen on the video. We are talking to tournament organizers and companies in that market to use our data for live. This is part of our revolution, that for the first time the average tennis player can know the speed of his serve and complex information of his game that even professional players at Wimbledon don't always have.