---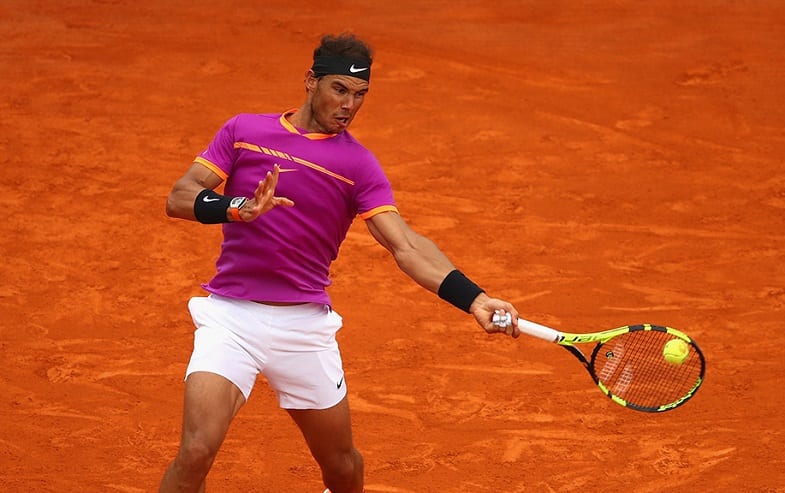 Men's tennis appears to be heading toward a familiar coronation. We're in the midst of the clay court season and as has been the case for over a decade, Rafael Nadal is dominating. The #1-ranked Spaniard commands the surface like no other player in history, and at this point seems to be so far ahead of his competition it almost seems pointless to play the tournaments.
As much as any athlete in any particular environment or venue, Nadal is in his element on outdoor clay. It's his home surface in a sense, given that many Spanish players grow up on clay, and that the country's most prominent tournaments use the surface as well. Additionally, the clay courts are where Nadal's lefty forehand and intense spin are most effective; on the slower surface, his ability to put opponents in uncomfortable positions is less easily negated by quick defense and powerful shot making. And then, of course, there's the snowball effect of his dominance. For a while now Nadal has known he's going to win on clay – and his opponents have known it too.
With Nadal healthy and back at the peak of his powers in 2018, this clay court dominance has been on full display. He's just won back-to-back major clay tournaments in the Monte-Carlo Masters and the Barcelona Open, and didn't drop a set in either one. In fact, in the 20 sets he played in these two tournaments, he only lost five games in a single one (a 7-5 set against Martin Klizan). Nadal is making it look as easy as he ever has on his home surface, which is causing just about everyone who pays attention to tennis to anoint him champion of the upcoming French Open at Roland Garros.
Nadal makes the men's clay court season so non-competitive that ESPN tennis writer Peter Bodo recently published a piece titled Here Are The Players Who Could Possibly Beat Nadal On Clay. Not "players who could win at Roland Garros," or "players who have given Nadal trouble before" – players who could possibly beat Nadal. That paints a pretty bleak picture for the rest of the men's tour. (Though I have to say I was surprised to see Juan Martin del Potro actually has a 5-9 record against Nadal on the surface. Compared to the others, that .357 win percentage just about makes him look like an undefeated juggernaut.)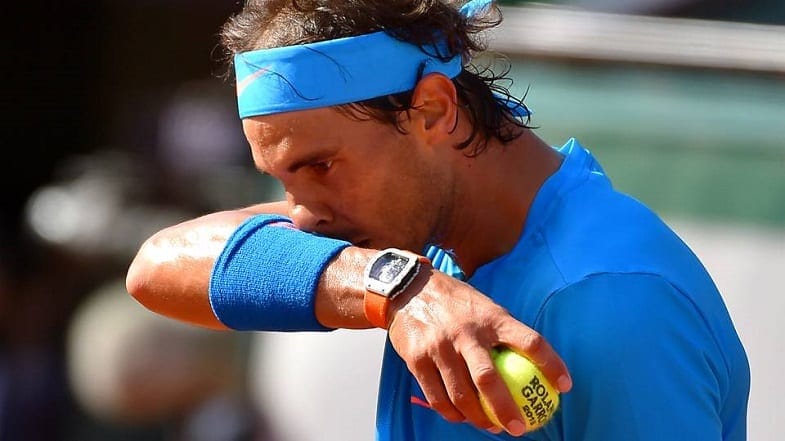 It's probably correct to suggest Nadal is heading for an 11th French Open title, which is ridiculous to even type. He recently flattened two of his toughest possible opponents, Dominic Thiem and Grigor Dimitrov, by scores of 6-0, 6-2, and 6-4, 6-1 respectively. Del Potro has neglected to play clay court tune-ups for the French. Alexander Zverev, another potential challenger, had a somewhat disappointing loss to Kei Nishikori on the Monte-Carlo clay, and has never beaten Nadal on the surface. And Roger Federer, as has become his new custom, is skipping the clay season entirely to focus on his defense of the Wimbledon title.
It's that last point though that speaks not only to why this coronation is justified, but why, for Nadal, it needs to be. We spend plenty of time on the assumption that Nadal can't be beaten on clay, but perhaps not enough on how vital it is to his legacy that it remains that way. And when you consider it that way, the 2018 clay court season is more pivotal than you might otherwise assume.
At this point there is no considering Nadal without Federer, and vice versa. The two have been locked in a battle for GOAT status for several years, and may remain so until they're both done playing. Federer fans will argue that he has the better overall résumé, more records on his side, and more wins on a greater variety of surfaces, while Nadal is at least in part a clay court specialist. Nadal fans will counter by saying he's won more on hard and grass courts than Federer has on clay, and by citing the fact that Nadal owns the better head-to-head record by a clear margin.
At this stage, however, the Federer arguments are starting to win out. Thanks to an incredible late-career surge, Federer has actually pulled further ahead in the category that matters most to most fans, with 20 Grand Slam titles to Nadal's 16 (with both players looking likely to add to their tallies). More importantly though, Federer's five-match winning streak against Nadal dating back to 2015 has drawn him closer in their career head-to-head. Nadal still leads 23-15, but by now the entirety of that edge can be accounted for by matches on clay. In matches on any other surface, Federer leads 13-10 (also excluding Federer's two wins over Nadal on the surface); in Grand Slams on any other surface, he leads 19-6 (excluding Federer's lone French Open title).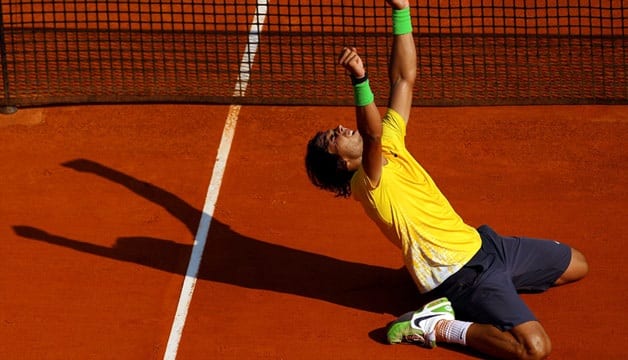 This is not to suggest that clay should be counted out, or doesn't matter. But it does illustrate that any edge Nadal can be said to have in this incredible rivalry does come down to his dominating one surface and a few months of the year to an unusual degree. Up until a few years ago, this didn't matter much. Nadal was otherworldly on clay and good enough everywhere else that there was at least an argument to be made he could overtake a declining Federer.
Federer's resurgence has changed that. He's rediscovered something near his peak form even as some of the sport's younger stars have struggled with injuries. He's tweaked his backhand specifically to better handle Nadal's leaping crosscourt forehands, resulting in the aforementioned five match winning streak. And with Federer clearly having decided he can best manage his health and prepare for his best tournaments by skipping the clay season, it seems unlikely he'll ever play Nadal again on the Spaniard's best surface.
The results of all of this are that Federer is winning Slams, narrowing the head-to-head margin, and shooting further ahead in the GOAT debate. Indeed, by this point that debate might even be over. But if Nadal is to stay in the conversation, he has to maximize his time on clay year in and year out. Once upon a time this season was an opportunity for Nadal to strengthen his case and put distance between himself and Federer, at least in a few categories. Now, it's just his time to catch up.
Because of that subtle shift, anything less than perfection on clay and at Roland Garros could just settle this rivalry once and for all.