---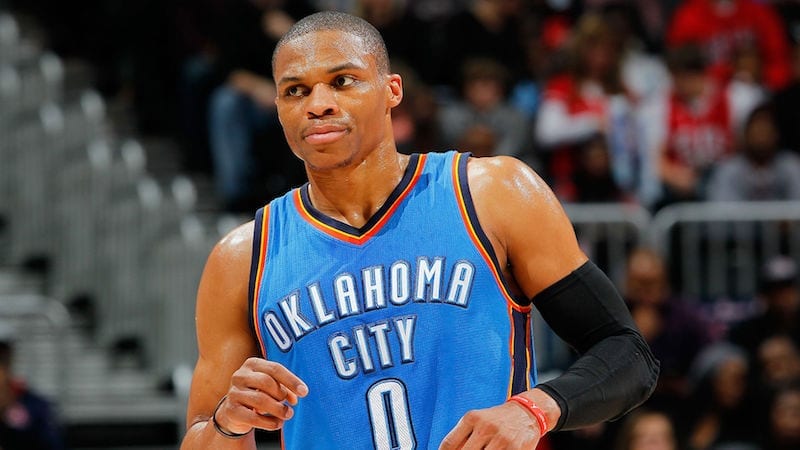 On April 4, 2017, Russell Westbrook scored 12 points, dished out 13 assists and pulled down 13 rebounds, his 7th triple-double in a row and 41st of the season, tying Oscar Robertson's record of triple-doubles during a season. It was also Westbrook's 78th career triple double, tying Wilt Chamberlain, during an off the charts season that seems to be leading to the regular season MVP title. But where does the 28 year-old OKC star stand on the All Time Triple-Double list?
#1 Oscar Robertson
Oscar Robertson was one of the greatest "all-around" players to ever take the court. He was also a triple-double machine from the start of his career. During his first five seasons in the NBA, Robertson had 135 triple-doubles, including his magical 161-62 season, which Westbrook just tied (41 triple-doubles). Throughout his 14 season career, Robertson also had 582 double-doubles, averaged 25.7 PPG, 7.5 rebounds and 9.5 assists.
#2 Magic Johnson
Magic Johnson's list of career achievements goes on and on. So it may be easy for his triple doubles to get lost in between his five NBA Championships, three MVP titles and three Finals MVP titles, just to name a few. But the Lakers great also tallied 138 career triple-doubles over his 13 year career, all with LA. The big man averaged 19.5 PPG, 7.2 rebounds and 11.2 assists.
#3 Jason Kidd
The long time point guard turned coach is still holding on strong to his spot at number three on the all time list. But if Westbrook has another season like this in 2017-18, he's sure to overcome Kidd, who finished his 19-year career with 107 triple-doubles. Kidd never had a standout triple double season, his most in a single season was 13 '07-'08, 12 of them were with the New Jersey Nets and one with the Dallas Mavericks.
#4 Russell Westbrook
Russell Westbrook had a season to remember. The Oklahoma City point guard was an unstoppable scoring machine during the 2016-17 season, helping some Thunder fans forget that Kevin Durant even left (at least for a bit). Westbrook had 42 triple doubles this season alone, more than doubling his triple doubles for his career. He finished the season with 79 triple doubles, and good for fourth place on this list. 
#5 Wilt Chamberlain
Who can forget the black and white photo of Wilt Chamberlain holding up a piece of paper reading "100"? The big man scored 100 points during a game between his 76ers and the New York Knicks on March 6, 1962. But our focus here isn't his big game, but rather his 78 triple-doubles, 31 of which came during the '67-'68 season before he headed out west to the Lakers. Chamberlain averaged 30.1 PPG, 22.9 rebounds and 4.4 assists over his 14 year career.
#6 Larry Bird
The Boston Celtics superstar is well known for being clutch, an all-around great player whose presence was always felt on the court. He also had 59 triple doubles over his 13 year career. The Indiana native and Hall of Fame forward was a three-time Champion, 12-time All Star and three-time league MVP.
#7 LeBron James
LeBron James was chasing another ring this season, going for back-to-back championships with the Cavaliers. The King broke some insane records during his chase for his fourth ring, including some during the Finals. He also finished the season with 13 triple doubles, the most he's tallied in a single season, bringing his total to 55 and earning the seventh spot on this list.
#8 Fat Lever
Denver Nuggets legend Lafayette Lever, better known as Fat Lever, tallied 43 triple-doubles throughout his career. During his six years in the Mile High City, Lever was close to averaging a double-double almost every season, putting up incredible numbers nearing 20 PPG and just under 10 rebound per game. Unfortunately for Lever, he didn't perform nearly as well at the beginning and end of his career, with the Portland Trailblazers and Dallas Mavericks respectively, and finished his career averaging 13.9 PPG and 6.0 rebounds.
#9 Bob Cousy
Call him what you like, "Mr. Basketball," "The Houdini of the Hardwood," or perhaps just Bob. Bob Cousy was one of the greatest players in history and arguably the greatest player of his generation. The Boston Celtic legend and Hall of Fame player tallied 33 triple-doubles throughout his 14-year career (including his 7-game comeback during the 1969-70 season to boost Cincinnati's ticket sales after coaching the team). When at the top of his game, Cousy averaged close to 20 PPG and just under 10 rebounds.
#10 John Havlicek
John Havlicek is the third Boston Celtic legend on this list, wrapping up the top 10 with 31 triple-doubles. The Hall of Fame forward/shooting guard averaged 20.8 PPG and 6.3 rebounds over his 16 season career. Havlicek and his versatility and relentless efforts were a key factor in the Celtics dynasty of the 1960s. Hondo himself is an 8-time NBA champion.