---
Friday night marked a pivotal moment in the history of the Oklahoma City Thunder. After a furious Game 5 comeback to stave off elimination against the Jazz, the team had a chance to steal a win in Utah and force a decisive Game 7 at home. But it wasn't to be. Behind incredible performances from rookie phenom Donovan Mitchell and a rock solid group of role players led by Joe Ingles, the Jazz proved too much to handle. Utah advanced to face the top-seeded Houston Rockets, and OKC is heading home after one round – just as it did a year ago before GM Sam Presti reloaded the roster with two career All-Stars.
It's a disappointing result, and one that leaves no doubt about the conclusion many had already drawn: the 2017-18 Thunder just never figured it out. There were moments of brilliance here and there, when Russell Westbrook and Paul George were in sync (or more accurately taking it in turns to dominate), or when Carmelo Anthony still looked serviceable as a scorer. But there was no continuity, no depth, and no significant wrinkle Billy Donovan could implement in a playoff series.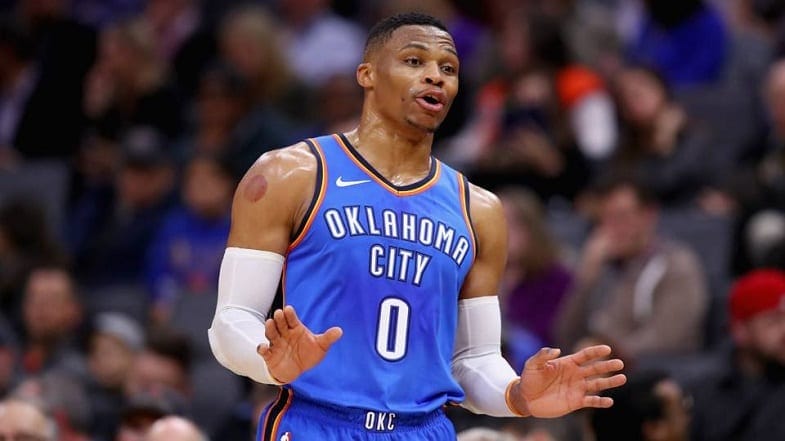 By flaming out in the first round, Oklahoma City has opened itself up to an offseason full of criticism and speculation. But the shape that criticism is taking early – that Russell Westbrook himself made it impossible for this team to compete in the playoffs – is flatly absurd. If you were eyeing Twitter Friday night you saw the barrage of negativity: he's playing hero ball, he's not fun to play with, he's not looking to teammates, he can't be a winner…. One prominent sports analyst even implied his play was "disgusting."
I understand the knee-jerk reaction when a player is used as heavily as Westbrook and the team still loses. The player can look selfish and the basketball can look bad. In fact, it almost inherently is bad when a lineup of five is blatantly, wholly dependent on a single player. And there is a point at which usage becomes ridiculous.
For instance, a player reaching 34 percent usage and 32.5 FGA through 245 minutes of action in six playoff games is a little excessive. You could see your way to criticizing those numbers. The only problem is that these are LeBron's numbers, not Westbrook's, and nobody seems to have an issue with them. Westbrook's performance through six games was only somewhat more individually focused: 38.2 percent usage, 37.1 FGA, 235 minutes. When LeBron does it, we (rightfully) marvel at his accomplishments and his effort in piling every lowly member of his embarrassingly impotent roster onto his back and charging through the playoffs. At worst, we criticize his coach and GM for failing to support him. When Russ does it, he's a selfish perversion of the game of basketball – or just dumb.
Granted, Russ's usage is higher, and LeBron is a more efficient player. LeBron also has worse teammates, though Westbrook's certainly gave them a run for their money on Friday night. I'd counter these points by saying the Jazz are a tougher opponent than the Pacers (identical records, yes, but Utah plays in the West; if these two played a playoff series and a panel of 30 ESPN experts picked the series, maybe one or two would pick Indiana). And in Rudy Gobert, the Jazz also specifically have the league's most advanced weapon for deterring the kinds of easy finishes that contribute to LeBron's edge in scoring efficiency.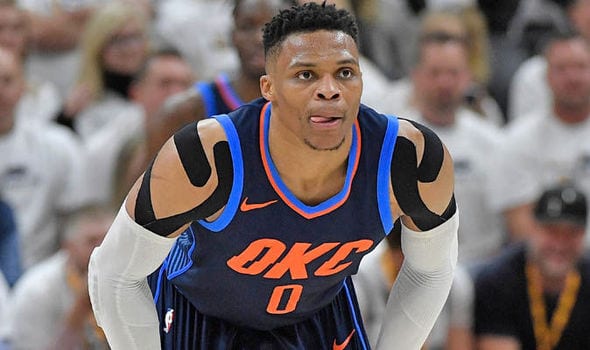 The argument isn't that Russ is LeBron's equal. Anyone suggesting as much would be insane. But the discrepancy in how the two of them have been treated for the ways they've tried to put their respective teams on their backs is far too wide.
Keeping up with the Cleveland comparison, reactions toward Westbrook's teammates seem surprisingly soft while the entire basketball world decries the state of the Cavaliers roster and marvels at Kevin Love's Houdini act. Yes, the decline of Carmelo Anthony has generated its share of headlines, but it actually warrants further emphasis: this is a six-time All-Star who still shot a not-dreadful 36 percent from three and scored 22.4 points per game last season. In these playoffs he shot 21.4 percent from three and scored 11.8 points, got two total assists and was planted on the bench in crunch time of an elimination game. No matter how you feel about Anthony in general, he was even less effective than his worst detractors might have expected; he was a shell of the shell of what he used to be. Paul George, meanwhile, had his moments, but pulled a James Harden Game 6 on Friday night, hitting only two shots from the field and visibly shying away from the moment.
Westbrook's best teammates in a playoff elimination game were Steven Adams, hustle man Jerami Grant, and a Raymond Felton who looks like he can't beat his own head coach in a footrace. So here's a simple question for those treating Russ as a stain on basketball: if you had his talents and this were your situation, would you try to get George and Anthony more involved? Or would you take 43 shots to try to save your season, and possibly the near future of the franchise paying you $205 million? Put more simply, would you pass one of these guys the ball?
Countering this logic, the argument has also been made that while yes, Russ was left on an island by teammates, he constructed the island in the first place. That is, he's built up such a reputation for hero ball, and done such a poor job involving his teammates, even within this game, that it's his own fault he's isolated – that his teammates can't be expected to engage.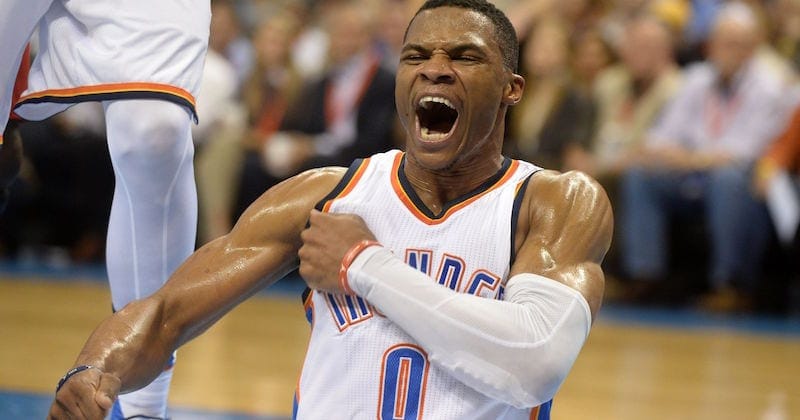 That's easy to say when a guy dominates the ball like Westbrook does, and there are shreds of fairness in it. He can lose games the same way he wins them, and he can certainly mess up an offensive rhythm when he's hot. But Paul George was ninth in the league in field goal attempts per game this year. He shot 16 in this game! Carmelo Anthony was 41st on the season – ahead of Kevin Love, Draymond Green, Al Horford, JR Smith, Jabari Parker, and Otto Porter, to name a few. Call me crazy, but I don't think these guys forgot how to be involved on offense.
Russell Westbrook is being judged negatively because he likes his stats (I'm sure he's the only guy in the league…), he averaged a triple-double on a team that was never going anywhere to begin with last year (how dare he), and, yes, he's difficult to build a team around. Because of that last point, it's fair to question the Thunder's plan moving forward, or suggest that Russ needs to find a way to take a step back. But just because he's the right guy to look at in evaluating the Thunder's future doesn't mean he's the right guy to blame for its present.
Look at the Thunder's last two games in a vacuum. We love athletes when they give us everything they've got, and in consecutive elimination games Russell Westbrook just played a total of 88 minutes and scored 91 points. And he may well have come within an obvious missed call of forcing Game 7. The guy's an absolute force of nature who went down swinging – and connecting – while his best teammates fled the scene.
What else did you want him to do?