---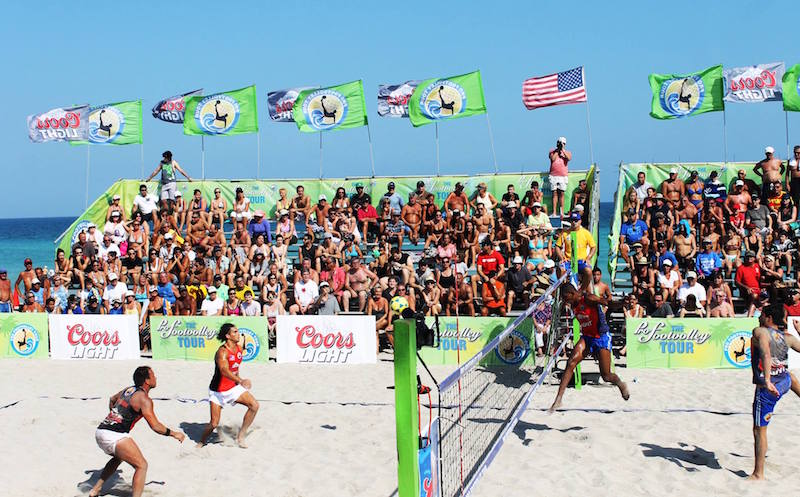 From far away it may look like another game of beach volleyball. Up close, it is anything but. The rules are pretty similar: each team has two players, they are divided by a net, you have three touches to hit the ball back over the net and you rotate the serve.
There is one catch: you cannot use your hands.
Footvolley, a combination of soccer and volleyball, is the latest sport to spread across the globe. It was invented on Brazil's famous Copacabana in 1965 by Octavio de Moraes. Soccer and volleyball are two of the South American country's top sports, so combining them on the beaches of Rio de Janeiro was inevitable.
Footvolley spread to other cities across the country early on, but it wasn't until recently that it became popular around the world. Romulo Nobrega, 29, grew up in Rio, watching those around him play. At first he was intimidated by the sport, but one day he decided to try.
"One day I was just waiting, waiting, waiting, and by the end people don't want to play anymore," he tells Sports Retriever. "And then they saw me there and were kind of like 'hey kid, you want to play?'
"Yeah sure, I'll play."
Nearly a decade and a half later, Nobrega, who works for footvolley.com, is teaching others to play on the beaches of Miami.
---
---
"We don't have the kids playing the sport yet," he says, adding that most of their players are in their mid to late 20s. "Our goal is really to reach out to those kids and say 'hey, you play soccer, you gotta learn footvolley, try and play with us, you know, come and try it out.' When they start playing, it's really addicting."
Many players have already found out how addicting the sport can be, and footvolley's reach has spread far beyond the shores of the Americas. Footvolley players can be found in Europe, Asia and the Middle East.
In the Netherlands there are about 25 men's teams and three women's teams, Erik Drenth, President of Footvolley Netherlands and Beachsport Groningen, tells Sports Retriever. The players' ages range from 19 years old to 55. The group also organizes tournaments and workshops for youth and school kids in order to get the younger generation involved.
Adaham Abdullah, now the President of Singapore's Footvolley Association and Vice-President of the Asian Footvolley Federation, was first introduced to the sport in 2006, when Thailand invited several ASEAN countries to participate in their Footvolley Championship. Abdullah had previously played and coached Sepaktakraw, a sport similar to footvolley. When he returned to Singapore from the trip, he gathered his Sepaktakraw friends and created Singapore's Footvolley Association.
"I bought several balls and a beach Volleyball portable pole and net," Abdullah said. "[I] arranged training sessions and also coached them free of charge."
It's mostly youths and foreign ex-pats who play the sport in Singapore, ages 16-53, and only about 20 players at a time. According to Abdullah, people will come for a few sessions then never show up again. But since 2009, they've competed in nearly a dozen tournaments around the world. Recently, the former German and Arsenal goalkeeper, Jens Lehmann, joined them for a game of footvolley.
Collectively, footvolley has gained many players from around the world in recent years, and Nobrega believes social media had a heavy influence on how far the sport has come.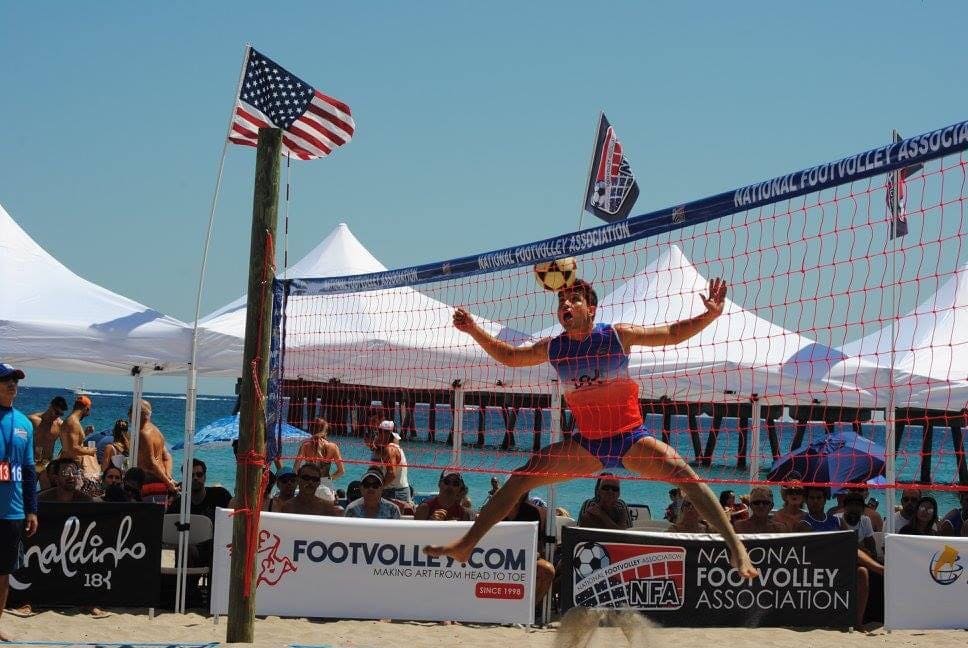 "Social media is the tool that really helped the sport to gain momentum because nowadays people play for example in Israel, people play in Italy, and they put a video on Facebook and Instagram, and everybody knows," Nobrega explains. "They say 'wow there's Footvolley in Italy' and then other people say 'oh, I want to get connected,' and that's how it's spreading really fast."
Sergio Menezes, President of the Pro Footvolley Tour, doesn't understand why footvolley isn't even more popular around the world.
"It's like having a friend that looks like Ricky Martin, sings like Ricky Martin and dances like Ricky Martin and hasn't become famous yet," Menezes tells Sports Retriever.
Menezes helped establish the Pro Footvolley Tour in 2008. That same year they got their first sponsor – Anheuser Busch. But Menezes said things really took off in 2011, when the sport became "real" on a national level, and not just locally in Miami. Then in 2013, they began getting more TV slots for footvolley on sports channels and they currently air more than 200 hours of footvolley on TV a year.
This summer, the Pro Footvolley Tour is hosting the first World Footvolley Classic in Miami, with teams from around the world. The tournament will be played the same week that the city is hosting El Classico, Real Madrid versus FC Barcelona, and Menezes hopes to catch the attention some of soccer's biggest fans.
"Since the entire world is going to be here for the Madrid versus Barcelona, we're just trying to ambush market a little bit that event, and introduce people to footvolley," Menezes laughs.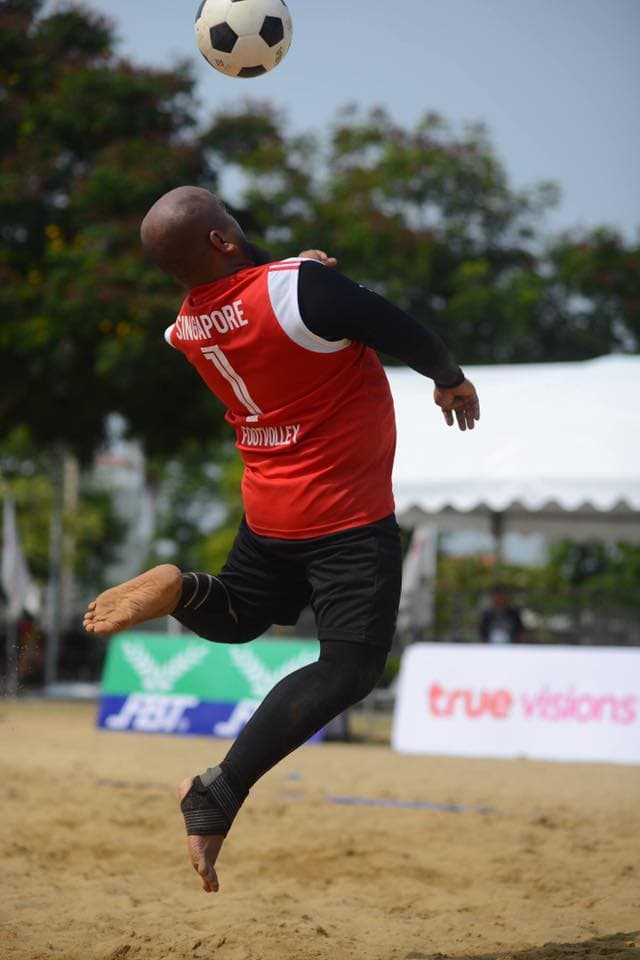 Footvolley has piggybacked off of the biggest sporting events in the past: right after the 2016 Olympics in Rio de Janeiro, and before the Paralympics began, organizers decided to use the Olympic structures to have an exhibition on the Copacabana. It definitely drew attention, including that of the fastest man in the world, Usain Bolt, who stopped by to play.  
One day they hope to play footvolley during the Olympics, not right after and nearby. Menezes and the Pro Footvolley Tour already started working towards that goal by turning to the IOC, but so far their efforts have fallen short.
Still, Menezes believes that the toughest part is behind them.
"The majority of the hard work for the sport has probably been done already," Menezes says, crediting the work done by Americans and Israelis who are promoting the sport in what he believes is the best way.
But he thinks there is one missing piece that is prohibiting footvolley from becoming a true sport worldwide: it needs to be moved indoors.
"If we really want the sport to work, we have to follow what already works," Menezes explains. "Volleyball has a 10 to 1 ration of indoor players to outdoor players. The sport needs to go indoors, the entire planet doesn't live next to the beach."
"There's over a billion soccer fans in the world," he says. "If we can just get 1% of the soccer fans to know we exist and like our sport, we're golden, we will do fine."