---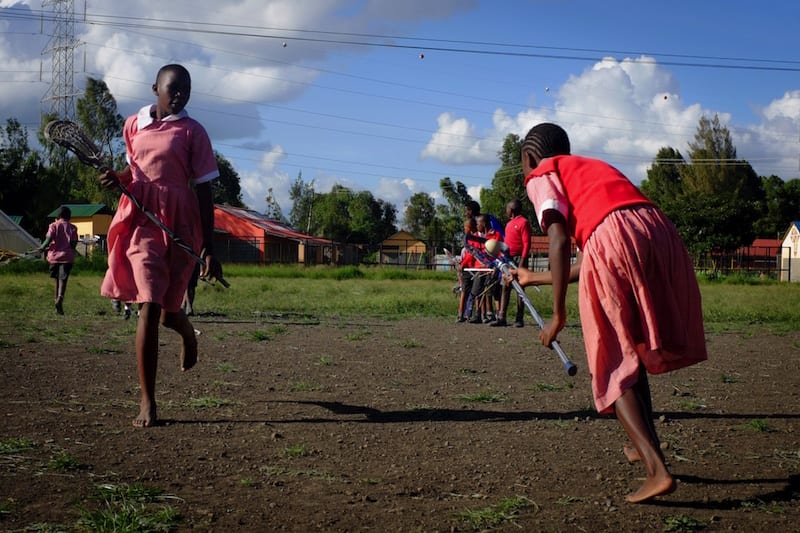 The "field" is patchy. There are areas where grass grows, but the players have also learned to run through the dirt. During the wet season they run through the mud, some of them without shoes. Right beyond the tree line, the smell of burning trash may fill the air, and at times people roam through with a goat or cattle. But it doesn't stop them from playing.
The slums of Kenya have become a new home for lacrosse.
"The kids in Kenya are very adaptive and whenever something new is introduced they become very curious and interested to learn. You should see the hope in those eyes," Joyce Muthoni, the girls lacrosse coach tells Sports Retriever. "It was the same for lacrosse, we received them in very high numbers and they keep coming and bringing along friends."
Muthoni, who is from Nairobi, had never picked up a lacrosse stick before the sport was introduced in Mukuru. She had seen it on a TV show, Teen Wolf, but never really understood what it was until she got the chance to play. She quickly fell in love with the sport and became a goalie.
---
---
Help from abroad
The program gets help from abroad as well as from volunteers. Jonathan Rathauser began working with the Kenya Lacrosse Association in 2015 while traveling to the African country for business. He plays for Israel Lacrosse, and wanted to help continue growing the sport in other countries where it does not exist. He currently serves on the Board of Directors, helps train coaches and coaches while on his business trips to the country.
"I remember my first experience very clearly, going into this community, seeing all these tin houses on top of each other, lots of people," Rathauser tells Sports Retriever. "And on the one hand, you could feel some sense of despair, I suppose. But I left that community that day feeling extremely optimistic because of the creativity and entrepreneurialism that these individuals demonstrate."
There are currently two programs in Kenya. The first larger one is in Mukuru, Nairobi. The second is in Mumias, in the western part of the country, and is more focused on women. They rely heavily on donations for equipment. Rathauser brought a bag with equipment, as do many others who come through to help. They still don't have enough for all the kids who want to play, but they've implemented a system through which all the kids get a chance: each team plays for a single half, then they switch. And the players don't seem to mind.
"They play the game extremely selflessly and I think that's rare for this age group," Rathauser explains. "They're sharing cleats and shoes, and I see them trade socks sometimes to get the shoes on, or they're not wearing socks. They are used to sharing and perhaps that's translating in their play. Where usually you see at this age level one talented player, two talented players, try to do everything themselves, these kids will pass the ball to their friends and teammates, and it's really special to see."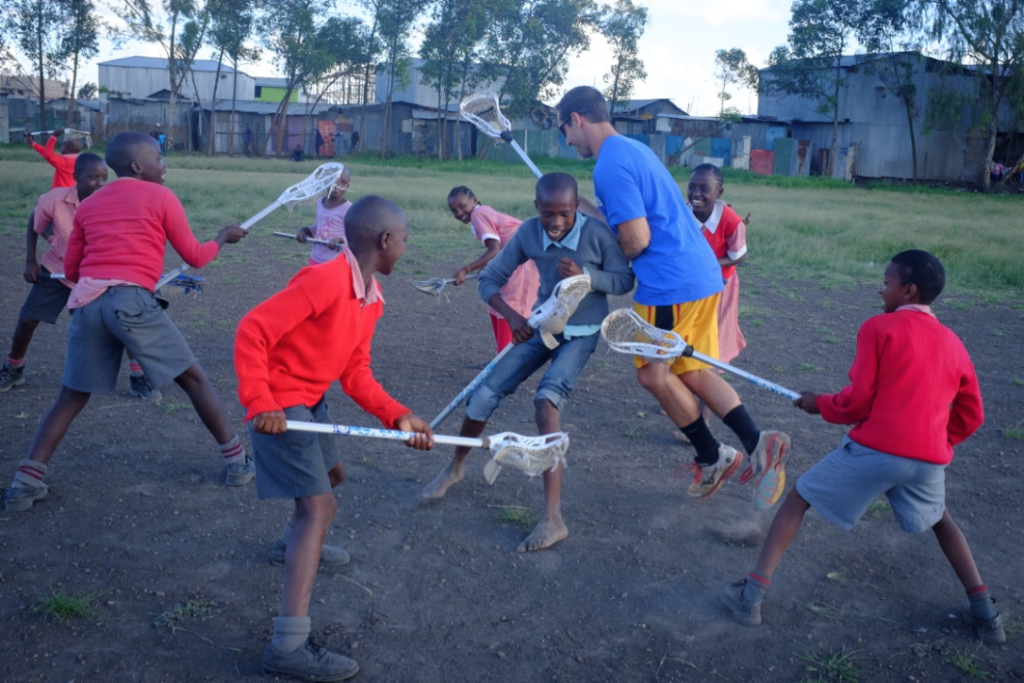 They've learned to be resourceful. They have enough equipment for just two teams, but are able to use it for ten teams. When the grass grew too high, they brought in cattle to mow it down. When they needed to mark the field they used powdered cement. Both the coaches and players often turn to YouTube to learn more about the sport. Anything and everything is useful and used.
Competing internationally
The sport itself is flourishing in the Mukuru and Mumias communities. They even took the men and women's teams to their first competition in Uganda, the first-ever Inter-Africa Lacrosse Games. For many of the kids, it was the first time outside of Kenya. For some, it was first time leaving the city of Nairobi.
The women won their tournament, and according to Rathauser, they couldn't hide their excitement.
"The ladies in particular, they really know how to celebrate," he says. "I was almost a little uncomfortable because I felt it wasn't respectful enough to the other team, you know? They had played a hard game, and the girls are just running around the field, yelling and singing. By the end there was sportsmanship, they came around. I just think that even in your celebration you can be thoughtful of the other team and we're working on learning that."
For Muthoni, it's the boys' loss that stands out.
"My favorite memory from playing and coaching lacrosse is watching the U19 boys team losing to Uganda and seeing the determination on their faces after the match," she says. "It was their first game and they really tried to put themselves together and they promised to work on their weaknesses and make it a strength."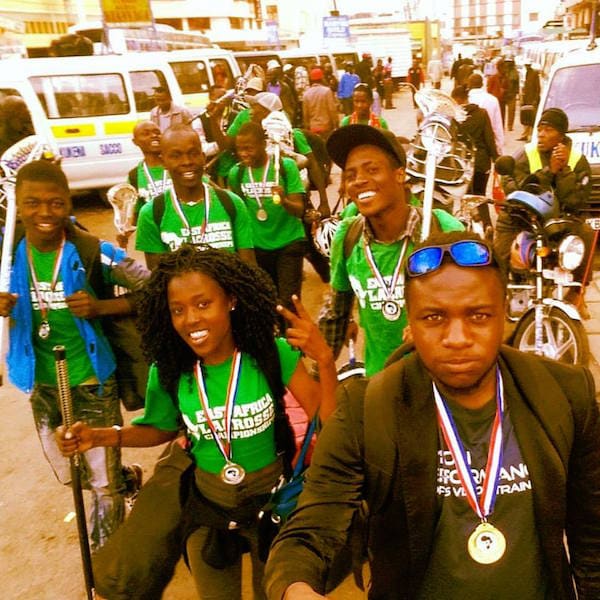 What's next?
Tournaments are one of the big points of deliberation for the Board. Without ample funding and resources, they must choose whether to focus on the community or on taking the kids abroad to more tournaments.
"On the one hand these kids want the opportunity to represent their country and their community and feel like they're striving towards something," Rathauser explains. "On the other hand, we can probably do a lot more by just focusing our efforts in the local community and have other objectives. Being able to provide a fun, safe, enriching opportunity outside of the classroom and during their otherwise free time.
"Do we want to pursue building a real national team and competing in the women's and men's World Cups? Is that our objective? Or should it be focused more locally? There is no consensus yet, it is an ongoing discussion."
In the meantime, the kids continue playing. Currently it's their only option for an extracurricular activity after school. It's a game that teaches them responsibility and work ethic while keeping them out of drugs and violence. The association has implemented rules for their U19 squad, and the kids have to comply if they want the be part of the team. The coaches also act as mentors.
"We are like one big family," Muthoni explains. "If one of the kids is having a problem we talk with him or her and try to see a way forward. Kids are not idle anymore in the community and that has helped reduce drug abuse, because once they leave school they come play lacrosse and then it's time to go home."
While the Board discusses the objectives of the program, the players are quite determined. According to Muthoni, lacrosse has a "bright" future in Kenya.
"What we as Kenya Lacrosse want the world to know is we are coming and they should watch out because we will be the next big thing!"