---
At some points during this San Antonio Spurs season, their empire seemed closer to the brink of collapse than ever. The old core has aged out, the team's relationship with Kawhi Leonard suddenly seems even shakier than the would-be MVP candidate's health, and in a packed Western Conference, the Spurs are battling just to stay in the playoff picture.
Frankly it's remarkable that the Spurs are as good as they've been this season. The extended absence of Leonard and the prevalence of role players who would barely make an impact on most rosters ought to have them in the Western Conference cellar. Seriously, when was the last time you looked at the Spurs' roster? It might have looked good five years ago. That this team is still 12 games over .500 is an incredible testament to the brilliance of Gregg Popovich, the resurgence of LaMarcus Aldridge, and the general stability of the organization.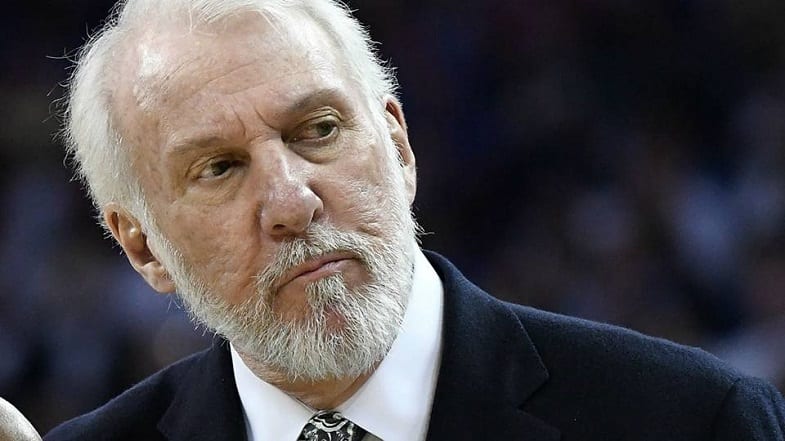 It could still be that Leonard will return, look like his old self, and propel this team back to some form of contention; I thought this roster, with Leonard, was capable of a 60-win season. But for the first time in a while – maybe even this century – it seems like San Antonio just might not have enough to be relevant in the postseason. Furthermore, it's starting to seem like there's a real possibility that Leonard leaves town this summer, which would unquestionably leave the Spurs with their worst team in two decades.
To fix the problem, San Antonio could start looking for deals. If Leonard decides to leave, they could attempt to work out a sign-and-trade to get something in return for him. If they decide to rebuild, they could also find a taker for Aldridge and maybe get some young talent back. And, particularly if Leonard goes, there will be some money to spend in free agency. There could be options – Plans B and C, more or less.
But San Antonio is an organization that built a dynasty with its own draft picks and development. And that means that if the time is really nearing to attempt a rebuild with an all-new core, the Spurs will be looking to get a lot of the work done in the draft. Already there are some who believe second-year point guard Dejounte Murray has the talent to develop into the long-term successor to Tony Parker. But the Spurs will probably need to hit on a few more players as well (in addition to developing Murray) if they're really going to build from within.
They won't have a top pick like the ones they used to draft David Robinson and Tim Duncan either – at least not for a long time, or barring a trade no one sees coming. But that's sort of the fun part in this conversation. While it took a number one overall pick to secure Duncan for 20 years, the Spurs got Tony Parker at 28 and Manu Ginobili at 57. They got Leandro Barbosa at 28 and George Hill at 26. They even picked Goran Dragic 45th before trading his rights to the Suns. Murray was picked 29th. There have been a lot of misses in between these players, but the Spurs have a history of finding gems in the late-first and –second rounds, because that's where they're always picking, because they're always good.
This of course begs the question: who's the next gem? If the Spurs are going to get back on track, are there players in the 2018 draft class who might become integral parts of that effort?
No one can say for sure, but gem or no gem we always feel like they're pulling it off. Inevitably, come the Spurs' first round pick, we wind up shaking our heads, asking, how did that guy fall to San Antonio? The players don't always pan out, but the process happens every year. And these are some of the guys who might keep the trend alive in 2018.
FIRST ROUND
We don't know yet exactly where the Spurs will be picking, but if the season ended today they'd be picking 22nd (and 52nd in the second round). The following are a few prospects who might be available in the early- to mid-20s, and who might be able to help the Spurs.
Troy Brown – SG, Oregon 
Troy Brown could well be picked earlier, but he's a pretty interesting possibility if available. Roughly 6'7'' with a nearly 7-foot wingspan, he's oversized for a guard and could well play small forward in the NBA. There is no such thing as an instant replacement for Leonard, but if Leonard bolts, Brown isn't a bad consolation. He can do a little bit of everything, is a good team player, and has the potential to defend multiple positions.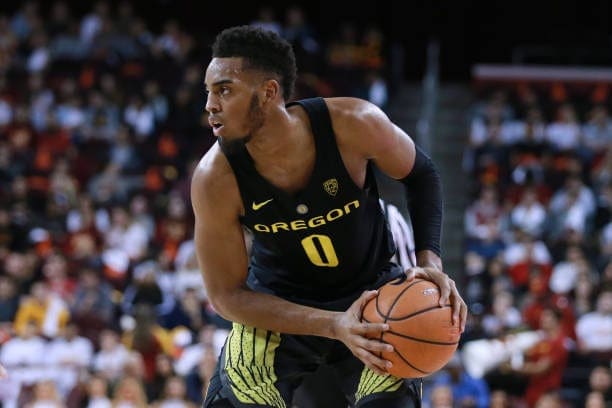 Khyri Thomas – SG, Creighton
Thomas is not a fill-in for Leonard, but shooting guard Danny Green is only signed through next season in San Antonio, and Thomas could replace him instead. He's a little undersized at 6'3'' but has the length and athleticism to make up for it. A hard-nosed defender who can really shoot (64.2 percent FG and 42.5 percent 3p this season), he's a likely rotation player that might be available.
Bruce Brown – SG, Miami 
This is a really intriguing possibility. Brown broke his foot and has missed much of this college season, which may keep him available later than he otherwise would have been. He's a 6'5'' shooting guard – a so-so shooter but decent scorer who's athletic, tough defensively, and a pretty good passer. In a vacuum I'm not sure he's a dynamite prospect. But with a team that loves to move the ball and has as good a reputation as any for crafting shooters, he becomes interesting. The idea of a Bruce Brown who pans out next to an improving Dejounte Murray is exciting.
Landry Shamet – G, Wichita State 
Let's just say landing the 6'4'' combo guard shooting 44 percent from three at Wichita State seems pretty Spurs-y. Shamet is simply a lights out three-point threat with some playmaking ability, and while he could have trouble defending bigger 2-guards, he and Murray could rotate as needed if they ever started together.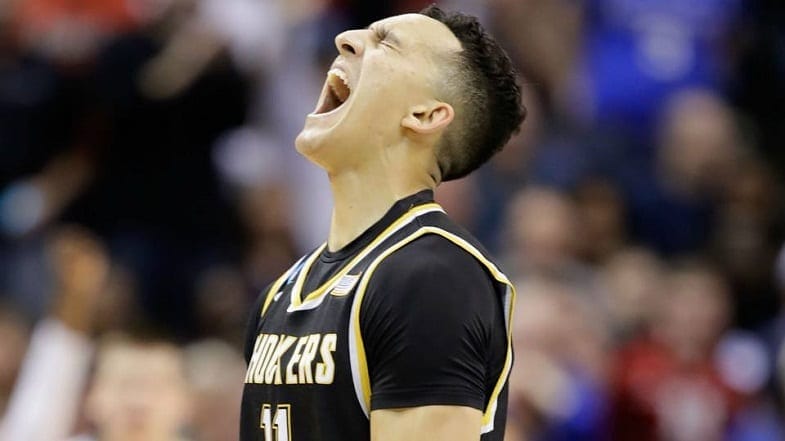 Gary Trent Jr. – SG, Duke 
Trent is another option if the Spurs just want a pure shooter who can potentially replace Green down the road. He has a big, bullish body for his position and a quick release that will allow him to translate well to the NBA level. He has a long way to go on the defensive end, but his pure shooting ability makes him a potentially valuable cog in a rebuilding process.
SECOND ROUND
It's a little bit more of a reach to look toward the early- to mid-50s for another pick. But hey, as mentioned, Ginobili was the 57th pick. So with that in mind here are a few potential late-draft steals.
Jevon Carter – G, West Virginia 
I wrote recently that Jevon Carter is possibly the best two-way player in the NCAA, and I'm standing by it. He's probably a second round pick just because he's a senior and he's only 6'2''. But by the 53rd pick (roughly) you can't ask for much better than a guy who shoots near 40 percent from three and plays relentless defense.
Shamorie Ponds – G, St. John's 
Shamorie Ponds might not be a productive NBA player. At first glance there's a lazy CJ McCollum comparison to be made, but Ponds is two inches shorter, played for a losing team this year, and is actually an awful long distance shooter. But the guy also averaged 26.7 points this season against ranked opponents. He scored 63 total in two games against Villanova, and notched 33 against Duke and its NBA-bound guards. He could be worth a shot.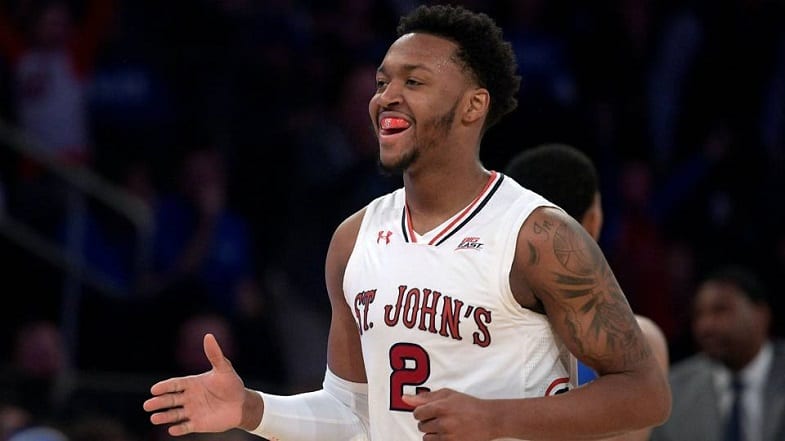 Bonzie Colson – F, Notre Dame
Trying to figure out what position Bonzie Colson will play in the NBA is exhausting after one and-a-half seconds. I have no idea. But there isn't a tougher player in the NCAA right now. Given that he's an undersized big man who doesn't shoot threes well, he might have trouble finding a lasting role – but it sure hasn't stopped him at Notre Dame. He might be a funky miniature hybrid of Zach Randolph, Jared Sullinger and Boris Diaw. You know, one of those.
Theo Pinson – F, North Carolina 
Sticking with ACC veterans, it's baffling to me that Theo Pinson isn't showing up in mock drafts. He's an inconsistent shooter but he fills up a stat sheet doing the little things, and at a very athletic 6'6'' 220 he can defend just about anybody, big or small. If a team like the Spurs teaches him to shoot he'll be an incredibly valuable second round steal (and maybe even a very poor man's Leonard).
Kevin Hervey – F, UT Arlington 
Here's the real reach. Kevin Hervey is a senior forward at UT Arlington, averaging 21 points and just under nine rebounds. He's a 6'9'' rebounding machine (he had a stretch of three straight 15-board games his sophomore year) who's a reasonably good three-point shooter for his size (about 35 percent this season). Hervey's game is a little awkward, but he jumps off of highlight reels, and awkward has never bothered the Spurs before. You've just got to love a star big man who handles an end of game situation like this.