---
One day a definitive book will be written about how Stephen Curry changed basketball, though the topic has already been driven into the ground. Just as Michael Jordan and Kobe Bryant taught entire generations to value one-on-one moves, fierce competition, and dramatic jumpers, Curry has helped to lead a revolution toward fluid, unselfish offense and three point barrages.
The important distinction is that Curry's style is more easily imitated. Most athletes can spend countless hours learning Jordan's and Bryant's best moves (which are incidentally the same, because Bryant learned them from Jordan), but won't actually be able to pull them off against competition. Similarly, LeBron James and Giannis Antetokounmpo aren't about to inspire imitations because they are aliens. But Curry (despite being 6'3'') seems small and slight. He looks ordinary. He went to a small school because the big ones didn't want him. Kids around the country can legitimately ask, why couldn't I be like Steph?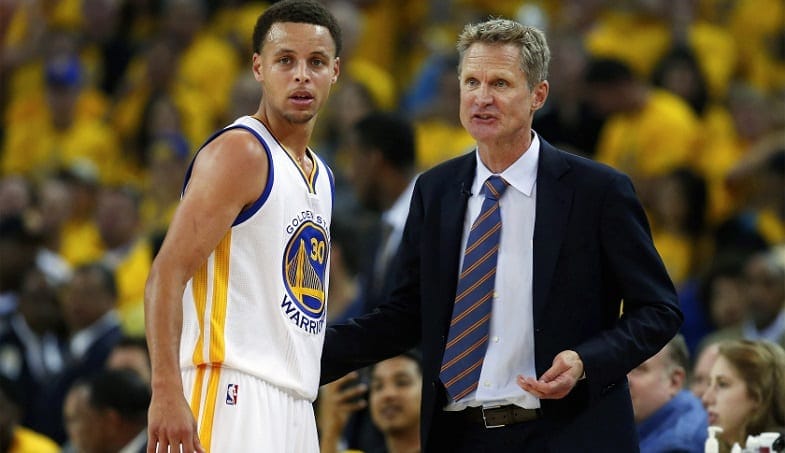 Curry has also furthered the evolution of the team game. The general timeline goes something like this: the Mike D'Antoni/Steve Nash Phoenix Suns introduced new standards for offensive pace, sharing, and spacing; the Steve Kerr/Curry Warriors perfected it; and the D'Antoni Rockets are now evolving the offensive revolution even further. I'd throw in that the Spurs played the best version of modern offense in the 2014 Finals, but that's neither here nor there. The point is, without Curry's unique talents, the Warriors wouldn't play the way they do, and the Rockets might not either. Curry's abilities meshed with existing trends to enable a style of team play that can now be imitated and tweaked by others.
Mostly these two aspects of Curry's significance apply to kids and the NBA. College basketball is often left out of the equation. Yet watching this year's NCAA Tournament it's hard not to see shades of Steph. Indeed throughout the tournament I haven't been able to help feeling that the fingerprints of Curry – himself one of the most compelling March Madness players ever – are all over it.
In part, Curry came to mind during this year's tournament because his former school was around. Davidson stole a tournament bid in its conference tournament and was matched up in a 12-5 game against Kentucky. Kentucky happened to be red-hot itself, but a lot of basketball pundits couldn't help but suggest the upset. At least in part, this was undoubtedly because Davidson is a name in the NCAA Tournament. There's lingering fairy dust from its Steph Curry-fueled run to the Elite 8 in 2008, and this will always make Davidson a buyable giant-killer.


More unexpectedly, Curry's presence also loomed over UMBC's shocking win over top overall seed Virginia. This wasn't merely because Curry's name is synonymous with Cinderella's in March, but because he actually gave a personal gift to UMBC. Because the Retrievers are an Under Armour school, and Curry the brand's biggest star, he sent each player a brand new pair of his signature shoes in celebration. Fittingly, the Retrievers had defeated Virginia playing a style of basketball derivative of Curry. Faced with an historically great defense that, if anything, challenged opponents to score from outside, UMBC emphasized transition, movement, and three-point shooting, ultimately shooting 50 percent (and scoring 36 of its 74 points) from three.
But beyond specific ties to Curry, an emphasis on fast pace and deep shooting– not a full description of Curry's and the Warriors' style, but certainly symptomatic of shifting offensive priorities – has been visible all over this tournament. Consider some of the tournament's best performances.
Michigan beat Texas A&M by 27 points in the Sweet 16, shooting 58 percent from three.

Villanova scored 90 points on West Virginia's notoriously stingy defense, shooting 54 percent from three.

Loyola Chicago made the Final Four by hitting half of its threes against a strong Kansas State defense

Kansas shot just 36 percent but launched 36 threes to beat Duke in the Elite 8.
It's that last one that actually stands out as being most indicative of a stylistic shift. Before the Kansas-Duke game there was an interesting article on The Athletic suggesting the teams mirrored each other's typical styles. Basically, the 2017-18 Jayhawks emphasized guard play and shooting while Bill Self has typically focused inside, and the 2017-18 Blue Devils relied on great big men as opposed to their usual army of shooters. Indeed, Duke has often been known as a three-point shooting team. But Kansas didn't just imitate this style against Duke – it one-upped it. As stated, the Jayhawks shot 36 threes. In the last five seasons, Duke has averaged just over 21 three-point attempts in NCAA Tournament games. The last time it took as many as Kansas did on Sunday was in a first round loss to Mercer in 2014.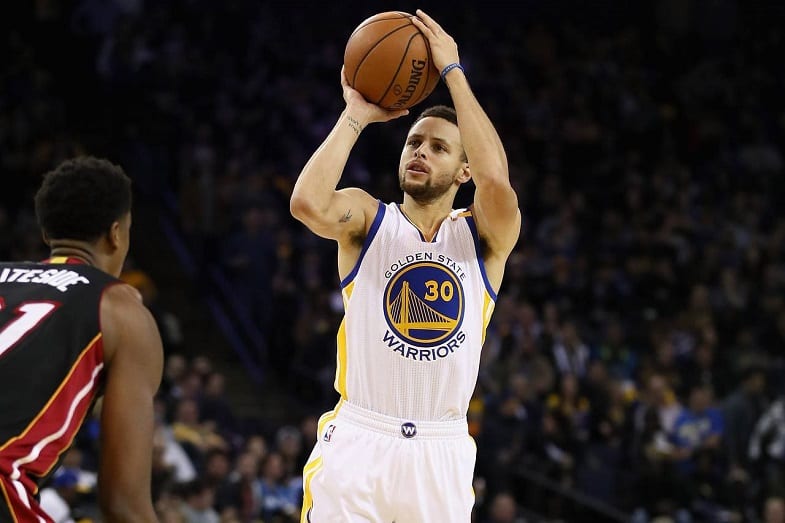 And Kansas isn't alone. Each of the four teams left has gotten to San Antonio largely by way of relying on frequent and/or accurate three-point shooting. Michigan has been least accurate (33.7 percent so far) but has still taken 92 threes. Kansas has taken 96 and is shooting 40.6 percent. And Loyola, despite shooting only 72, is shooting almost 42 percent and playing an offense that's led some in the media to call them "Spurs-like" over the past week. Villanova, meanwhile, is the most noteworthy of the bunch. The Wildcats shot 41 threes in a second round game against Alabama, and have shot 48/116 (41.4 percent) for the tournament.
To put it in terms that emphasize how striking this group's dependence on long range shooting has been, we can look at the last five national champions. These teams averaged 71.4 three-point attempts and 38.1 percent shooting during their respective runs to the Final Four. Collectively, the 2018 Final Four participants have averaged 94 attempts and shot 39.4 percent. They're shooting significantly more threes, without sacrificing accuracy. Villanova's 116 attempts through four games are 31 more than the closest of the last five national champions (85 by Connecticut in 2014), and more than double Louisville's 51 attempts in 2013.
Attributing all of this directly to Stephen Curry is, of course, a bit of a stretch. But on the other hand, it takes time for influence to take shape. It could well be that we're only now starting to see college coaches reacting to the success of the Warriors and Rockets, and that we're just starting to see a generation of college players who grew up idolizing Curry, rather than Kobe or Jordan.
Looking at things this way, Curry has given a lot more than a few free pairs of shoes to this year's March Madness standouts.