Let's face it: we've all had our fair share of movie crushes over the years. Whether it was pinning their posters on the wall of our bedrooms or being the first in line to buy tickets to their new films, there is a movie star out there for everyone. Take your pick: whether falling for Leonardo DiCaprio as he won over Rose's heart in Titanic, drooling over Robert Pattinson in the Twilight, or wanting to make Drew Barrymore your girlfriend after she took care of E.T., we've all fantasized about being swept off our feet by our Hollywood heartthrob.
Sadly, we're still sitting here waiting for them to burst through the door any moment now – perhaps we accidentally locked it? Back in the '30s when Hollywood was still in its earliest stages, there were a number of movies making their way onto the big screen that all shared one goal: to become the next best thing.
---
---
However, when it came to action movies there was never an audience; the most popular films were horrors, musicals, comedies, and gangster movies. Over the years the popularity of a good action film has grown phenomenally as they now dominate over 30% of the movie market. In fact, action movies are the only genre of film that has continued to grow in popularity over the years as everything else has gone through peaks and dips. Over the years we have been rewarded with some movie classics, such as The Dark Knight, Gladiator, Die Hard, and Terminator, but with each new movie comes a whole new selection of actors making a name for themselves in Hollywood.
With some of the most famous names in acting having made their names in action movies, it is easy to lose hours to thinking about what life could be like as Mrs. Johnson or Mr. Lawrence. Sadly we have some news: these actors normally don't wait around for us to make an appearance as we once dreamed. In fact, they actually live their own lives (shocking), which include a number of relationships – even marriages! I know, this is all hard to take. Among their various trysts, there have been plenty of secret relationships, as well as many illicit affairs, but just who has been seen dating whom? And who did these famous faces decide to settle down with?
Steven Seagal and Kelly LeBrock
Kelly was the woman for whom Steven divorced his first wife, Miyako Fujitani, after the two began an affair. While they were together for a number of years, they didn't walk down the aisle until 1987, a few months after their daughter, Annaliza, was born. Over the next few years the couple welcomed two more children, Dominic and Arissa, but the relationship came to an end in 1994. The pair had a bitter and public divorce, and have since gone their separate ways.
Chuck Norris and Gena O'Kelley
Gena O'Kelle, who had previously worked as a model, found herself saying "I do" to Chuck Norris in 1998. The actor met his wife while at dinner with someone else, but knew he wanted to find out more about Gena. Chuck asked her if she would like to go on a date and the rest is history. The pair went on to have twins in 2001. Chuck has since retired from acting to care for Gena, since according to several reports he believes she had been poisoned after an MRI scan.
Sylvester Stallone and Brigitte Nielsen
This couple was rumored to have started after Brigitte sent her married love interest a photo while he was staying at his hotel back in 1985. Sadly, their marriage only lasted a little over 19 months before their divorce in 1987. The break up created a bumpy ride, as all the couple's secrets were brought to the surface. Brigitte reported that while the actor was desperate to say "I do," but added they were never right for each other.
Hugh Jackman and Deborra-Lee Furness
This couple wed back in 1996, and have spent the last 21 years in reported marital bliss, as they both speak about how in love they are on a regular basis. Deborra-Lee also works in the acting world, and the pair met back when they were filming Australian TV series Correlli. Hugh has admitted that since then they have never been away from each other for longer than two weeks. The pair have adopted two children together, Ava and Oscar, and the family all reside in Australia.
Dwayne Johnson and Lauren Hashian
The Rock entered a relationship with Lauren back in 2006 which sparked rumors that his new girlfriend was the reason for his divorce; they have both denied these allegations. The couple have already welcomed a daughter into the world, and are currently expecting another girl in 2018. While the pair are head over heels in love, Lauren often lets her long-term boyfriend attend all the red carpet premieres without her as she prefers to stay out the spotlight, but has been seen a handful of times.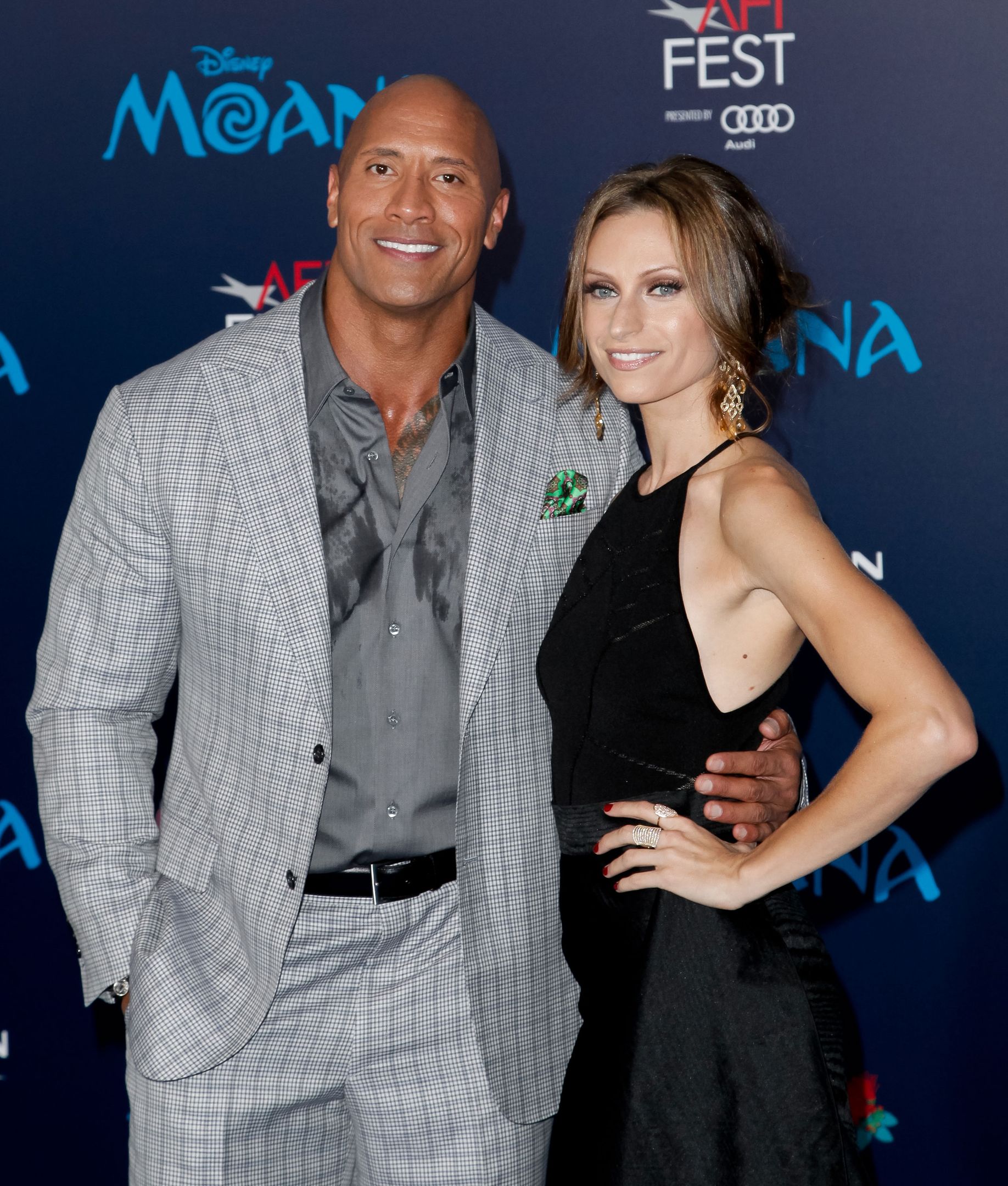 Bruce Willis and Demi Moore
For 13 years this Die Hard actor was lucky enough to call Demi Moore his wife. The pair began dating after they met at the Stakeout premier in 1987, and walked down the aisle a few months later. Over the years the couple shared three daughters: Rumer, Scout, and Tallulah. Sadly though, the pair filed for a divorce after the birth of Tallulah and were separated by 2000. The actor has commented how he felt like a failure but has remained close to Demi over the years.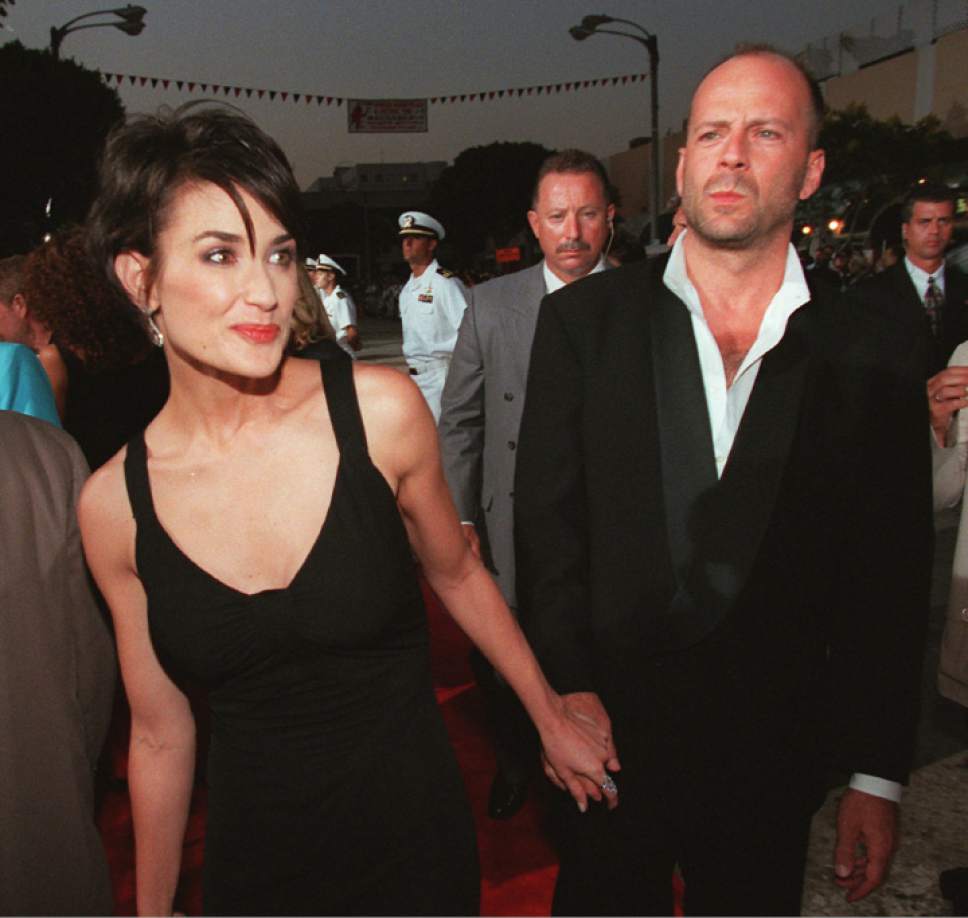 Christian Bale and Sandra Blazic
Christian walked his wife down the aisle in 2000. Sandra had been used to a life in show business as she had previously worked as a makeup artist, model, and assistant to Winona Ryder. The couple decided to run away to Vegas to tie the knot, and welcomed their first child in 2005, followed by their second in 2014, and the couple has made it a point to keep both children out of the media spotlight. Sandra joined her husband for The Dark Knight Rises, volunteering to drive one of the stunt cars chasing Batman.
Kiefer Sutherland and Julia Roberts
Back in the '90s, it seemed all everyone could talk about was whether these two would get married, until a shocking twist upended our dreams, three days before the big day. They met when filming the movie Flatliners, but have since admitted they were both too young to wed. It is also rumored that Kiefer had been seeing someone else. In any case, Julia called it off before it was too late – though just barely. She then flew to Ireland with a friend of Kiefer's in tow. Nice.
Tom Cruise and Penelope Cruz
Before the days of TomKat, these two actors had been working together for the movie Vanilla Sky. The couple dated for three years with it being rumored that Tom was planning on getting down on one knee. However, the actor never got to put his plan in motion as Penelope broke the news she was leaving him. According to the actress, she felt as though Tom's personal life controlled their relationship too much, as well as feeling like he still had feelings for his ex-wife, Nicole Kidman.
Daniel Craig and Rachel Weisz
This Bond found his real-life Bond girl when he met fellow actress, Rachel Weisz. The actors married in June 2011, and three months later Dream House was released that saw both Daniel and Rachel play the starring roles. At the wedding, the couple decided to only invite four guests, including Daniel's daughter, and Rachel's son. While the couple supports each other's work, it seems as though Daniel performing his own stunts has become a hot topic in the Craig household as Rachel wants her husband to give up the dangerous antics involved with being 007.
Robert Downey Jr. and Deborah Falconer
After 42 short days of dating, Robert tied the knot with this first wife, Deborah, in 1992. The couple were married for twelve years, but sadly Robert's personal struggles with illegal substance abuse, together with various arrests and trips to rehab pushed the relationship past its breaking point. Deborah tried to tough it out, but it became too much, and by 2004 they were divorced. The couple share a son together, but when they split for good Deborah took their child with her until Robert was able to remain sober.
Nicolas Cage and Lisa Marie Presley
On August 10, 2002, Nicolas wed his beloved Lisa Marie, the daughter of Elvis Presley. However, 107 days after tying the knot the couple were filing for a divorce. In all, the whole separation proceedings lasted five times longer than the marriage as the official paperwork wasn't finalized until May 16, 2004. It is reported that the real reason for the pair's split is Lisa's secrecy around her ex-husband, King of Pop Michael Jackson, especially after the Prince Michael II incident, where Jackson was photographed dangling the baby over the balcony.
Steven Seagal and Miyako Fujitani
Back when Steven was living in Japan, he married his first wife, Miyako, in 1975. The couple share two children together: Kantaro Seagal, who works as a model and actor, as well as Ayako Fujitani who has become a successful actress and author. For Steven, it was hard to remain faithful as he had an affair with a fellow actress during his marriage which led to the couple filing for divorce in 1986. It was after their separation that Steven moved to the U.S. to start his new life.
Samuel L. Jackson and LaTanya Richardson
This Hollywood power couple have been married for nearly four decades as they first said their vows back in 1980. Two years after saying "I do" the pair welcomed their only daughter, Zoe, but the couple had known each other for years after meeting back in college. During 2009 the pair founded an organization that aims to help fund education, but Samuel owes his family his life as he puts getting sober down to the love and support he received over the years. These two are definitely couple goals.
Will Smith and Sheree Zampino
Before Will met and fell for Jada, he was married to Sheree. The couple have one son together, Trey Smith, who has stayed out of the limelight. Will and Sheree were married back in 1992, but the marriage didn't last long, and they were divorced just three years later. Not much had been said over the years concerning the split, but recently Sheree stepped up to deny allegations that Will had been unfaithful. Sheree, in fact, stated the reason the couple split was because she felt unhappy in the relationship.
Tom Hardy and Charlotte Riley
This rakishly handsome actor met his wife, actress Charlotte Riley, when they were filming Wuthering Heights together in 2008. Six years later and Tom and Charlotte tied the knot at a secret ceremony in France. The couple stuck to just inviting the family and friends, and were able to keep their marriage a secret for weeks before the world discovered the truth. During October 2015 their first and (so far) only child was born, but they have kept their life a secret from the media.
Chris Evans and Jessica Biel
In a time when Chris and Jessica were looking for their big acting breaks, they found comfort in each other. The couple were in a relationship for five years from 2001, with the pair deciding to spend one of their Valentine's Days skydiving – very romantic indeed. The two starred in the 2004 film Cellular, where Jessica gets to play Chris' love interest, but sadly two years later they decided to call it quits. Apparently, the pair had spoken about getting married, but have never revealed the reason for the break-up.
Chris Hemsworth and Elsa Pataky
Chris Hemsworth met the love of his life Elsa Pataky long before he was brandishing Thor's hammer. The pair dated for a number of months before getting hitched in 2010. In 2012 they welcomed their first daughter, followed by twin boys two years later. Since Chris' rise to fame, they've decided to move back to Australia to raise their children in Byron Bay. The actor has admitted he doesn't need to live in America to land work anymore, and that he wants to dedicate his time to his family.
Chris Pratt and Anna Faris
If there was anyone we thought would be together forever it was this Hollywood power couple. However, after eight years of marriage, the two finalized their divorce in December 2017. The pair met in 2007 when they were both filming together. The couple had a secret heat of the moment wedding in Bali during 2008 after their friends had tied the knot. Together they have one son, but it appears as though Chris' fame and wanting to raise their son differently was too much for the couple to handle.
Jean-Claude Van Damme and Kylie Minogue
In 1994 these two actors began a secret affair that wouldn't surface until 18 years later. Kylie and Jean-Claude had been working together for the film Street Fighter that they were filming in Thailand when they began their relationship, but it had to remain under wraps as Jean-Claude was still married to Darcy LaPier. The couple have reportedly stated that a relationship was unavoidable as the chemistry on set was so strong between them, but it didn't last once they returned home.
Arnold Schwarzenegger and Barbara Outland Baker
Way back in 1969, Arnold met his first love: Barbara. The pair never married, but they lived together for six years. The couple met when Arnold first made his move to the U.S., but it wasn't to last. According to Barbara, the actor was unfaithful during their relationship. Arnold tells a very different story, claiming that the pair were very different as Barbara wanted to settle down in a married life with children. It seems as though their differences were too much to overcome for these two.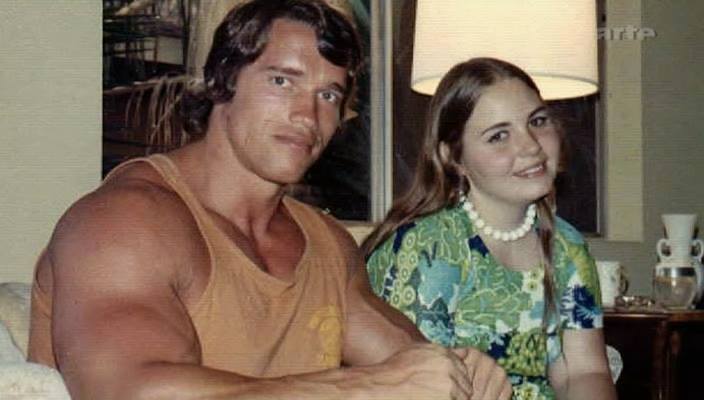 Liam Neeson and Helen Mirren
Back in 1980, Liam found himself living with none other than Helen Mirren. Liam claims that it was the actress' help that got him so far in the acting world after they met on the set of the 1981 movie Excalibur. Liam admitted that he instantly fell in love with Helen, but the relationship only lasted five years. Apparently, they both took the break up hard, after allegedly growing apart during their time as a couple – what a shame!
Vin Diesel and Paloma Jimenez
This pair aren't married, but their 16 year age gap doesn't seem to have stopped them enjoying nearly ten years together so far. Paloma often accompanies her beau on the red carpet, but this isn't the first time she has been in front of the camera. In fact, Paloma once had a successful career as a model. However, she now spends most of her time raising the couple's three children: Hania Riley, Vincent Sinclair, and Pauline. Their youngest daughter was named after the late Paul Walker to commemorate the actor.
Jennifer Lawrence and Nicholas Hoult
The Hunger Games star began dating her beau back in 2010 when they met on the set of X-Men: First Class. The pair were in a relationship for five years, but Jennifer is reported to have taken the break up badly as it was around the same time the Hunger Games films were coming to an end. Thankfully the couple split on good terms as they have been working together over the years to continue the X-Men franchise, which has seen the pair rekindle their relationship for the big screen.
Uma Thurman and Arpad Busson
During 2007 this action actress began a relationship with Arpad Busson, a French financier. The following year the couple announced they were set to get married, but later called it off. However, the pair quickly forgave and forgot, but ended up splitting for good in 2014. Since then the two have been arguing over custody of their daughter, but Uma ultimately won the case at the beginning of 2017. It is rumored that the relationship broke down when Arpad was caught with various ladies of the night.
Jean-Claude Van Damme and Gladys Portugues
Jean-Claude Van Damme is a famous martial arts action movie star who played in big movie hits like The Expendables 2, Lionheart, and Street Fighter. Van Damme got married five times to four different women before finally settling down with his third ex-wife Gladys Portugues in 1999, just seven years after they divorced they remarried. He has two children with Gladys who was a bodybuilder. They briefly separated again in 2015 and were about to get divorced before they called it off and seemed to have rekindled their love.
Arnold Schwarzenegger and Maria Shriver
Arnold Schwarzenegger is a bodybuilder turned actor turned governor of California. But he is still most famous for his roles in The Terminator movies. He seems to have known from a young age that he wanted to go into politics because he married the niece of a former president of the United States, Maria Shriver. They got married in 1986 and they have four children together. They live in Brentwood but have quite a few vacation homes as well. They ended their relationship in 2015 because Arnold had been unfaithful.
Steven Seagal
Steven Seagal is a famous martial arts expert who studied aikido in Japan. Seagal starred in many action films such as Under Siege and Navy SEALS. In 2001 Steven met Mongolian Erdenetuya, who goes by the name Elle, when Steven traveled to Mongolia and Elle acted as his translator. Elle is a professional dancer who started out as a dancer in the Children's Palace of Ulaanbaatar, Mongolia. They got married in 2009 and Steven has a total of seven children from four different women as well as two grandchildren.
Chuck Norris
Chuck Norris starred in many action films such as Bruce Lee, Good Guys Wear Black, and The Octagon. Chuck married Dianne Holechek in 1958. By 1963 they had their first baby boy named Mike. One year later Chuck had his first daughter named Dina but this time, Dianne was not the mother. Despite this, the couple stayed strong for 30 years until they divorced in 1988. Dianne found out in 1998 that Chuck had moved on and married a former model Gena O'Kelley.
Sylvester Stallone and Jennifer Flavin
Sylvester Stallone is most famous for starring in the Rocky series as well the Rambo films and the Expendables movies. In 1988 Sylvester met Jennifer Flavin while they were both dining in the same restaurant in Beverly Hills. After nine long years of dating, they got married in 1997 in London, England. Jennifer Flavin, us an American model and even made an appearance in one of Sylvester's movies, Rocky V. The two live together in Los Angeles with their three daughters.
Mel Gibson and Robyn Moore
Mel Gibson is an actor and filmmaker who starred as an action hero in the Mad Max movies as well as in Lethal Weapon. Mel met Robyn in the late '70s when Robyn was a dental nurse and Mel was only an aspiring actor. In 1980 the two got married in Forestville, New South Wales. They have a total of six boys and one daughter as well as three grandchildren. However, in 2006 Mel and Robyn split up but the divorce only finalized in 2011 (with a $400 million settlement to boot).
Angelina Jolie and Brad Pitt
Angelina Jolie starred in quite a few action films namely Tomb Raider and Mr. and Mrs. Smith. During the filming of Mr. and Mrs. Smith Angelina and Brad fell in love. It is rumored that Angelina caused Brad and his current wife at the time of filming Jennifer Aniston to split. The two became "Bradgelina" during their twelve-year relationship. They were the most glamorous Hollywood couple who have a total of six children together including three that they adopted internationally. However, in 2016 "Brangelina" split and Angelina requested custody over their kids.
Scott Adkins and Lisa Adkins
Scott Adkins is a martial artist and actor who starred in the best of the best action films namely The Bourne Ultimatum, Undisputed II: Last Man Standing and its two sequels, and Ninja including its sequels. Scott even won the Action of Film award. Scott is currently married to Lisa Adkins and this gorgeous couple had a daughter together in 2011 named Carmel. Lisa Adkins is a sociologist but that is as much as the couple shares with the media as they live a very private life.
Milla Jovovich and Paul Anderson
Milla Jovovich is a famous actress, model, and musician who loves to star in action films. The most memorable of her films are Resident Evil, Ultraviolet, No Good Deed, and Survivor. Milla met her husband Paul Anderson when she was acting on the set of Resident Evil which Paul had been the film writer and director of. They got married in 2009 and they both currently live in their homes in Los Angeles as well as New York with their two children.
Wesley Snipes And Nikki Park
Wesley Snipes is a martial artist, famous actor and film producer. He has starred in the action movies that you know and love like the Blade trilogy. Wesley was first married to April Snipes after they met on the set of Mo' Better Blues. Wesely, however, ended up divorcing April and married Nakyung Park, more commonly known as Nikki Park, who is a painter. Wesley married Nikki in 2003 and they have four children together.
Dolph Lundgren and Anette Qviberg
Hans "Dolph" Lundgren is a martial artist, director, screenwriter and actor. His hit action movies include Rocky, James Bond, Universal Soldier, Missionary Man, and the Punisher. Dolph married Anette Qviberg in 1994. Anette worked as a fashion stylist and jewelry designer in Marbella, Spain when the two met. They loved Marbella so much that they bought a home there. They have two daughters named Ida and Greta. The couple has mentioned that they live away from Hollywood to give their children as normal of a childhood as possible.
Jet Li and Nina Li Chi
The one and only Jet Li is a famous martial artist who starred in the best of the best action movies like Lethal Weapon, The Expendables, and The Mummy: Tomb of the Dragon Emperor. Li was previously married to his co-star Huang Qiuyan from the movie Kids from Shaolin. They have two kids together by divorced in 1990. In 1999 Jet Li married Nina Li Chi who is an actress from Hong-Kong. The two have two daughters together names Jada and Jane.
Michael White and Gillian Iliana Waters
Michael White was the first African American to star as a superhero in a major blockbuster film. Michael starred in Tyson, Spawn, Mortal Kombat and so many more. Michael was even awarded the Fists of Legends Decade Award at the Urban Action Showcase & Expo. Michael was first married to Courtney Chatham from 2005 to 2011 and they have one daughter together. In 2015 Michael married again to actress Gillian Iliana Waters who is famous for starring in the soap opera Days of our Lives.
Robert De Niro and Grace Hightower
Robert De Niro is one of the most famous actors on the planet. He has made a name for himself in major movies like The Godfather, Mean Streets, Midnight Run, and A Bronx Tale. Robert first married Diahnne Abbott, in 1976 but in 1988 the two divorced. Robert married Grace Hightower in 1997 in their home in Marbletown, New York. The two briefly split up in 1999 and in 2004 they renewed their vows and are still together with their daughter named Grace.
Jackie Chan and Joan Lin
Jackie Chan is the king of martial arts and action movies. His net worth is estimated to be $350 million for his roles movies like The Karate Kid, Ruch Hour, New Police Sory, Crime Story and so many more. In 1982 Jackie Chan married Joan Lin who is an actress from Taiwan. That same year Joan gave birth to a boy named Jaycee Chan, who is now an actor and a singer like his father. Chan was not faithful to his wife and had a daughter with Elaine Ng Yi-Lei in 1999.
Jason Statham and Rosie Huntington-Whiteley
In 2010 at 23 years old, Rosie began dating action star, Jason. Rosie is most well-known for being one of Victoria's Secret's Angels but has also done some acting herself over the years. The model said "Yes" to her fiancé during January 2016, but they have yet to walk down the aisle. In June 2017 the couple welcomed their first child, Jack Oscar. Even though Rosie has spoken of how it's tough having a fiancé with such a large female fanbase, the two still seem very much in love.