---
The end of the PGA Tour season in nearing and from the remarkable rise of Justin Thomas and John Rahm, to Dustin Johnson emerging as a dominant world number one, it's been a season to remember. But it can be distinguished further for a different kind of reason. Beyond the on-course heroics, there have been several compelling break-ups between the world's leading players and their long-time caddies. These splits sent shockwave across the golfing fraternity and, in turn, left an indelible mark on the 2017 campaign.
The break-ups have terminated long-standing partnerships that once featured wins across the globe, major victories and top-ranking status. But a slump in form has seen the world's best run out of patience with their bagmen, proving that former glories and personal relationships don't compensate for a slide down the rankings. These three caddie-player splits caught the golfing world off-guard in 2017.
Mickelson and Mackay part ways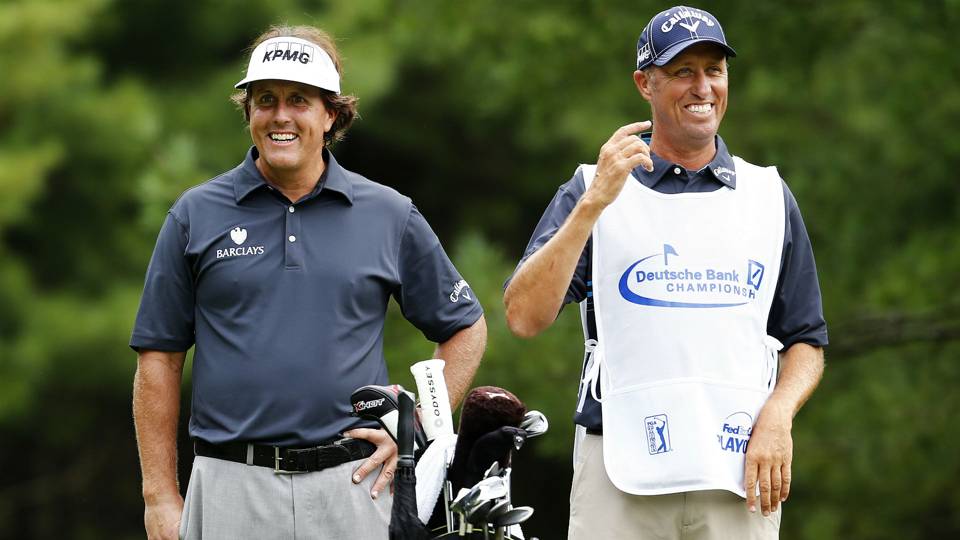 After 25 legendary years together, Phil Mickelson and Jim "Bones" Mackay decided to "mutually" part ways in June, marking one of the most stunning player-caddie break-ups in modern golf history. Mackay took Mickelson's bag in early 1993, commencing a union that led to five majors and 42 PGA tour wins, achievements that would eventually earn both Hall of Fame status.
The on-course dynamic between the pair seemed strong until the end, often underpinned by enthralling strategy discussions that were picked up by the microphones. These discussions were captivating in large part due to Mickelson's propensity to take on the high risk-reward shots, and Mackay's willingness to curb his aggressive plays as and when required. Personally, too, the pair had an off-course history, with the Mickelsons introducing Mackay to his wife.
Yet, amid the seemingly strong personal and professional ties, Mickelson slid into the longest winless drought of his career. The 47-year-old's last victory came via a memorable performance in the 2013 Open Championship at Muirfield, an event that saw Mickelson console an emotional Mackay as the pair walked off the 18th green arm in arm on their way to collect the Claret Jug.
The absence of success since saw Mickelson make other changes to his team, including finding a new swing coach in Andrew Getson. Mackay staying on the bag in spite of the form struggles seemed like a foregone conclusion, only for Mickelson to seemingly run out of patience and opt for a switch. It was a move that shocked the golfing fraternity, yet proved a blunt reminder that nothing is for certain in modern sport.
Jason calls it a day


Deep into this season's FedEx Cup, former world number one Jason Day announced he was temporarily parting ways with long-time caddie Colin Swatton, his caddie and swing coach for the past 17 years.
Day stressed he wasn't breaking up with Swatton and kept him on as swing coach, but the move to remove him from the bag remained a shock. The pair had one of the closest player-caddie relationships on Tour, and Day, who had a difficult upbringing and suffered physical abuse by his alcoholic father, referred to Swatton as a "father figure" who helped set him on the path to stardom.
Swatton oversaw all of Day's ten PGA Tour victories, including the only major win of his career at the 2015 US PGA Championship at Whistling Straits. That success culminated in Day achieving his much-publicized goal of becoming world number one, a ranking he held for 51 weeks until a form slump hit. The Australian has been without a victory all season and has since conceded his top ranking to Johnson.
Again, in the mind of the top-ranking players, a barren run on the course renders insignificant the strong relationships that can be formed off it.
McIlroy's second split of note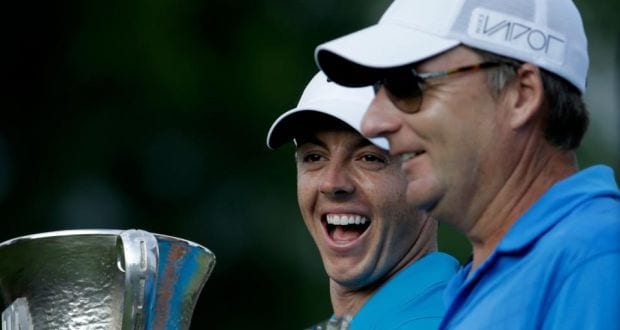 Rory McIlroy infamously ended his relationship with tennis star and then-fiancé Caroline Wozniacki in 2014, yet as it turned out, that wouldn't be the only high-profile break-up during his career. In July, McIlroy announced he was parting ways with caddie JP Fitzgerald, ending an almost decade-long partnership that saw the Northern Irishman take the golfing world by storm. Fitzgerald was on the bag for each of McIlroy's four majors and 26 titles worldwide, leading to many pundits heralding a new era of dominance in the wake of Tiger Woods's decline.
But McIlroy's form has waned in recent seasons, and he has been without a major victory since the 2014 PGA Championship at Valhalla Golf Club. Like Day and Mickelson, he has failed to win any silverware in 2017. That led to a parting of ways with Fitzgerald just days after the pair worked alongside one another during McIlroy's fourth-place finish at the Open Championship in July. McIlroy offered a classic "it's not you, it's me" excuse afterwards, claiming he had been taking his anger out unfairly on Fitzgerald, and didn't want to strain their personal relationship any further.
The move caused shock in some golfing quarters, while others claimed it had been a long-time coming given that a player of McIlroy's cosmic ability went without a major victory for so long. Regardless, it served as another reminder that the world's best have a voracious appetite for success, and can be ruthless when it goes missing.