---
And there's one that makes a whole lot of sense
The Memphis Grizzlies have been the most stubborn team in the NBA for nearly a decade. From the glory days of "Grit 'N Grind" to the first month of the 2017-18 season, Memphis showed no quit. The team played through injuries and coaching changes, ran up against innumerable more talented opponents, and was constantly underestimated.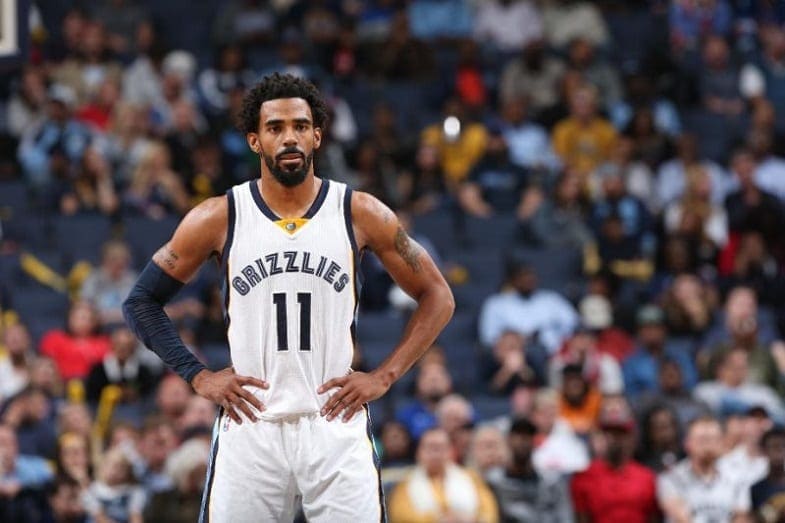 All things considered, it's been a fairly bizarre phenomenon, because the Grizzlies haven't been managed particularly well. Memphis compiled its two-man core with a couple of ingenious moves during the 2007 draft and 2008 season, drafting Mike Conley and trading for Marc Gasol (boldly giving up big brother Pau in his prime in the process). Since those crucial moves, however, the Grizzlies have had rough drafts. Here's the full list of their first round selections since Conley:
Kevin Love (5th in 2008; traded to Minnesota for O.J. Mayo and pieces)
Donté Green (28th in 2008; traded for Darrell Arthur)

Hasheem Thabeet (2nd in 2009)

DeMarre Carroll (27th in 2009)
Xavier Henry (12th in 2010)
Dominique Jones (25th in 2010; traded for cash)
Greivis Vásquez (28th in 2010)
Tony Wroten (25th in 2012)
Jordan Adams (22nd in 2014)
Jarell Martin (25th in 2015)
Wade Baldwin IV (17th in 2016)
Not exactly the Dream Team, right? The only career starter on that list is Kevin Love, who was traded on draft night for O.J. Mayo (more on the Grizzlies' love of underachieving shooting guards later). Other picks weren't horrible. Vásquez and Wroten had decent value, and plenty of people thought Baldwin IV was a steal on draft night. Plus, the draft positions matter. The Grizzlies have usually picked toward the end of the first round for a simple reason: they've been really good.
Still, that list of selections wouldn't ordinarily represent a successful team. They have picked neither stars nor role players like other consistently competitive teams. Instead, the Grizzlies have thrived for two reasons: Conley and Gasol are really good, and the team has had a consistent identity. "Grit 'n Grind" hasn't just been a label, but rather a standard in Memphis, and though there have been lapses here and there, rosters full of different players have largely lived up to it. All credit to Conley and Gasol, as well as Zach Randolph, who is now with Sacramento.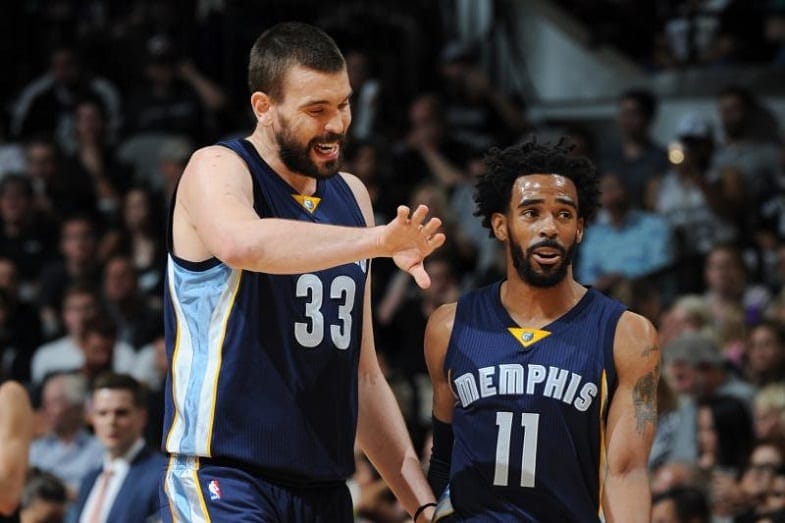 For a little while, it looked like 2017-18 would bring more of the same. Memphis started the season 3-0 with wins over Golden State and Houston. They were 5-1 just 10 days into the season, on pace to demolish preseason over/under projections of 38.5 wins. Since then, however, the team has struggled mightily.
Conley is dealing with an Achilles tendon injury, with no definite timetable for his return. Head coach David Fizdale was unceremoniously canned in late November (prompting outrage from LeBron James, who played for Fizdale in Miami). Reports came out that Gasol and Fizdale had been clashing, or perhaps not even talking (Gasol denied them). And the team fell off a cliff. The Grizzlies are 3-18 since November 1st, including an 11-game losing streak.
Underestimating the impact of Conley's absence would be foolish. The struggles began precisely when the league's most perennially underrated point guard got hurt. It could be that he'll return to spark a run, and the Grizzlies will still wind up competing for a low playoff seed. We also know that once in the playoffs, the Grizzlies can give anyone trouble; as stated, they've already beaten Golden State and Houston (two likely opponents in a 1-8 or 2-7 matchup).
But does that really sound like fun anymore for this group? Marc Gasol will be 33 in January. Conley is 30. Chandler Parsons has at least managed to stay healthy this season, but with little impact. Memphis also has an entire bench full of once-interesting college shooting guards who've done nothing in the NBA. They have Ben McLemore, Andrew Harrison, and Wayne Selden! Their bench is like an All-Star team of NBADraft.net's October projections of #3 picks; it's like one-time excitable ESPN draft analyst Chad Ford is their GM.
Right now it's just difficult to see the upside of Memphis continuing on its present course. The team can't compete in 2017-18, and doesn't appear to have the young talent or bench strength to improve much. The idea of making one more run with a healthy Gasol/Conley combo in 2018-19 is surely tempting – but then they're both another year older, and the Grizzlies are that much further from turning them into rebuilding assets that will be needed.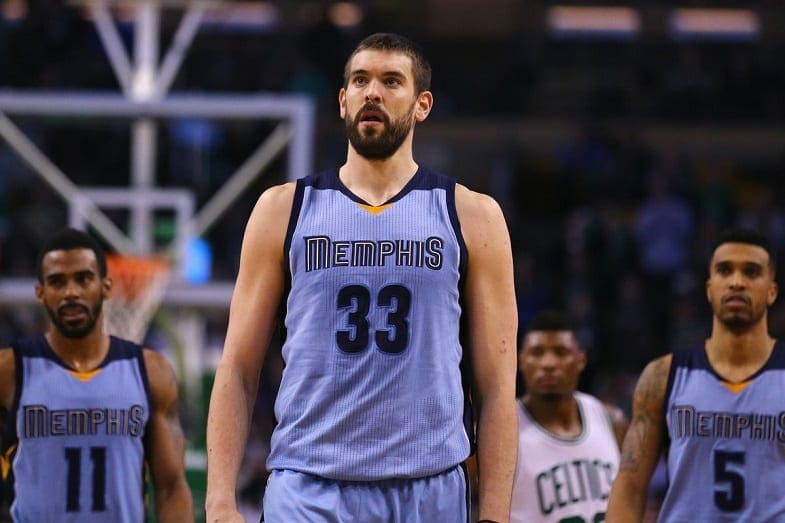 I'm hesitant to jump the gun in an era when transactions excite us as much as games. But in my view, it really is time for the Grizzlies to "blow it up" – and there's actually one way they can start that makes a whole lot of sense for everybody involved. They can trade Mike Conley to the Cleveland Cavaliers. Here's how it could work (per ESPN's Trade Machine):
Cleveland receives: Mike Conley
Memphis receives: Isaiah Thomas, Iman Shumpert, Channing Frye, Brooklyn Nets' 1st Round Pick (acquired from Boston)
For Cleveland, this move would be masterful, unless the organization is fully convinced LeBron James is bolting in free agency. If there's even a chance he'll stay, the Cavaliers have to take it. Pairing James with the best defensive point guard he'd ever have played with, who has a proven track record harassing the Warriors, might be a good way to do it. Conley would make Kevin Love better as well, and the Cavaliers would become legitimate title contenders again, possibly for years. (And who knows, maybe they could hire Fizdale too.)
For Memphis, it's a chance to start the rebuild with legitimate assets. Thomas would be a risk given his unpredictable injury recovery and impending free agency. But he loves and rewards loyalty (which he's seen precious little of) and Memphis can dole it out. The two might be a perfect match. Not to mention, a healthy Thomas in pick-and-roll situations with Marc Gasol sounds outstanding, at least until the rebuild sees Gasol traded as well. If nothing else, Thomas might help sell tickets during the transition.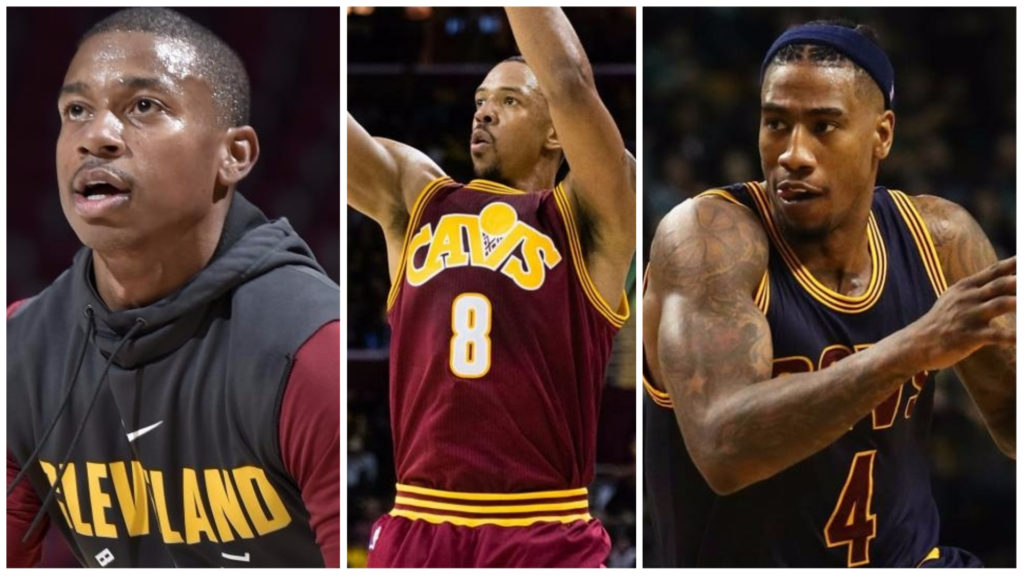 Shumpert and Frye, meanwhile, represent about $18 million in cap space becoming available over the next two years. That's not a massive bounty, but it's at least enough for the Grizzlies to overhaul their bench situation somewhat.
Then there's that 2018 Brooklyn pick. Boston was right to finally relinquish this asset, because the Nets are no longer the league's worst team. They might even get a little better after the addition of Jahlil Okafor (#FreedJah!). But it's still going to be a lottery pick, and if the Grizzlies decide to deal Conley, they're heading for their own lottery slot as well. That would mean their two highest draft picks since the 2009 selection of Hasheem Thabeet, and while I dedicated some space above to their poor draft habits, they can't do that poorly again. The 2018 class is looking stronger by the day. All things considered, the Grizzlies could have an incredible springboard for a rebuilding process, even before they consider trading Gasol as well.
It's worth it. The last ten years of Grizzlies basketball have been almost inexplicably awesome. But we may now have reached a point at which this era's best legacy might be helping to start the next chapter.