---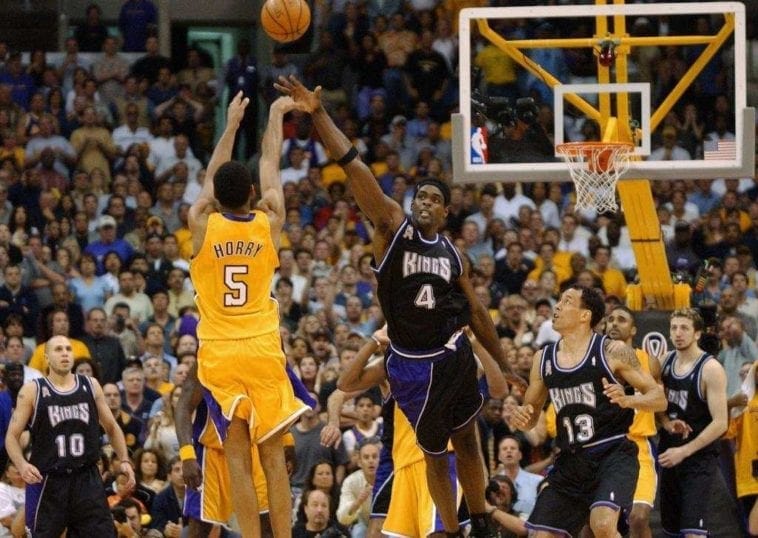 Basketball lore is littered with famous buzzer beaters. At the college level, we think of Christian Laettner's legendary shot to beat Kentucky, or Lorenzo Charles's (possibly accidental) alley-oop to win the 1983 championship for NC State. In the NBA, we recall Magic Johnson's ridiculous skyhook in the 1987 finals, or Michael Jordan's 1989 game five winner against the Cavs – possibly the most famous highlight in the history of the sport. But these are older highlights by now, and have had a chance to be canonized over time. They've reached "classic" status, to the extent that even people who didn't see them live know them well.
But here I wanted to dive into the next batch of buzzer beaters that may be remembered similarly by future generations. Specifically, I wanted to narrow down the 10 best buzzer beaters since the turn of the century.
As for criteria, I decided to be pretty rigid about this. I'm only including end of game situations (including the end of regulation and/or overtime). I'm also not including instances in which there was more than a second or so left on the clock, which is why you'll find a few awesome highlights in the honorable mentions. And I'm ranking based on a combination of factors: the build up to the moment, the degree of difficulty of the shot, and even the crowd and commentator reactions, which absolutely help to color how we perceive highlights. I've also split this ranking into two categories, with five shots each for the NCAA and the NBA. So without further ado, let's get to the shots.
#5 (NCAA) – Christian Watford Stops Kentucky – 12/10/11
The 2011-12 Kentucky team was John Calipari's best – the one that eventually went on to win it all with a 38-2 record. On December 10th, the Wildcats were still undefeated (10-0) and there was talk of an undefeated season. That's what made this a noteworthy upset (though Indiana was still unbeaten at the time as well). Christian Watford, who hit the shot, was 7/14 from the field and 3/5 from behind the arc beforehand – which makes Marquis Teague's lazy catch up defense particularly embarrassing. Seriously, he might've been the quickest guy on the court and instead of recovering after a screen to cover a good shooter he treated it like he'd been knocked out in dodgeball. At any rate, Watford confidently drained the shot, and the reactions from the home crowd and Dick Vitale were outstanding.
#5 (NBA) – Damian Lillard Finishes The Rockets – 5/2/14
This shot is important to consider in context. It was 2014, and it was the Trail Blazers first playoff appearance of the Damian Lillard era. Lillard was coming off his first All-Star appearance (having already won Rookie of the Year in 2012), and the Warriors hadn't yet blossomed into a dynasty. It was reasonable, in the spring of 2014, to look at the Blazers as a potential future title contender, and to view this as their first great playoff moment as a unit. What's baffling about this shot is the defensive switch just before the inbound; Patrick Beverley looked like he'd guard Lillard, but then switched – and still looked like he was only doing so in order to switch back in the event of a screen. The screen never quite materialized, so Beverley stayed put, and Lillard wound up hitting the game-winning three with less than a second on the clock to detonate the home crowd and win the series at home.
#4 (NCAA) – Austin Rivers Enters Rivalry Lore – 2/8/12
It might not be everyone's cup of tea (maybe Duke-UNC gets nauseating beyond Tobacco Road), and he's not the hero you want to celebrate (nobody likes Austin Rivers). But like it or not, there's a magic to Duke-UNC games, and to see one end like this was a treat. In a year when Carolina was clearly the better team, the Blue Devils overcame a double-digit deficit late in the second half and sealed the deal when Austin Rivers hit this deep, brash, and unnecessary (they were only down two) three. Incidentally the call by Dick Vitale is awful, but I actually give the highlight extra points because of it. I'm pretty sure it was so exciting it almost landed Vitale in a coma. Listen to him call this shot exactly the same way he called the Watford shot a few months earlier – he sounds like he's aged 30 years. That's how the end of a Duke-Carolina game can make you feel.
#4 (NBA) – Steph Curry Quiets The Thunder – 2/27/16
This would be higher on the list if it had been in a playoff game. Oklahoma City was at the time one of maybe two legitimate threats to Golden State's Western Conference supremacy, and was on the verge of pushing this game into overtime. Curry had other ideas, however, and calmly pulled up for a three from just past half court. He sank it, tying what was then a record with 12 three-pointers in a game. It's also worth remembering that Curry was must-watch TV at the time. He was at the peak of his powers in his second consecutive MVP season, and in the previous three games had notched 36, 42, and 51 points. This shot gave him 46 for the night. It probably put a dagger in OKC as well, though the Thunder did go on to nearly knock the Warriors out in the playoffs. Also, Mike Breen's signature "Bang!" call was better than ever, conveying perfectly how ludicrous it was to watch Curry in February of 2016.
#3 (NCAA) – Kemba Kembas Pittsburgh – 3/10/11
Kemba Walker's play in March and April of 2011 was about the best we've seen from a college player this century. In 13 games during those two months, he averaged 25 points, 4.6 assists, and 5.8 rebounds, and hauled a pretty average UCONN team to an 11-game winning streak that included Big East and NCAA titles. He had countless amazing moments in this stretch, and seemed, in a span of 13 games, to patent the step-back as definitively his move. He was Kemba'ing people left and right, and this dagger against Pittsburgh in the Big East Tournament was the most devastating example. He knocked over his defender (granted, a mismatched one) and created about six feet of space with one move and no screen, in an end of game situation. Good lord.
#3 (NBA) – LeBron Holds Off The Magic – 5/22/09
Or, Why Hedo Turkoglu Shouldn't Guard LeBron James In The Closing Seconds Of A Playoff Game. Down two with exactly one second on the clock and facing an 0-2 deficit heading back to Orlando, the Cavs needed any bucket at all to extend this game. Turkoglu stepped up to guard LeBron, and actually did the right thing. He made absolutely sure LeBron wasn't getting to the rim for a lob. But he also ended up about three steps behind LeBron on what was basically a straightforward v-cut. LeBron got the space he needed to nail a game winning three, undoubtedly his best playoff moment to that point. The Magic would go on to win the series, but this was a hell of a shot, and will go down as one of LeBron's best highlights.
#2 (NCAA) – Drew Nicholas Keeps Maryland Alive – 3/21/03
Context is everything with this shot as well. At a glance it looks like just another awesome March Madness buzzer-beater. But it was actually a pretty remarkable event. Maryland was coming off the best stretch in its history, with consecutive Final Four appearances and a National Title in 2002. However, it had graduated three significant players (Byron Mouton, Juan Dixon, and Lonny Baxter) and another (Chris Wilcox) had left early for the NBA. Maryland only managed a 6-seed and almost saw its run end in a humiliating upset at the hands of UNC-Wilmington. But senior Drew Nicholas, who'd played a role in those Final Four runs, gave his school one more great moment before Maryland lost respectably to Michigan State in the Sweet 16. He gets extra points for running off into the locker room almost without breaking stride.
#2 (NBA) – Kobe Ties, Then Beats The Suns – 4/30/06
I'm surprised how forgotten this moment (or moments) seems to be. This Phoenix Suns team was awesome – the 1-seed in 2005 (losing to the eventual champion Spurs in the Western Finals) and 2-seed in 2006, led in both cases by two-time MVP Steve Nash. The Lakers, meanwhile, were in their second season post-Kobe-Shaq breakup, and their top scorers not named Kobe Bryant were Lamar Odom, Smush Parker, and Chris Mihm. They weren't good enough to win the series, and everyone but Kobe probably knew it, but these shots made it feel for one night like they were still in the hunt for NBA titles. It was a dual buzzer-beater of sorts. First, Kobe finished a frantic drive off a Smush Parker steal to tie the game at 90 with 0.7 seconds left. Then, he gave Smush Parker the rare Extended Kobe Bryant Atta Boy. Then, down one in overtime, he nailed a beautiful elbow pull-up as the buzzer rang out, and Staples Center went ballistic.
#1 (NCAA) – Kris Jenkins Wins The National Championship – 4/4/16
This doesn't require too much of a description. It was a deep three-pointer as the buzzer sounded to win the freaking National Championship. This is the shot you announced yourself shooting in the driveway as a kid. It was sunk by Kris Jenkins of Villanova, just seconds after UNC's Marcus Paige had hit a ridiculous shot to tie the game. We probably won't see an NCAA Championship end like this again for a long, long time. And even though I'm staggering this and separating the NCAA from the NBA, this is the best buzzer-beater of the century.
#1 (NBA) – Big Shot Rob Is Big Shot Rob – 5/26/02
This is an easier shot than, say, LeBron's winner against the Magic, or Kobe's pull-up against the Suns. Horry was in the right place at the right time and simply stepped up and hit a shot he could probably hit 80/100 of in practice. But it's worth remembering how much pressure the Lakers were under. In the midst of their quest to three-peat, they were suddenly down 2-1 to a tough Kings team, facing a game 5 in Sacramento (which they went on to lose). For a split second, after Kobe's drive faltered and Shaq missed a gimme put-back, it looked like the Lakers might just be destined to miss out on the NBA Finals. But Horry saved the game, and probably the series, and by extension the three-peat (the Lakers went on to sweep the Nets in the Finals). This is why he's Big Shot Rob.
Honorable Mentions – These are four of the most impressive buzzer-beaters of this time span, and only missed the cut because a few seconds were left on the clock in each one.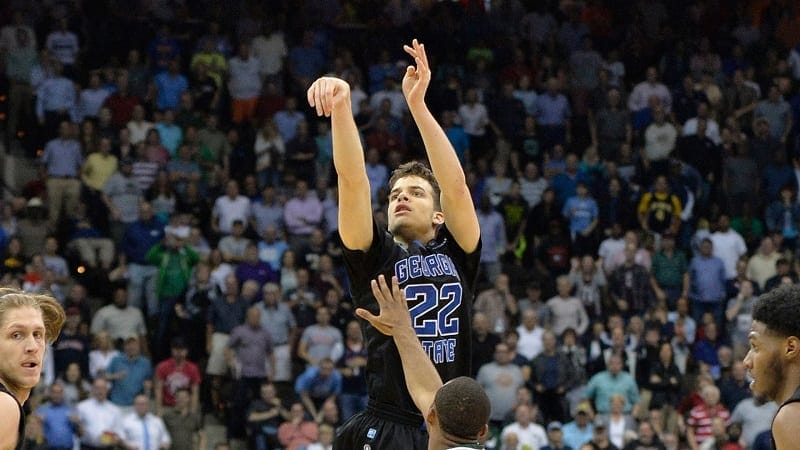 R.J. Hunter's Upset Three: Hunter, of 14-seed Georgia St., nailed a deep three-pointer to secure a second round upset of 3-seed Baylor in the NCAA Tournament. His father/coach, who was injured and managing the game from a swivel chair, fell out of the chair celebrating, in quite possibly the most March Madness-y highlight in at least 17 years.
Mario Chalmers's Tying Three: Playing for Kansas in the 2008 National Championship, Mario Chalmers hit a frantic three to tie the game against Derrick Rose's Memphis team. Kansas would go on to win in overtime.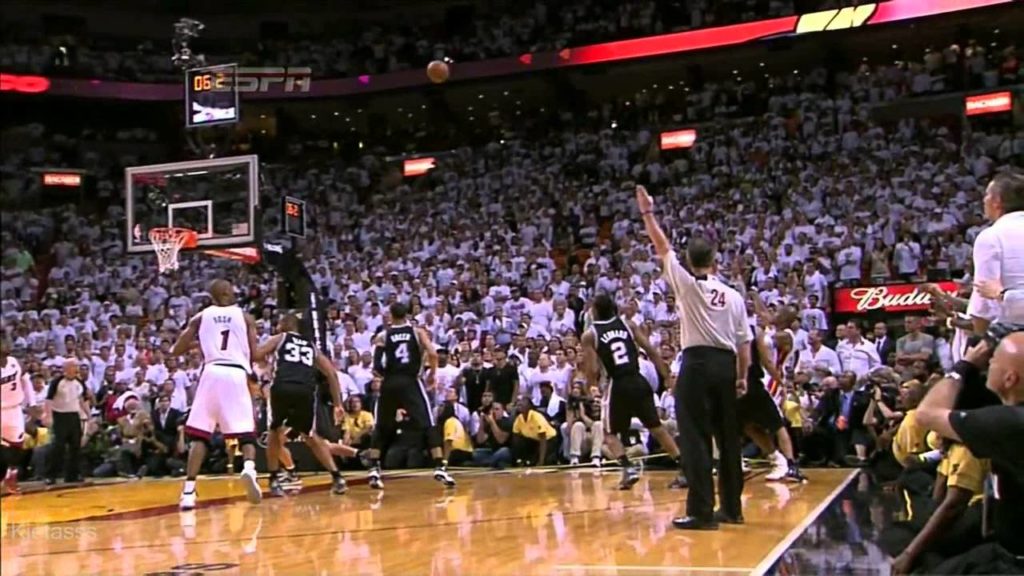 Ray Allen's Corner Miracle: Down 3-2 in the series and 3 points in the game, the Miami Heat's Ray Allen scampered to the corner to take a three off a Chris Bosh rebound. There were still 5 seconds on the clock, but the Heat won the game and the series – and thanks to Allen, LeBron James's career resume got a significant boost.
T-Mac's Miracle: Playing for the Rockets, Tracy McGrady led one of the best late game comebacks of all time, scoring 13 points in 33 seconds. To cap it all off, he hit a running three-pointer with 1.7 seconds left to give his team the lead, and eventually the win.