---
There is nothing baseball fans love more than seeing their team win the World Series. But a distant second would be seeing a team that has never won it, or hasn't won it in a very long time, take home the prize. For fans whose teams don't make it to October, it's easier to be happier for a team that hasn't won it all or has been suffering through a prolonged drought.
That's why it was so easy for millions of fans everywhere to be happy for the Houston Astros last season, as they won the franchise's first World Series title. The same can be said for the Chicago Cubs after they ended their 108-year drought in 2016, and the Boston Red Sox back in 2004.
After a team wins its first (like the Astros) or ends a drought (like the Cubs) fans tend to ask the same question. Who's next? Who will be the next team to end a long drought or win their franchise's first World Series title?
There are only a handful of serious contenders next season. But among them are a few teams that haven't come close to enjoying World Series glory in years (if ever). Most of them have come close to making it to the World Series, and a couple made it—and came within a game of winning.
However, they are still in good shape to get it done this year.
Cleveland Indians
After losing the 2016 World Series to the Chicago Cubs, they came back strong in 2017. They appeared poised to have a shot at ending their 70-year drought after winning 102 games and outscoring their opponents by 254 runs in the regular season. But then they blew a 2-0 lead over the New York Yankees in the ALDS, lost 3-2, and began their vacations early.
So—did they get better? Or will they let fans down in the ALDS again?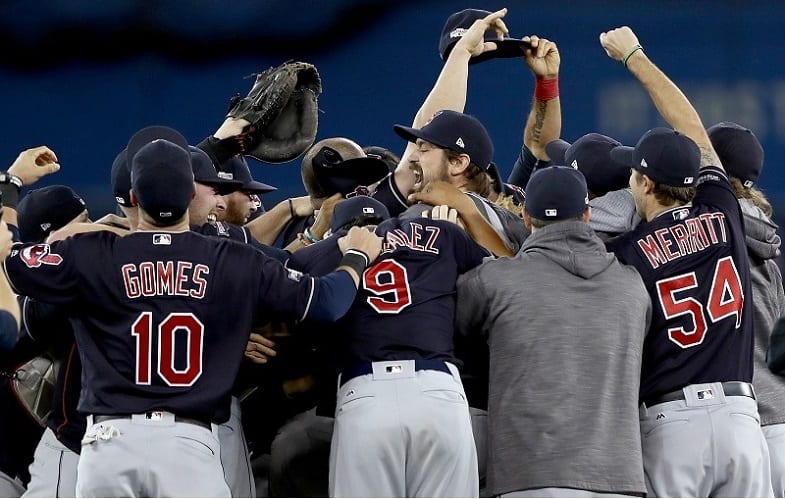 Well, it looks like they are going to count on improving the offense from within and riding their pitching staff until it does. Cleveland's batters were not poor hitters last season (No. 5 in batting average, .263). But the Indians didn't have too many guys that stood out as hitters. Jose Ramirez led the team with a .318 batting average. He was followed by Francisco Lindor (.273) and then Carlos Santana (.259).
They didn't really make any moves to improve the lineup other than subtracting Santana, Jay Bruce and Austin Jackson. They did add one player—Yonder Alonso (hit .266 with 28 home runs last season). If their offense is going to improve, some young guys are going to have to step up their games. Otherwise, it looks like they are going to ride their top-ranked pitching staff as far as they can (No. 1 staff ERA in 2017; 3.30).
Milwaukee Brewers
The Brewers have the longest odds of the group (+3300), but if a few things go their way they could surprise people and win their first World Series title in franchise history. They lost the franchise's only trip to the World Series to the St. Louis Cardinals back in 1982. They had a shot again in 2011 but lost in the NLCS to the Cardinals in six.
Last season the Brewers got within a game of making it to the postseason. That doesn't mean they could have made it to the World Series. But the New York Yankees were a wildcard team, and they almost made it. So, the question that must be answered is whether they are any better this season compared to last.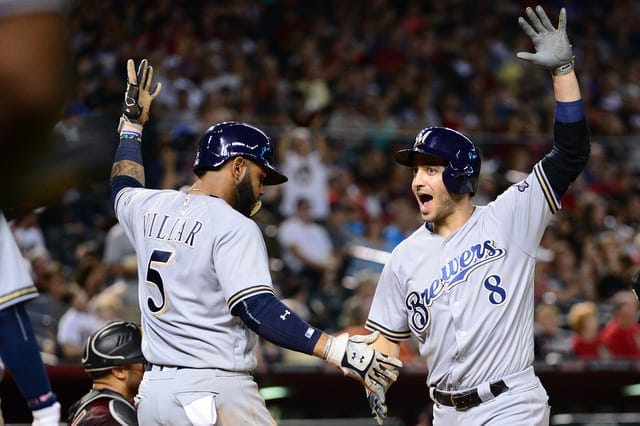 Their offense had to get better if they are going to have a chance, and it did. Last season they ranked No. 21 in batting average (.249), and the team high was just .278 (which belonged to Domingo Santana). They added two guys that hit better in Christian Yelich (.282) and Lorenzo Cain (.300). If some of the older guys like Ryan Braun and Eric Thames can maintain their game as well as some of the young ones – Travis Shaw, Domingo Santana, Brett Phillips, etc.-  their offense could become one of the better ones in baseball.
Where they may hurt, however, is pitching. The Brewers had a good staff last season (No. 9 in ERA at 4.00), but some guys played above and beyond expectations. If they can do it again—great. If they can't, the team is in trouble since they didn't really bring in anyone worth bragging about.
They tried to bring in Yu Darvish, but he ended up signing with the Cubs.  They may also give their talented collection of young arms a shot and then bring in someone else down the line if needed.
Washington Nationals
Like the Brewers, the Nationals are looking to win their first World Series this season. Of course, to do so will mean making it to the World Series for the first time in franchise history. Since 2012, they have been one of the more competitive teams in the league. They just can't get the job done in the playoffs. They've made it to the NLDS four times since 2012 and lost each time.
So, what is going to be different this season? Better yet, what needs to be different?
They had one of the better offenses and pitching staffs in baseball last season. Offensively, they ranked No. 4 in batting average (.266) and had five guys who played 100+ games and hit .300+. There is no reason to think they can't do it again. The guys that didn't hit .300 weren't half bad either. Matt Wieters had the lowest batting average among guys with 100+ games (.225), but most catchers do have poor batting averages.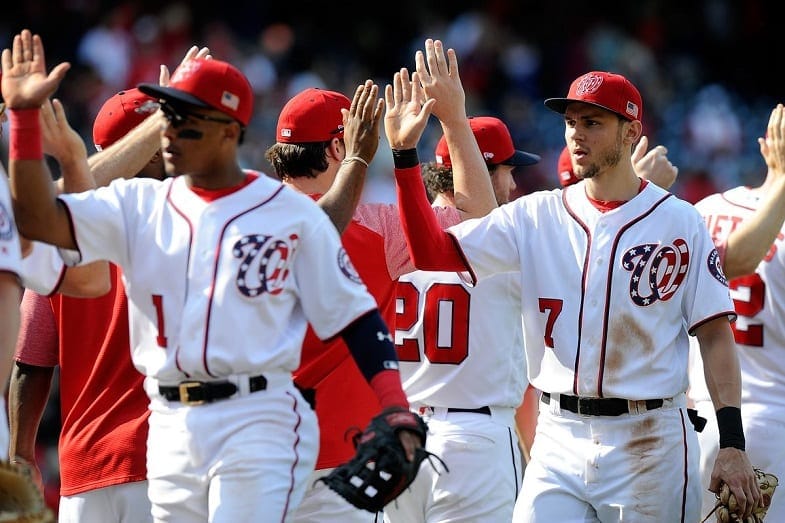 Somehow their pitching staff's ERA only ranked No. 6 last season despite having three guys (Gio Gonzalez, Stephen Strasburg, and Max Scherzer) with sub-3.0 ERA's. Therein is their major malfunction. They have three great pitchers in the rotation; the other two– not so much.
While Tanner Roark wasn't terrible, his 4.67 ERA wasn't good. Neither was Joe Ross's ERA (5.01) or Edwin Jackson (5.07). No one else started more than ten games.
Roark reportedly already locked himself in as the fourth starter, but if they want to break through the NLDS and finally make a run at the World Series, they need to find a better fifth starter than they have. If Roark and whoever gets the nod for the final spot are at least average this season, the rest of the roster will be good enough to handle it. But when you are giving up at least four runs in almost a third of your games (Roark, Ross, and Jackson started 56 last season), you are asking a lot of your offense.
Their odds of winning it this season are +800, but unless they find a couple more decent pitchers, don't count on them.
Los Angeles Dodgers
The Dodgers have been trying their hardest to spend their way to a World Series championship but fell short against the Houston Astros last season when they lost Game Seven. The loss meant the 29-year World Series drought was going to extend another year.
As could be expected, they are the favorites to win it all this season (+500). But did they make the right changes? Or maybe too many?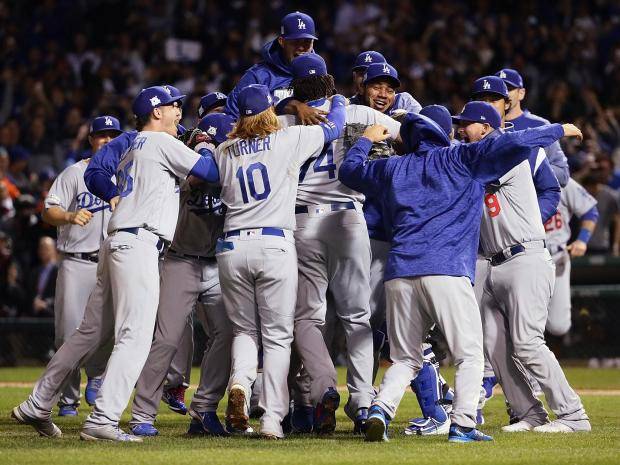 As far as the pitching staff goes, this year's group should be just as dominant as last year's (No. 2 staff ERA at 3.38). Yu Darvish left, but they still have arguably the best in the business in Clayton Kershaw. If there is a weak point in the rotation, it's Kenta Maeda and his 4.22 ERA. 
But they may want to spend a little on the offensive side of their game. To the Dodgers credit, while they had one of the lower batting averages in baseball last season (No. 22; .249) they capitalized on the base runners they had (ranked 12th in runs scored).
They have some good hitters in Justin Turner, Cody Bellinger, Corey Seager and Chris Taylor. But they could use a little help. Yasiel Puig is not bad, but he's not great. The most significant move they made to help their offense was trading for Matt Kemp. He gives them another good bat, but they'll need more than him.
New York Yankees
It almost doesn't seem right to include a team that has won 27 titles on a list of teams suffering through a World Series drought. But it has been nine years since they last won a World Series title. They came within a game of getting back last season, but fortune smiled down on the Astros instead. This season, they aren't just one of the favorites to play in the series, they are one of the favorites to win (+550).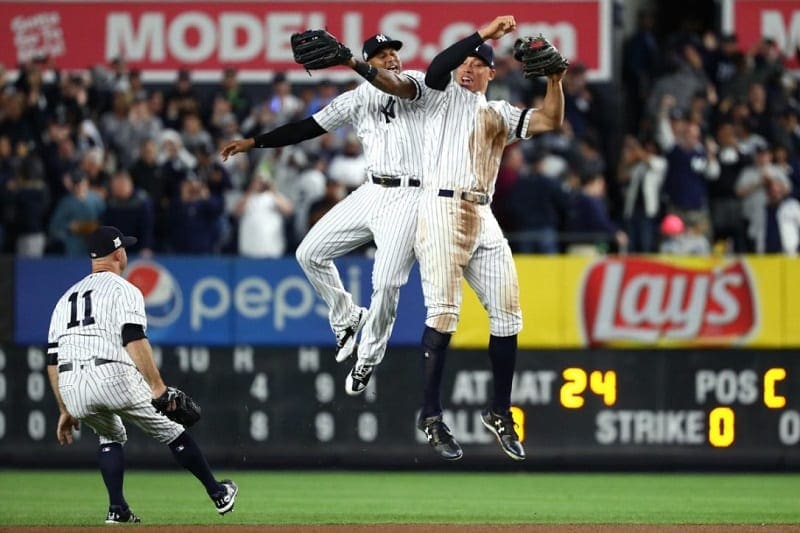 The expectations were not tremendous last season, but they ended up being pretty good. On the offensive side, they hit well as a team with the seventh-best batting average in baseball (.262). Only the Houston Astros scored more runs than they did (the Yankees had 858; Houston had 896).
They have a good collection of hitters that should be even better thanks to the addition of one key guy—Giancarlo Stanton. With two of the best sluggers in baseball in the lineup (Stanton and Aaron Judge), opposing pitchers are going to have their hands full.
CC Sabathia is still getting the job done, but he is no longer the ace of the staff. That honor now belongs to 24-year old Luis Severino and his 2.98 ERA. Little was expected of Jordan Montgomery last season, but he ended up having one of the better ERA's among the Yankee starters (3.88). Sonny Gray was a good addition last season (3.72 ERA with the Yankees), but they need Masahiro Tanaka to find his form again, or they'll find someone else (4.74 ERA last season; had a 3.07 ERA in 2016).
The Yankees appear to be good at everything this season, much like they were last season. It will be interesting to see how much better the offense is with Stanton in the lineup. If they don't win it all, they'll certainly come close.