---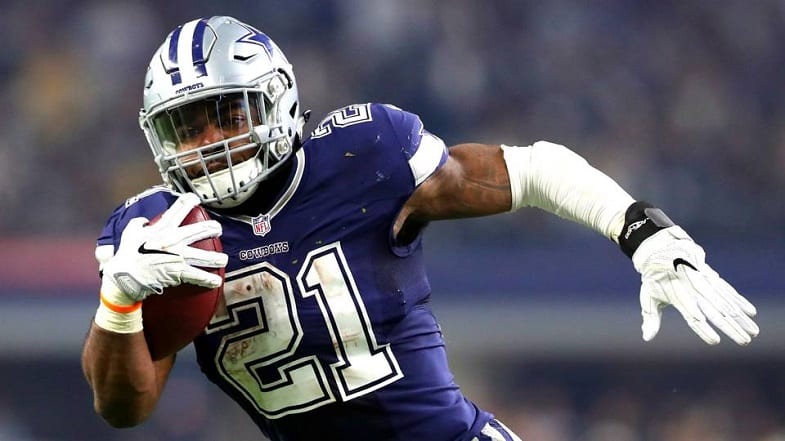 The Dallas Cowboys came into the 2017 season with higher—and more realistic – expectations than they've had in years. Going 13-3 last year helps. Even though the defense was basically rebuilt from scratch with bargain basement parts, many still thought that the Cowboys could roll through the competition like they did last year.
But those who set the bar high did so while forgetting a few significant things. The offensive line lost two of its workhorses from last season, their schedule was going to be much tougher this year, and they will likely have to play without the services of running back Ezekiel Elliott at some point.
Elliott's work behind the once-mammoth offensive line is what paved the way for last season's 13-3 record. Chances are the Cowboys are done once the legal system finally dispenses with Elliott's case.
For now, he is back in the lineup.
However, it is only going to save him for a week or two at most. What's going to happen when his case returns to court? What if he loses and his legal team decides to give up? What if he must start serving his suspension? Will the Cowboys be done or is there a reason for fans to hold out hope for the postseason?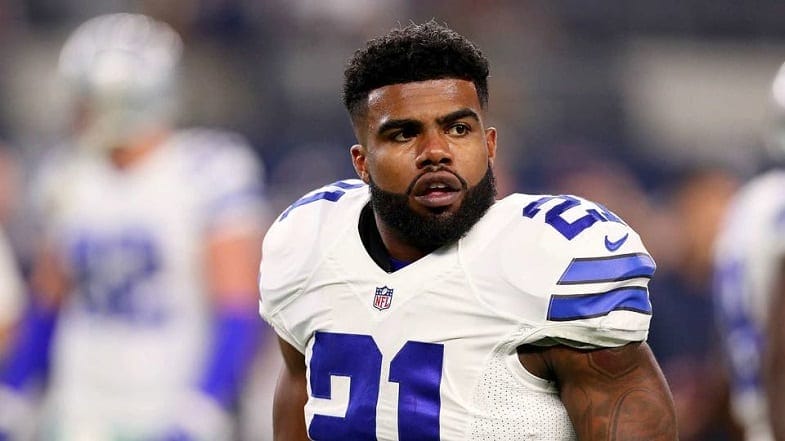 Life will get tougher for the Cowboys without Elliott in the backfield. You don't lose a player of his caliber and become a better team. Alfred Morris and Darren McFadden are decent running backs, but neither strike fear into the hearts of defensive coordinators like Elliott can.
However, with a less capable offensive line, Elliott isn't even doing as much this season.
Whether it is easier to win with Elliott on the field is not the question. What will the Cowboys do to win without Elliott when his suspension is finally enforced is the real question.
First, they must protect the defense. It isn't playing as bad as expected this season, but it is still the weak point of the team. So, to do so, the Cowboys have to figure out how to do something they did last season—control the time of possession. The other team is less likely to score if they don't have the ball.
Last season, the Cowboys were one of the best in the league holding onto the ball for almost 32 minutes a game (31:54). But this year they have slipped by more than two minutes (29:44). To the layperson, two minutes may not seem like much, but it is all some teams need to drive the length of the field and score. For a team that won seven games (and lost two) by a touchdown or less last season, those two minutes can be are vital.
So, somehow, they need to figure out how to hold onto the ball longer (and put up more points than the other guy, of course).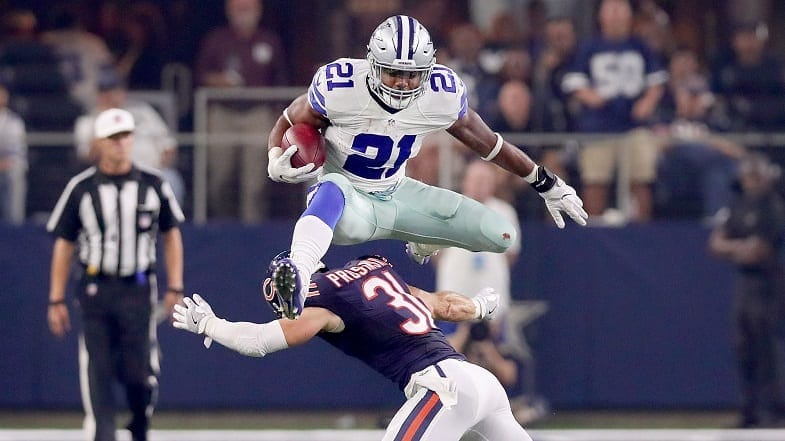 But how?
Continue to run the ball. Defenses have to think they are going to run the ball and even though the offensive line isn't as good, and the running backs will not be either, they have to be able to grind out a decent ground game. They will need to keep defenses concerned about the running game, so they can't focus on stopping the passing attack.
Along with running the ball, they need the illusion of ball control without having to pound the ball down the field with the running game. This is where the short-to-intermediate passing game will come in hand, which just so happens to be what Dak Prescott excels at doing. Almost 70 percent of his pass attempts this season and last season have been ten yards or less.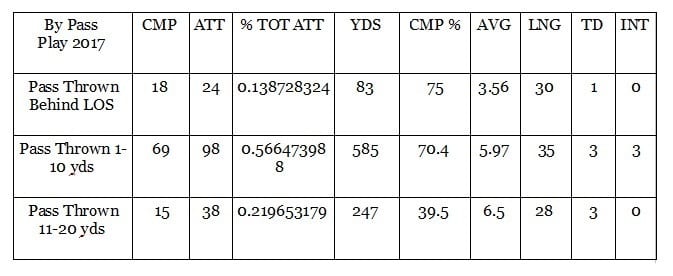 *LOS-Line of Scrimmage

Many have called Prescott's apparent reliance on the short passing game a bad thing. They think the Cowboys need to go downfield more. But the short game has worked wonders for other teams (i.e., Kansas City and Green Bay). Dallas has the personnel for it with guys like Jason Witten and Cole Beasley that make their livings catching short passes.
So, why not Dallas?
The interesting point here is not whether Dallas needs to emphasize the short passing game, throw deeper, or run the ball more. The team is throwing more this season (58.3 percent pass; 41.7 percent run) relative to last season (49.2 percent pass; 50.8 percent run). With Ezekiel Elliott not running as well this season, it seems like they have already begun trying to compensate.
So, what's the problem? Shouldn't it be working? How come it isn't? If it isn't working now with Elliott on the field, how is it going to work better with him off?
There are two things about how the offense has been operating this year that is different from last season. Last season, Prescott was much better at distributing targets evenly amongst his starters. Whether it was a conscious decision or not doesn't matter. In doing so, he made it harder for defenses to focus on shutting down any one player.
This season, he has made a clear point to target Dez Byrant and Jason Witten more. Their additional targets have come at the expense of Cole Beasley. Brice Butler, Terrance Williams and Ezekiel Elliott are seeing roughly the same number of targets this year as last. This makes the Dallas offense much easier to defend—but that isn't the only issue.
No one is doing as much with the ball once they get it.
Receiving 2017:



The only player with a higher percentage of yards after catch this season relative to last is Brice Butler. The rest are all doing less this year when compared to last year.
Receiving 2016:



Back to the central question— what does Dallas need to do to win without Ezekiel Elliott? The same thing it needs to do with him. Everyone needs to start trying to make plays rather than wait for the next guy to do so. If Dak Prescott is targeting Dez Bryant and Jason Witten more, that needs to stop. Maybe Jason Garrett and Scott Linehan need to do what they did last season. Trust him to make the right plays.
But don't fans want to see the superstars playing more? Of course, they do. However, they enjoy seeing the team win games even more.
Dallas doesn't need to do anything special to win without Elliott because they just need to start playing.