---
Throughout this season it's seemed like the Oklahoma City Thunder aren't as dramatic as they ought to be. No one freaked out when the team got off to a slow start. Reporters don't seem to be hounding the star players for hints of dysfunction. Paul George's name hardly surfaced in pre-trade deadline discussions. Billy Donovan might be hidden in the Starman suit on Elon Musk's deep space Tesla and no one here on Earth would notice he'd disappeared. Oklahoma City has just become an astonishingly drama-free zone within an NBA culture churning with more takes and rumors than all other sports combined.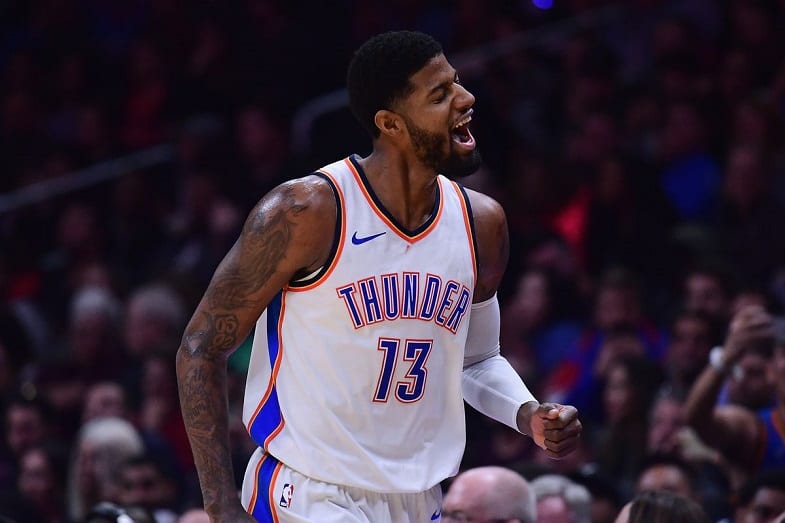 Don't the Thunder have a "Big Three" though? Isn't that supposed to be inherently dramatic? Is this not a team that slapped together three career All-Star and Team USA veterans on the fly in the hopes of taking on the Warriors? I've been racking my brain as to why we're not obsessing over the Thunder like we have other Big Three teams, and a few theories came to mind.
1 – It's just because it's Oklahoma City; if Russell Westbrook, Paul George, and Carmelo Anthony had gotten together in New York or L.A. or Miami, this would be different. Maybe to some degree, but I don't really think so. OKC managed plenty of drama during the Durant/Westbrook days. 
2 – This is just how Westbrook wants it. I have no doubt this is true, but it's also not up to him. All Westbrook can do to control the media is force them to answer their own questions to him; he can't stop anyone from asking.
3 – They're not a legitimate Big Three. But this is nonsense. Sure, Carmelo Anthony is past his prime, and maybe it's more of a Big 2.5. But we're talking about two legitimate star players and a third fiddle who was 13th in the league in scoring two seasons ago. Statistically, Anthony right now mirrors Ray Allen of 2007-08 pretty closely, and no one had trouble including Allen in the Celtics' championship-winning Big Three. I'm not saying current Carmelo is as good as Ray Allen was then – he's not – but the gap isn't that big.
4 – There's just something different about the 2017-18 Thunder. This is broad, but it seems like the answer.
An obvious question follows: what's actually different about the OK3?
A lot of easy answers come to mind. This Big Three isn't in a huge market, most don't expect it to stick together longer than one season, and it's not supposed to win its conference, let alone an NBA title. But there are two other answers that are a little bit deeper and bear more responsibility for the feeling that this is different than what we're used to.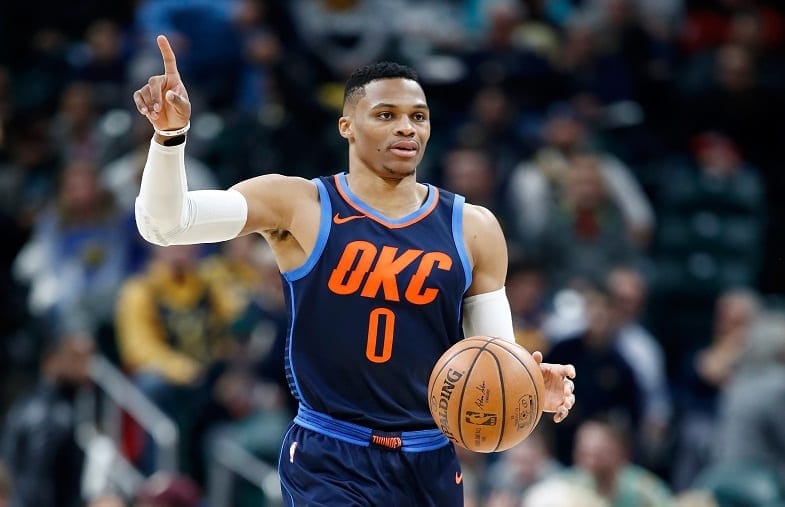 The first answer is that this is more a group of victims than a team of players plotting their fortune together. Historically, almost every significant "Big Three" has been comprised of: A) players who played together by design, B) players who came up together, or C) players who were given the best opportunities of their careers. For those who are interested, here are some prominent Big Threes, and how they fit into these categories.
Miami Heat: LeBron James, Dwyane Wade, Chris Bosh – A, by design
Boston Celtics: Kevin Garnett, Ray Allen, Paul Pierce – C, good fortune
Golden State Warriors: Stephen Curry, Klay Thompson, Draymond Green – B, homegrown
Golden State Warriors: Curry, Thompson, Green, Kevin Durant – All three, A, B and C, be design, homegrown and good fortune
Los Angeles Clippers: Blake Griffin, DeAndre Jordan, Chris Paul – B and C, homegrown and good fortune
San Antonio Spurs: Tim Duncan, Tony Parker, Manu Ginobili – B, homegrown
Los Angeles Lakers: Magic Johnson, Kareem Abdul-Jabbar, James Worthy – B, homegrown
Boston Celtics: Larry Bird, Kevin McHale, Robert Parish – B and C, homegrown and good fortune
Chicago Bulls: Michael Jordan, Scottie Pippen, Dennis Rodman – B and C, homegrown and good fortune
LeBron James, Dwyane Wade and Chris Bosh famously schemed to play together during the 2008 Olympics. Allen and Garnett were brought to Boston after long, fruitless careers elsewhere for what was unquestionably their best chance to win alongside Pierce. Stephen Curry, Klay Thompson and Draymond Green amazingly came up together. Durant chose to join a homegrown Big Three for the best opportunity of his career – or frankly anyone's, ever. Chris Paul joined a homegrown duo in a messy transaction, but still one that gave him his best shot to that point. Tim Duncan, Tony Parker, Manu Ginobili came up together and stayed together. Kareem Abdul-Jabbar engineered a move to the Lakers, though the Big Three wasn't in place yet. From that point forward they were effectively a homegrown trio. As for the first Boston Big Three, Bird was in place already when Red Auerbach Danny Ainge'd the Warriors into giving him Parish and the pick that became McHale; Parish got a new opportunity, but Bird and McHale were homegrown. And finally Chicago, Jordan and Pippen were drafted by the Bulls, but Rodman won the lottery when the Spurs traded him to Chicago for Will Perdue.
Now at this point we're only half way through a season in which it looks like the Thunder will be a 3-5 seed, so maybe it's not even fair to consider them in the context of this list. But if we do, can we slot them into any one of these categories?
They certainly didn't scheme to play together. Early last summer, all we knew was that Carmelo Anthony wanted out of New York, Paul George wanted to be a Laker, and Russell Westbrook was (probably) going to remain loyal to Oklahoma City. These three share no known off-court friendship, there wasn't a whiff of their wanting to team up, and no one connected the dots before Sam Presti waved his wand and acquired George and Anthony. The only schemer in this situation was in fact Presti. So much for "A."
They of course didn't come into the league with the same team either, so that knocks out "B." There could be some debate about "C," but it's difficult to say definitively that this situation represents the best chance of these players' careers. Russell Westbrook was the point guard on an NBA Finals team alongside Kevin Durant and James Harden when he was 22 years old. Carmelo Anthony led a 54-win Knicks team in an extremely weak Eastern Conference, alongside a still-decent Amar'e Stoudemire and a Jason Kidd/Tyson Chandler duo fresh off the 2011 title with the Mavericks. Paul George was "the guy" on a rising power that legitimately went toe-to-toe with the Heatles. They've all had very good opportunities before.
Bottom line: these guys didn't figure out a fortunate situation for themselves. Bad things kept happening to them until they wound up here. Russell Westbrook has seen multiple star teammates leave town and was unceremoniously ditched by Kevin Durant. He responded by winning an MVP title only to be criticized for chasing stats by the same media community that continually drools over James Harden's box scores. Paul George essentially saw his core dismantled and demoralized while he was out coping with a horrific injury (and was then blamed for wanting out). And Carmelo Anthony was asked for years to work magic with a poorly constructed team burdened by some of the worst ownership in sports.
In other words, these three didn't team up to buy a first class ticket to the Finals just for kicks. They each clawed their way into a life raft from different directions, and that's unusual if not unique among Big Threes.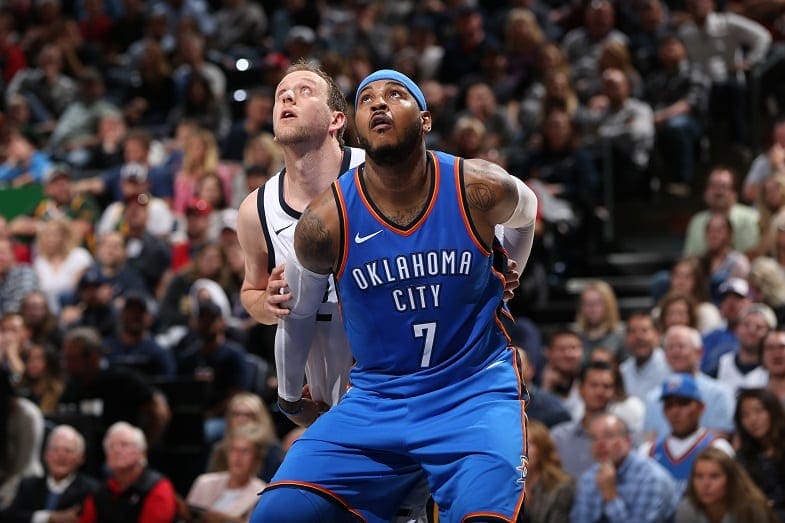 The second answer to what makes the OK3 different is more straightforward: it's that there's actually a clear hierarchy with this group, which makes for less of a soap opera.
Think back on the recent Big Threes we've seen and you'll recall this has almost never been the case. Curry was the unquestioned top dog in Golden State originally (when they were less dramatic than they have been for the last two years, incidentally) – but with Durant in town it's not always clear who the alpha is. It may seem in retrospect that the Heat's Big Three had a clear hierarchy, but for most of that run there were legitimate questions about whether it was Wade's or James's team (or whose team it should be). And with the Boston Celtics it was fairly clear that Garnett was the heart and soul, as well as the best player – but Pierce was the homegrown superstar.
Those were three championship teams, so it's not as if the alpha conflicts were problematic. They just made for more dramatic coverage. With Oklahoma City, it's crystal clear that Westbrook is Batman, George is Robin (but like a super cool Robin who might sneakily be the best defender in the league right now), and Anthony is, I guess, Commissioner Gordon – a little over the hill, but capable of a few big moments. It fits, and it's stable – it just doesn't draw the eye like what we're used to with groups of star players.
Whether or not any of this will matter is tough to say. Despite a recent skid, the Thunder have looked much better since mid-December, and they just torched a full-strength Warriors team in Golden State. They certainly won't be a favorite out West, but they're not going to be an easy out either. Regardless, we should appreciate this group while it lasts. They're in a fairly unusual position, and they seem to be starting to make the most of it.