---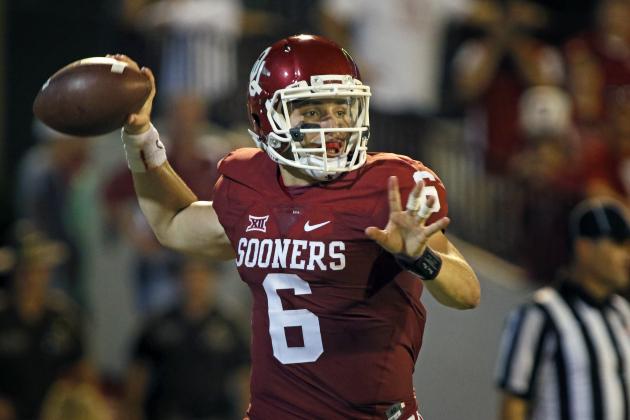 If you put much stock in the lyrics of Christmas carols, the most wonderful time of the year is Christmas time. Yes, the Holiday Season is quite special, but so are the days before the start of the college football season. In those days, everyone is a part of the conversation. Every team has a shot to win, every player has a chance to shine, and every fan can be optimistic about his/her team's future.
It is also the time where we begin some of the conversations that tend to last the entire season. For example—who is going to win the Heisman Trophy this year? It's a conversation that always captivates fans across the country. There are an endless number of opinions as everyone sees the game differently.
Last season, Louisville quarterback Lamar Jackson took home the honor. Many thought he deserved the honor (obviously). But many thought he didn't since he had two lackluster games at the end of the season (losses to Houston and Kentucky).
So—who is going to win it this year? With the season having not yet gotten underway, the speculation will include many of last season's candidates. But there will be some newcomers in the conversation as well.
Returning Candidates
Lamar Jackson, quarterback, Louisville (8 to 1): He started the 2016 season with a bang and lit up the scoreboard (51 total touchdowns) using his arm (30) and his legs (21). He was certainly one of the most exciting and dynamic athletes in college football last season. But for some reason, voter overlooked his two poor games at the end of the season and named him the 2016 winner anyway. He will not get that kind of leniency again.
Baker Mayfield, quarterback, Oklahoma (7 to 1): He should have won it last season after completing 71 percent of his passes for 3965 passing yards with 40 touchdowns and only eight interceptions (had six more touchdowns on the ground). However, this season, if he is going to win it he'll really have to earn it with Joe Mixon, Samaje Perine, and Dede Westbrook in the NFL. If he can lead the Sooners to a win over Ohio State, his odds will improve—a lot.
Jake Browning, quarterback, Washington (12 to 1): A lackluster game against USC ended his campaign last season, and with John Ross in the NFL he is going to need someone else to step up and become his new No. 1. With a poor non-conference schedule, his candidacy will not be able to survive a poor game this year either.
J.T. Barrett, quarterback, Ohio State (10 to 1): As a fifth-year senior, he is the most experienced candidate this season. But he may not get the opportunity he needs to make a case to win. Ohio State will probably lean more on the running game this season than the passing game. He struggled to throw against Indiana, Michigan State and Michigan last year. Should that happen again, his candidacy will end just as fast as it did last season.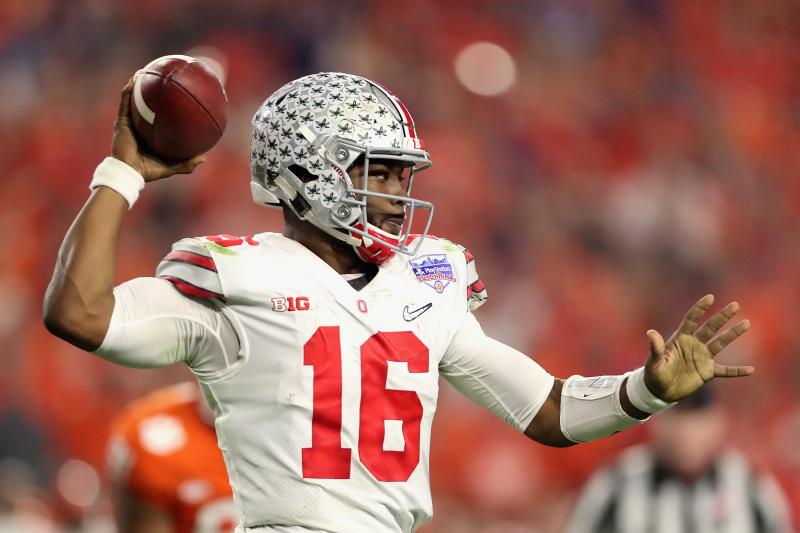 New Candidates
Sam Darnold, quarterback, USC (5 to 1): He didn't start the 2016 season with the starter's job. But once he was inserted into the lineup the Trojans exploded. He ended the season with a big explosion against Penn State in the Rose Bowl (453 yards and five touchdowns). Had he played for the entire season, he might have won last season. If he can start this season off right, he'll remain the favorite.
Deondre Francois, quarterback, Florida State (12 to 1): As a freshman, he exploded onto the college football scene with a 419-yard, two touchdown come-from-behind win against Ole Miss in the season opener. If he can open the season with a strong game against Alabama, he'll be a legitimate candidate this season.
Mason Rudolph, quarterback, Oklahoma State (15 to 1): When you average 315 yards a game, throw only four interceptions in 448 attempts you are going to get a lot of attention. However, he'll have to do better than 28 touchdown passes this season to win.
Jalen Hurts, quarterback, Alabama (20 to 1): Crimson Tide quarterbacks don't tend to get the Heisman respect they deserve because of the team's running game. He needs Alabama to pass more if he is going to win. But, to be fair, he'll also need to do a better job of throwing downfield when they do.
Trace McSorley, quarterback, Penn State (20 to 1): Having two Heisman candidates on the roster doesn't tend to end well for either player, but it does mean something for the team. With that level of talent, they should win—a lot. McSorley lost his No. 1 target (Chris Godwin), but he has plenty of potential targets waiting for a shot.
Saquon Barkley, running back, Penn State (20 to 1): He built off a solid freshman season (1076 yards, seven touchdowns) by running for 1,496 yards and 18 touchdowns last season. Should he be able to continue to grow this season, he will be a serious candidate.
Derrius Guice, running back, LSU (20 to 1): Leonard Fournette's Heisman campaign ended because of the time he missed due to injuries. But that allowed fans to see that they had the next great running back on the roster already in Guice. He had close to 1400 yards and 15 touchdowns in limited time last season. This season he will not have to share.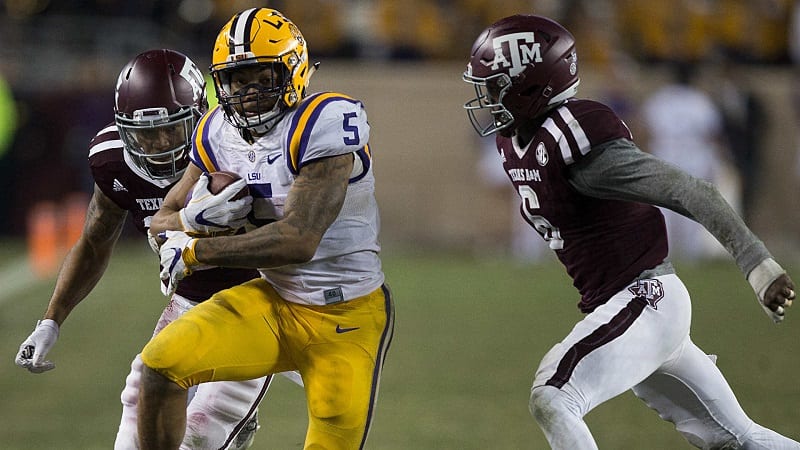 *Odds from Westgate
And the winner will be…
Without knowing how well teams filled their voids, it is hard to say. Baker Mayfield will have a new group of skill position guys which will make the job tougher. But if he can continue to produce as he has over the course of his career, he should win.