---
For quite a while now the Eastern Conference favorite has been Whichever Team LeBron's On (henceforth referred to as WTLO). These teams haven't always secured the 1-seed, and usually there's one other team in the East that seems, for a while, to pose a legitimate challenge: the post-championship Celtics, the Derrick Rose Bulls, the early Paul George Pacers…. But we all know how this tends to go: analysts and writers (myself included) write off WTLO after a midseason swoon, the King of the Subtweet takes a few thinly veiled swipes at teammates, everybody panics, and two weeks later WTLO inexplicably looks like a well-oiled machine destined for playoff dominance. It happens every year.
But this year, I'm going to…. Hmm.
(Deep breaths.)
(Checks aforementioned record of writing off WTLO too early.)
(Considers that LeBron James is LeBron James and maybe having his best statistical season ever.)
Okay…. This year I'm at least going to write off the 2017-18 Cavaliers as definitive Eastern Conference favorites. They might still be the smartest pick when the playoffs roll around – but it's definitely not clear.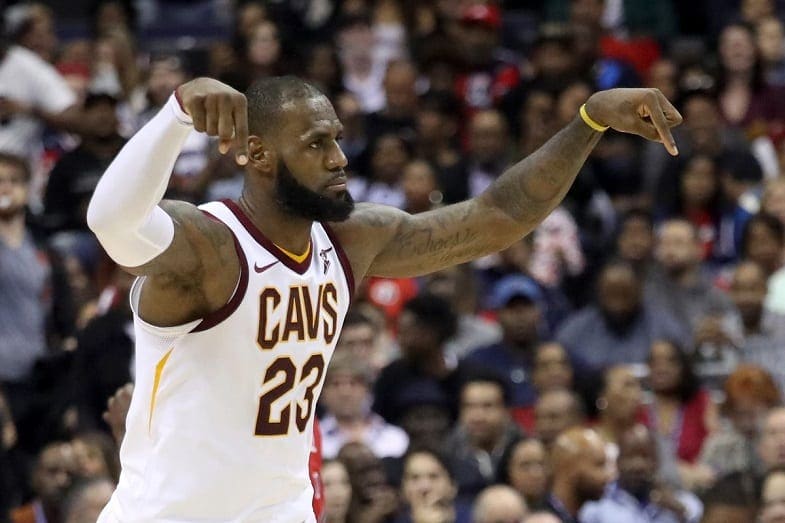 This version of WTLO isn't just having a swoon, it's had a few. It's 7.5 games out of first place as of February 6th, which could be worse but is sub-par for a LeBron-led team. And a lot is going wrong: Kevin Love got publicly shamed for missing team activities while sick; Isaiah Thomas felt the need to clarify that he was being blamed too much for the team's struggles; Tyronn Lue dramatically announced a starting lineup change (always a terrific sign). Asked recently about Lue's job security, James's endorsement went only so far as to say he hoped it would work out. And through all this the Cavs are playing horrible basketball. They've lost four of their last 10 games, and in the entire Eastern Conference only the Magic are giving up more points per game (also a terrific sign). So this isn't just the typical midseason lull. 2018 has been a disaster so far for the Cavaliers.
It's not clear that people realize just how bad James's supporting cast has become either. Derrick Rose and Isaiah Thomas have played in a combined 27 games – Rose as a shell of himself and Thomas, sadly, looking like he might just not be the same post-injury (though it's still early). J.R. Smith has a sub-8.00 PER and is shooting under 35 percent from behind the arc, and Tristan Thompson is down close to three points and three rebounds from 2016-17. Iman Shumpert and Channing Frye have all but dropped out of the rotation. Jae Crowder has been exposed as simply not the three-point threat and defender he could look like at times in Boston.
Meanwhile, Kevin Love – the only worthwhile teammate James seems to have anymore – might now miss two months with a broken hand. James is about as alone as he's been since his first stint in Cleveland. It's almost like the Cavs shouldn't have traded a 25-year-old All-Star point guard who torches the Warriors for a depreciating pick and a 5-foot-9 injury risk.
Of course, Cleveland could fool us again and wind up just where they're supposed to be, opposite Golden State in a Finals series. LeBron James simply doesn't lose in the Eastern Conference playoffs, and there could be help on the way. There are a few interesting trade targets that seem to be on the market (DeAndre Jordan and Kemba Walker at least), and the Cavs have a decent (though not spectacular) asset in the form of Brooklyn's first round pick. There's a move to be made.
For now though, it feels like it's legitimately time to start looking elsewhere for an Eastern Conference favorite.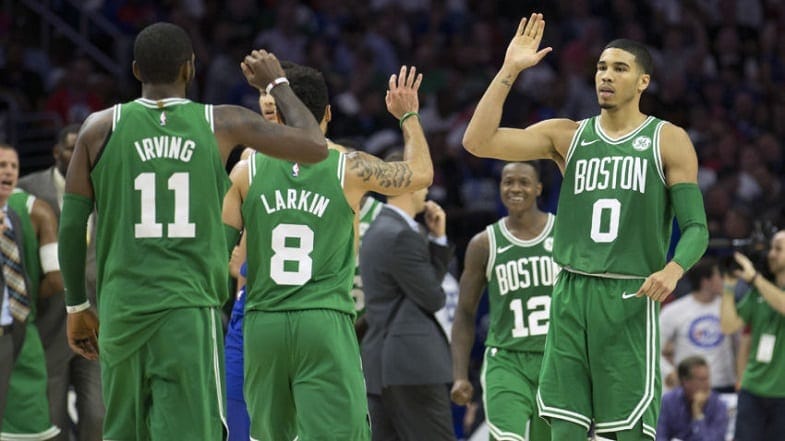 The obvious choice is the Boston Celtics. After the Gordon Hayward injury on opening night the Celtics went on a post-traumatic rampage, and though they've cooled off considerably of late, they're still 39-15 as of this posting. That's good for first in the East and third in the NBA (behind Golden State and Houston). The Celtics have gone 1-1 against Cleveland so far, though likely would have won a close game on opening night if not for the aforementioned injury. And that's the other thing: Gordon Hayward still looms, his recovery reportedly going smoothly. He might be coming back as the most fascinating pre-playoff contender wrinkle in recent memory. (Brad Stevens says otherwise, but he could always be going Full Belichick on us.)
The hard thing about looking at the Celtics as conference favorites come playoff time is that they really are so young. We know that Jayson Tatum is already one of the best clutch shooters in the game, and that Jaylen Brown has made a considerable leap in his second season. We also know that Terry Rozier has become one of the best bench guards in the league. But those three average out to 21 years of age. There's some veteran strength on the team as well, to be sure. Al Horford looks rejuvenated running with Kyrie Irving, and Irving himself is a legitimate All-Star with a ring to his name already. Even so, this team feels a little inexperienced to earn favorite status just yet.
The only other team in this discussion are the Raptors. Don't look now but Toronto is actually better than it has been in recent years, even if it's in a generally familiar position. DeMar DeRozan has added a three-point shot to his arsenal, Jonas Valanciunas has been outstanding, and it feels like the team is depending on Kyle Lowry a little bit less, which if anything means he's become slightly underrated. Meanwhile, the depth of the bench has become a real asset. Guys like Fred VanVleet, Delon Wright, Jakob Poeltl and OG Anunoby are making real contributions on both sides of the ball, and Toronto simply has more looks to throw at opponents than at any other point in the Lowry/DeRozan era. Brad Stevens has to be in the lead for Coach of the Year right now, but Dwane Casey might be next up.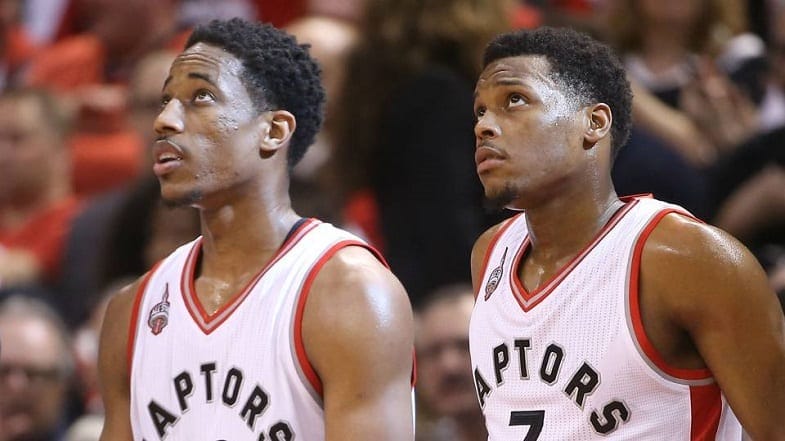 Currently the Raptors are just two games out of first place, though they actually have the best point differential in the East by almost three full points. This doesn't make them a favorite just yet. Both Lowry and DeRozan have shown a tendency to disappear in the playoffs at times, and we'll simply have to wait and see if that's something they've gotten over. That said, with the way things are going the Raptors might actually be the most logical pick for the top seed in the East, even if picking them to the Finals still feels somewhat optimistic.
No other Eastern Conference team really belongs in this conversation. So in answer to the question posed in the title, we really don't know who the Eastern Conference favorite is. The Cavs are an absolute train wreck, but have LeBron James and the potential for major trades; the Celtics have been the best team, but are largely unproven when the games start to matter; and the Raptors have been the steadiest group, but we've seen this act before (they kind of reek of the 60-win Hawks from 2014-15, even if the teams aren't actually very similar). If I had to bet, I'd probably say the Raptors earn the 1-seed, and the Cavs somehow find their way to the Finals. But I also kind of think the Celtics are the best team, so neither of those predictions makes complete sense.
We just don't know. It's a little disorienting after so many years of WTLO certainty. But it should make these last few months a lot of fun.