---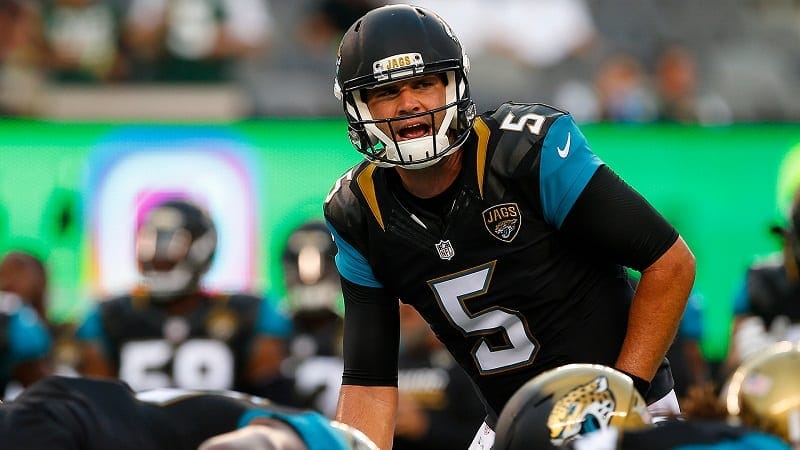 When the Jacksonville Jaguars announced that the starting quarterback's job would be up for grabs following a second terrible preseason showing by Blake Bortles, no one was surprised. His play had been terrible and, at that point, he did not deserve to be the starting quarterback of an NFL team.
It was the right move by head coach Doug Marrone. But then after a decent performance in the third preseason game, he was given the job back. As surprising as it may seem to many NFL fans, that too was the right move.
Why? Bortles may not be playing very well, but he has in the not too distant past (the 2015 season). Chad Henne, on the other hand, does not have a track record—or any record – of sustained success. Henne has played well in spurts, but never for a prolonged period of time. When given his chance to earn the job in the third preseason game, he blew it with a lackluster performance.
Bortles didn't exactly shine, but he was better than Henne, and he didn't necessarily disappoint to start the season, throwing for 125 yards and a touchdown in a 29-7 win over an emotional Houston team. Does that make Bortles the right man for the job? Absolutely not. But he's the best man the team has on the roster right now. If the team was going to hold out hope for someone to turn the corner and thrive, Bortles is the logical choice.


Many will say they could pick someone else up, but that someone would still need time to learn the system and get on the same page with the rest of the offense. No, if the Jaguars were going to have a real quarterback competition they should have brought a few guys in during offseason workouts and training camp.
But they didn't. Why not? Easy– they made another in a long list of mistakes managing the quarterback position; a common theme throughout the short history of the Jacksonville Jaguars.
Mark Brunell (1995-2003)
In 2003, the Jaguars acquired Mark Brunell's eventual replacement (Byron Leftwich) with the seventh pick in the draft. At the time, the dominant train of thought was to have a rookie sit for a year or two and learn before starting them, so the pick wasn't too surprising. With Brunell coming off a strong season in 2002 there was no apparent need to rush Leftwich into service anyway.
But three weeks into the regular season, Brunell injured his elbow and had to come out of the game. In went Leftwich, and Brunell never played for the Jaguars again. First-year head coach Jack Del Rio announced the following week that Leftwich would remain the starter for the rest of the season.
The move made it seem like Del Rio must have been thinking of benching Brunell for Leftwich all along. But he couldn't pull the trigger and Brunell was on the roster for Week One, his $6.75 million salary was guaranteed. At the time, that was considered a princely sum—and they paid it to him to play two and a half games because Jack Del Rio couldn't make up his mind.
Byron Leftwich (2003-2006)
Leftwich's time as the Jags starting quarterback started expectantly and ended in an even more surprising manor just a few years later. For some crazy reason, Jack Del Rio named Leftwich his starter for 2007 in February. But the oft-injured Leftwich was outplayed by David Garrard during training camp.
But rather than bench his starting quarterback, he cut him nine days before the season began.
David Garrard (2007-2010)
Del Rio did it again a few years later with Garrard. After telling anyone who would listen that Garrard was going to be the starter for the 2011 season, he cut him just five days before the season opener and two hours after introducing him as the starting quarterback at a luncheon.
He hands the ball over to Luke McCown but eventually sits him down for rookie Blaine Gabbert.
The Jacksonville Way
Maybe the problem was Jack Del Rio. He seems to be at the heart of most of the Jaguars QB foibles. But the issues continued long after Del Rio's departure in 2011. Blaine Gabbert's ascension included more of the same waffling before his career picture became cloudy following some injury issues in 2012 and 2013.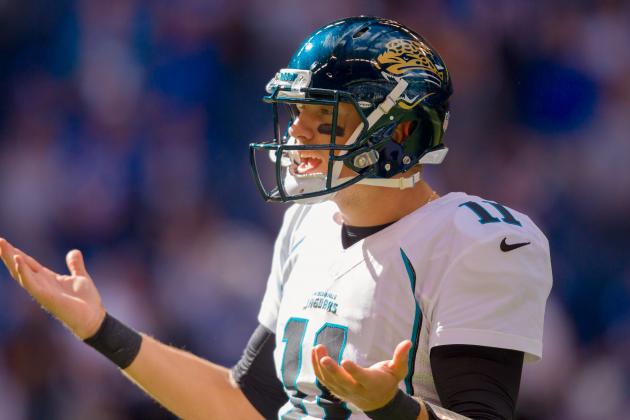 Those injuries opened the door for Chad Henne. To be fair, he did have some really good games early on, but when you play for the Jaguars, there is no such thing as job security or margin for error. The team stunk in 2013. That set them up to draft Blake Bortles with the No. 3 pick in the 2014 draft and led to the latest in a long line of questionable quarterback decisions by the Jaguars.
Bortles ended up taking Blaine Gabbert's job surprisingly early on during his rookie season. He had the expected growing pains, but then thrived in 2015 before taking a leap backward last season. In comes former head coach Tom Coughlin as the new Executive VP in charge of football operations. If anyone can get the team together and in line, it's him.
He appeared to do the right thing by telling Bortles to cut down on the turnovers. But then he failed to put any bite behind his bark. He needed to bring some competition into camp for Bortles. How else is he going to believe he may lose his job? Bortles already knew he could beat out Henne. With no one else on the roster who could replace him, he had nothing to fear.
Rather than give him reason to think he could lose his job, they gave him reason to believe it was secure. They even picked up his option for 2018 ($19.05 million). So now, should he suffer a serious injury, they may have to pay him and a new quarterback. The only way around it is to cut him before the first official day of the 2018 season.
It seems like the smart move would be to bench him early if he struggles. That way they don't run the risk of an injury. So when the offseason rolls around,  they can cut him and not be on the hook for $19.05 million. Then in 2018, they can start fresh with another quarterback.
But making the 'smart move' may not always be the Jacksonville Way.