---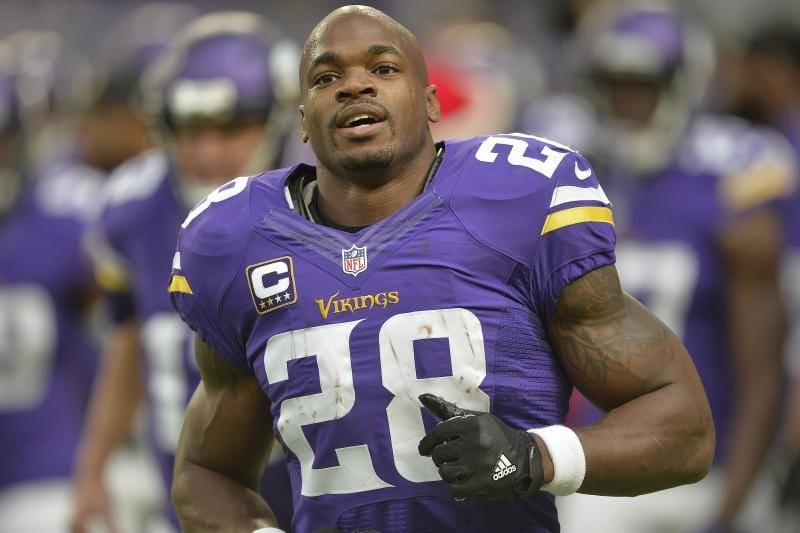 Adrian Peterson is only 32 years old. Marshawn Lynch is just 31, and Jamaal Charles is only 30. If they were lawyers, coaches, politicians, or businessmen, they would be considered young men with their best years still to come. But they are professional athletes—and not in just any old sport. These guys are football players who engage in one brutal collision after another for a living.
They train for it, of course, in hopes of being able to handle the punishment other players dole out. But training can only do so much. Time will catch up with a player if the injury bug doesn't bring him down first.
Most hope to play into their 30s and do just that. Few have managed to keep playing into their 40s. But for most, the ride ends in their 20s. Many quit after suffering a serious injury. Some quit now in hopes of avoiding said injury. For those that don't quit on their own terms, it is often an accumulation of aches and pains that slow a guy down enough to make him expendable.
For running backs, the age where the decline starts is typically around 27 years old. They are still good players, just not as good as they once were. But when they hit 31…for most running backs it is all over. The decline is sharp and their careers as good as done.
While this is the case for many, it is not the fate for every running back. Many have played into their 30s and played well. At least three teams this coming season will be tying their Super Bowl dreams to 'old' running backs.
Adrian Peterson, New Orleans Saints

Marshawn Lynch, Oakland Raiders

Jamaal Charles, Denver Broncos
Any chance it works out for one of them?
The league has become more and more about the passing game with each passing season. That means fewer carries and less wear and tear on the bodies of running backs. They could become involved in the passing game as well, but that still often means more work in open space and less with 300-pound linemen smashing them.
All three are on passing-oriented teams, but what will help their longevity even more, is the running back by committee approach used by the majority of the NFL now. The more the ball is spread around, the less punishment everyone takes. In a perfect world, this will mean everyone remains healthy and effective.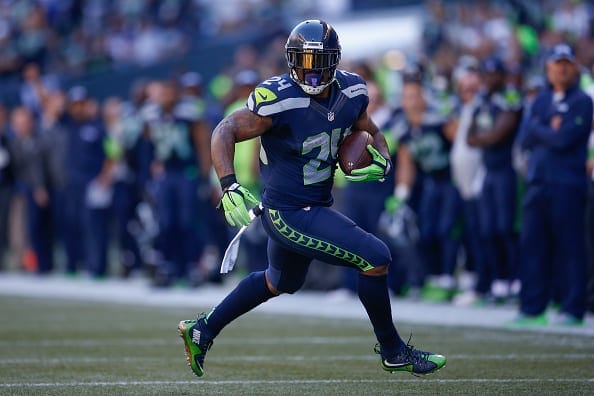 Peterson will likely be sharing carries with Mark Ingram and rookie Alvin Kamara. Lynch will probably be the primary back in Oakland, but Jalen Richard and DeAndre Washington will also get carries. Charles isn't a lock to start, but if he does, he'll lose carries to Devontae Booker and C.J. Anderson.
The prevalence of the passing game and less responsibility will benefit all three—but will that be enough to beat back Father Time?
Peterson led the NFL in rushing in 2015 with 1,485 yards, but in what little action he saw last season before an injury ended his season he was terrible (1.6 yards/carry). His brief return didn't instill much confidence either (six carries, 22 yards). He was 31 at the time. So—did he hit the dreaded wall?
Marshawn Lynch retired following an injury-filled 2015 season. Due to those injuries, he was only able to play in seven games and was rarely effective. He averaged just 3.8 yards a carry, his lowest since his first season with the Seahawks (in 2010). Lynch was only 29 at the time, but injuries can speed up the decline—especially when they happen later in a player's career.
Charles is only 30, so he isn't quite at the age where the severe decline is expected. However, he was not very good in what little action he saw with the Chiefs last season (40 yards, 12 carries). But—to be fair—he hadn't quite recovered from the ACL injury that ended his 2015 season early. He probably shouldn't have been playing.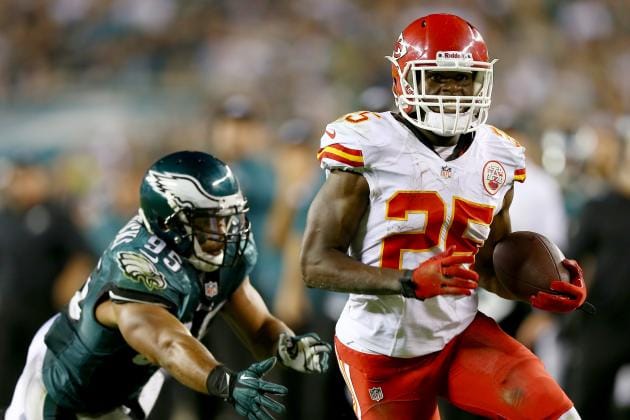 But what about now?
The press on all three has been fantastic. It is not hard to find clips online of Lynch going through drills. Several players and coaches with the Saints have said Peterson looks like the AP of old. Charles recently proclaimed he is capable of doing everything, but we'll see what the Broncos medical staff has to say when training camp starts.
Of the three, the best odds for success may belong to Peterson. The last time he suffered a significant knee injury he returned the following year to rush for over 2000 yard. But that was after one injury. Now we are talking about a second one years later.
As for Lynch, it all depends on whether he retired because he was tired of everything involved with playing football that wasn't football. He could still have some Beast Mode left in him. There is hope for Charles because he's the youngest—but two surgeries can age a running back's knees awful fast.
So—will the old dogs play well enough to keep the youngsters at bay? According to their teammates, it sounds like they are all going to win the rushing title. But what do we expect teammates to say? The truth is, we just can't tell until the pads come on and people that don't call them teammates try to tackle them.