---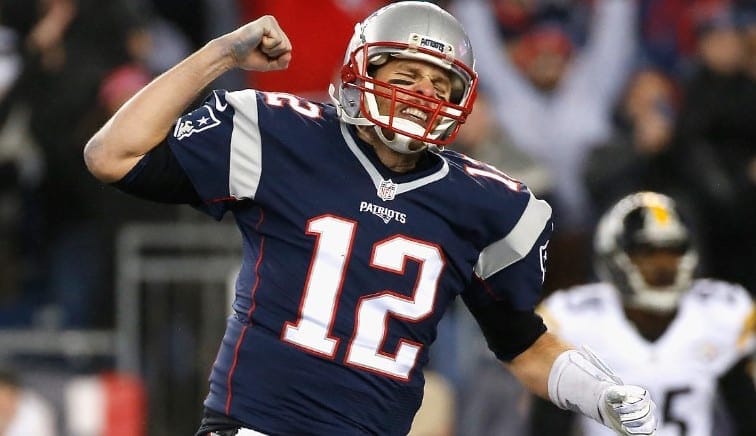 All NFL teams approach the off-season with one goal in mind: they want to figure out what they need to do to make it to the Super Bowl (and hopefully win it, of course). For the last six seasons, for AFC teams that has meant figuring out how to beat the New England Patriots. In three of those seasons, NFC teams have had to try to find a solution to the Patriots as well.
Very few teams have been able to pull it off. It looked like the Atlanta Falcons were going to win the Super Bowl last year, but Bill Belichick and Tom Brady found some more dark magic and the Patriots managed to win the first overtime game in Super Bowl history.
But these guys have to have some kind of Kryptonite. It doesn't look like age is going to bring them down anytime soon. Tom Brady will be 40 by the time the 2017 season starts, but his game has yet to slip, and there is no reason to think it will anytime soon.
When you consider that the team has added a few more weapons (Brandin Cooks, Dwayne Allen, Mike Gillislee, Rex Burkhead, and Andrew Hawkins), it is not hard to imagine Brady having one of the most productive seasons of his career.
While that will be ideal for fans of the Patriots, there must be some way or someone who can take them down. But who…and how?
The How
For some teams, it is not hard to figure out a general game plan that will lead to victory. All you have to do is stop them from doing what they do well and force them to try and win another way. If they are a passing team, you force them to beat you in the running game. If they count on the running game to help open up the passing attack, you make sure they have nowhere to run.
Take away what they are good at and force them to beat you with what they don't do well. It's easier said than done, but for many teams it holds true.
The New England Patriots are not one of those teams.
Last year, Tom Brady's offense finished the regular season ranked fourth in total yards, third in points, seventh in rushing, and fourth in passing. The defense was one of the stingiest (eighth in total yards allowed, 12th against the pass, third against the run, and first in points allowed) in the league. There wasn't a single aspect of the game they did not do well.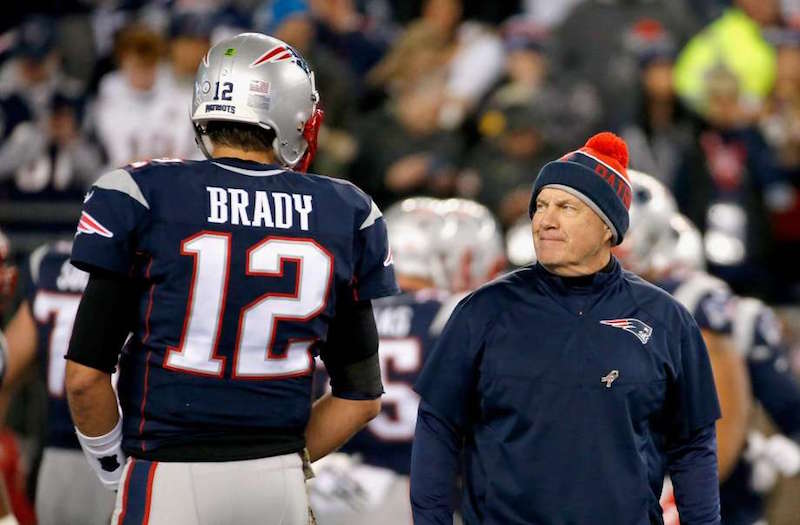 How in the world do you stop that?
There is the easy way and the hard way. The hard way is easy to explain. Your team has to be like the Patriots— good at everything. This is easier said than done, of course. Every coach wants his team to be good at everything, but few have ever made it happen.
The easy way isn't exactly easy, but it doesn't require a team to have a wealth of talent at every position like the hard way does. It revolves around one concept—don't let Tom Brady get his hands on the ball for too long. This is possible in one of two ways: (1) with a stifling pass rush or (2) with a dominant run game.
If he doesn't have time to connect with his receivers, Brady can't score touchdowns. If the Patriots don't get many opportunities on offense because the opposing team ran the clock down, they can't score as much.
So, that's the how. But who can pull it off?
The Candidates
There is not another team in the NFL that can stop opponents and move the ball quite like the Patriots can. But there are a few teams with the potential to stop them.
Dallas Cowboys

Pittsburgh Steelers

New York Giants

Seattle Seahawks

Oakland Raiders

Atlanta Falcons
Dallas will not have the kind of defense it needs to do much more than annoy Tom Brady. Their only hope would be if Ezekiel Elliot could carry the ball 30+ times and grind the clock down as much as possible. Dak Prescott would have to play mistake-free ball as well, and no one can turn the ball over.
Pittsburgh does not have the defense either, but they certainly have a better unit than the Cowboys do. They have arguably the best running back in the NFL in Le'Veon Bell, but it is hard to imagine the Steelers trying to pound their injury-prone running back into any defense, let alone the Patriots.
But they will be able to complement their running game with one of the best passing attacks in the NFL. Antonio Brown is one of the best in the game, Martavis Bryant isn't half bad, and they have a number of young, talented receivers ready to prove their worth.
The Steelers defense isn't bad, but at best it will just slow the Patriots down. Their best shot would be to outscore New England. It would be hard but possible.
For the New York Giants, it would be all about the defense. Their pass rush could definitely put some pressure on Brady. Eli Apple and Janoris Jenkins are a capable tandem in the secondary and it doesn't hurt to have Dominique Rodgers-Cromartie helping out and Landon Collins making guys like Rob Gronkowski work for yards.
But their offense is terrible. They have no running game. If Eli Manning hadn't beaten a Patriots defense in the past, it would be hard to believe he could.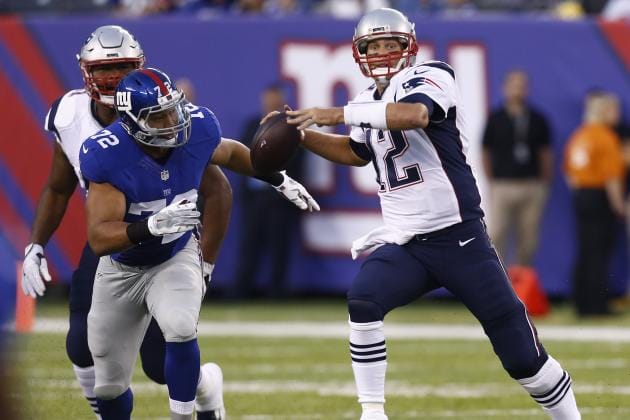 ---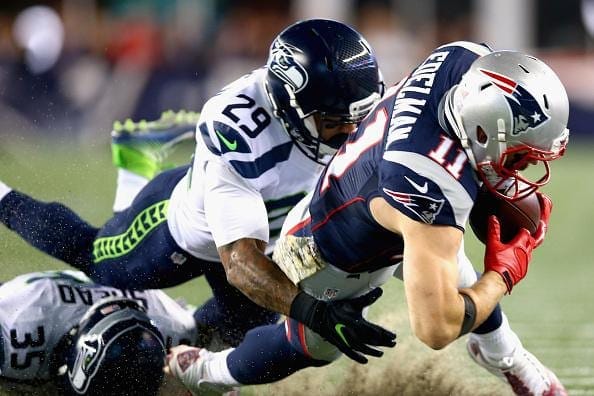 If there was anyone that could beat the Patriots the hard way, it would be the Seattle Seahawks. They have the defense to shut the Patriots down, and Russell Wilson is capable of picking apart the New England secondary.
The trick, now that Marshawn Lynch is gone, will be the running game. C.J. Prosise, Eddie Lacy, and Thomas Rawls are capable but ever since Lynch left the Seattle running game has been inconsistent.
Speaking of Lynch, if he can return to form with the Raiders, then Oakland may have a shot. But the defense would be their downfall. Everyone thinks about the pass rush capabilities of linebacker Khalil Mack, and he is good. Last year he led the team with 11 sacks, but the problem is the team only had 25 (lowest in the NFL).
Atlanta has proven they can stop the Patriots and score on them. But the question is whether they can do it for a full game and not just three-quarters. They have the pieces in place on offense already and hope they added the right ones to the defense.
The Falcons will have to get over their Super Bowl breakdown. If they can, it is not hard to imagine them beating the Patriots in Week Seven.
In Conclusion…
So—is there anyone that can beat the New England Patriots? Sure, there is— and more than just the six teams mentioned. It depends on whether the team they play is good enough to take advantage of the Patriots when they have an off-day.
There is a reason why people say any team can win on any given Sunday. It's true.