---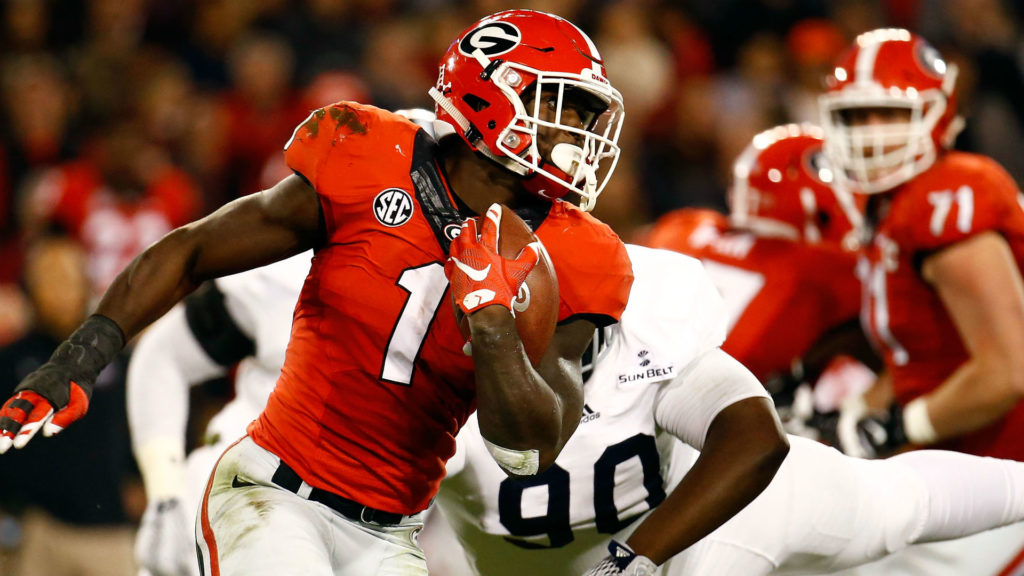 Bill Belichick is notorious for employing running back committees. He rarely features just one runner in a three-down role. Some of that has to do with a philosophical approach to the game, where he believes in utilizing each player's abilities in different situations. Another part of this tendency has to do with not having a true workhorse back, who is the clear best player in all facets of the game, whether it be running between the tackles, churning out tough yards, receiving abilities or pass protection.
Belichick doesn't usually spend high draft picks on the running back position. His actions indicate he views running backs as one of the most replaceable positions. But this year, "the hoodie" used the Pats' first round pick on Georgia RB Sony Michel. Logic dictates he would not have made such a move without planning on feeding him the rock early and often. Belichick is smart, and he acknowledges that the loss of Dion Lewis in free agency will leave the team very thin at the position.
Moreover, at this stage of Tom Brady's career, the running game is more important than it has ever been. That could be why the Patriots opted to run the ball at the goal line so often last season. In the past, they would choose to put the ball in Brady's hands as much as possible. Now it appears they are content with letting Brady throw all over the opposing defense in the first halves of games, as well as in between the twenties, and then let the running backs finish off drives and do the "dirty work."
With Michel, the Patriots appear to have a gem who has the ability to do it all. They still have two more than capable backs on the roster in Rex Burkhead and James White. But both of them are actually better in the passing game and in space. So the Patriots were on the hunt for a game changer. Someone who could come in and make an immediate impact and fuel the running game. They seem to think they've found their guy with Michel. 
At Georgia, Michel had his best season as a senior, turning his 156 carries into 1,227 rushing yards and 16 touchdowns. He is still a capable option out of the backfield, where he added another 96 yards and a touchdown.
The important thing to consider here is that Michel was able to achieve these numbers despite sharing reps with another high-caliber runner in Nick Chubb. While it remains to be seen what his exact role will be in New England, there is a great deal of optimism surrounding his rookie season. The fact that he is a capable receiver also allows the Patriots to disguise their play-calling when he is on the field. Unlike previous RBs on this team, like LeGarrette Blount, who was mainly a plodder, Michel brings another element to this team that cannot be overlooked.
The only question will be just how big of a workload will he be given in his first year in the league. It would be wise to wait and see what rumors come out of training camp as the season approaches. With Burkhead, White and Jeremy Hill all in the mix for carries, it can't be taken as a given that he will run away with the feature job. It would not be a complete surprise to see one of these guys get cut or traded prior to the start of the season. Due to his high draft capital, Michel is expected to have the most secure spot on the roster. He will surely receive a substantial portion of the workload. The only question is just how big of a share he will get.