---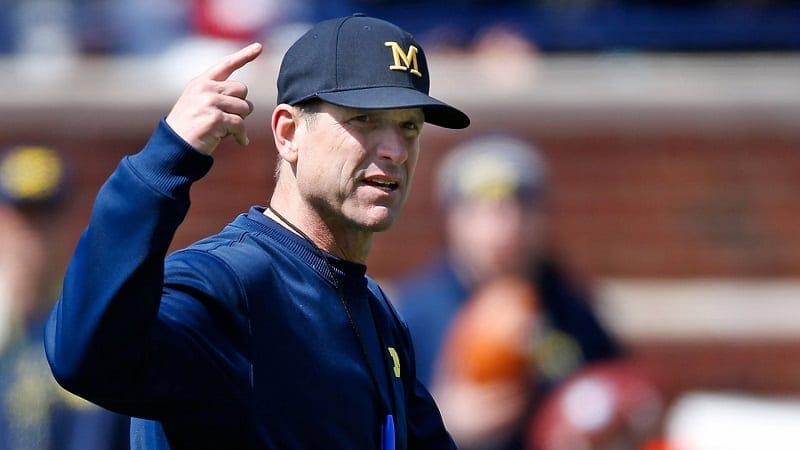 Jim Harbaugh is a good football coach. Some will try to argue that point and talk about his personality quirks, but the results speak for themselves. He had a tremendous program at Stanford. The San Francisco 49ers were good during his time with the team, and Michigan has won 10-games in each of the last two seasons.
His predecessors had decimated the once-proud program. In three seasons, Rich Rodriguez led the team to just six conference wins. They did better in conference play under Brady Hoke his first two seasons (12 wins; 6-2 in conference play each season). But then things fell apart in Hoke's last two (3-5 in conference play each season).
After the 2014 season it was out with Hoke and in with Harbaugh, a quirky guy that could be a little weird or eccentric at times—but a winner.
While no one in an official capacity has said it, it is probably safe to assume that his antics will be tolerated as long as his coaching pays off. While two 10-win seasons are nice, they may not be enough to keep his seat from warming up.
College football, much like football at every level, is results oriented. But those 'results' are more than just the total number of wins at the end of the season and the national ranking. Did the team win its division? Play in the conference championship? Win the conference championship? How did it do in bowl games?
For Michigan fans, there is one result above all else that holds special significance—wins over Ohio State.
Harbaugh has turned the team into one that will win most of its games. But they have yet to play in a Big Ten title game under him. They have yet to even come close to winning their division (two third place finishes). But no matter what happens during the bulk of the season, winning one game can make it all right.
But under Harbaugh, they have yet to beat Ohio State. The last time the Wolverines beat the Buckeyes was back in 2011.
If Michigan were to finish with 10 wins, fail to qualify for the Big Ten title game, and lose to Ohio State once again, could the boosters decide they've had enough of Harbaugh? Schools have let coaches go in the past for not winning as many games as they felt their program should have.
So, if they did, the move would not be unprecedented. Unlikely? Yes. Possible? Also, yes.
If Harbaugh wants to secure his job, he needs to, at a minimum, win the division and play in the Big Ten Championship game. That could be enough, but if they lose to Ohio State again, he could need to win the Big Ten as well.
Can he make it happen? It is possible. However, to even have a shot at accomplishing any of the goals, Harbaugh has to get the team to do one thing.
Beat Ohio State.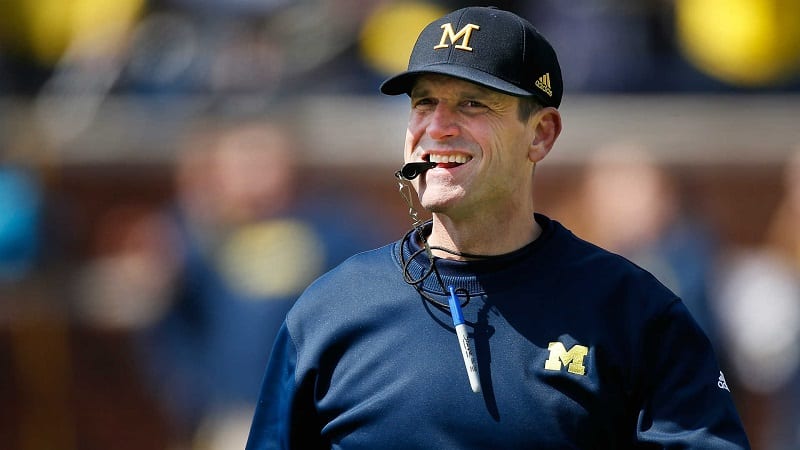 Can they beat the Buckeyes?
The Buckeyes will have a Heisman candidate behind center in J.T. Barrett who will be accompanied in the backfield by Mike Weber (1096 yards last season as a freshman). Barrett's receiving corps will be pretty green, but Ohio State has a slew of highly touted recruits that will get the opportunity to step up.
What will help the offense the most is the addition of former Indiana head coach Kevin Wilson as the new coordinator. As a head coach, he failed to get the job done, but the Hoosiers had a pretty good offense during his tenure—and with lesser talent!
On defense, the front four will be just as tough, but the Buckeyes will need to insert a number of new bodies in the back seven. After seeing how well they replaced talent last season is there any doubt they can do it again?
There shouldn't be.
Harbaugh is acting like he has a quarterback competition going on, but it is hard to imagine he is going to bench an efficient and effective player like Wilton Speight. He'll have a very good offensive line in front of him and a stable of capable running backs ready to eat time off the clock. However, what he'll be lacking is a proven wide receiver.
Michigan has a few guys that could grow into the role like Tarik Black, Donovan Peoples-Jones and Eddie McDoom. However, where the team could suffer is on defense. Somehow Harbaugh is going to have to replace 11 of his top 13 tacklers from the 2016 squad.
Will the recruits live up to expectations? Is his system as good as it needs to be with so many young players needed to play immediately? Can the coaching staff get the job done?
If each question can be answered with a 'yes' the Wolverines may have a shot against the Buckeyes.
How about the rest of the field?
While Michigan will have to beat Ohio State, the Buckeyes are not the only tough game on the schedule. Penn State is not going to be easy to handle either. The Nittany Lions offense is going to be powered by two Heisman candidates in running back Saquon Barkley and quarterback Trace McSorley. Their top receiver is now in the NFL, but the Nittany Lions have a lot of returning talent.
The defense was pretty tough last season and should be even better with seven starters returning and eight of the top 11 tacklers from 2016. If there is a weakness, it will be in the front four, specifically the ends. It's not that they are not good, just unproven.
No one else in the East division should give them much, if any, trouble.
Should they make it to the Big Ten Championship, they will likely face Wisconsin. The Badgers will have a stifling defense and an offense that is going to lean on the running game.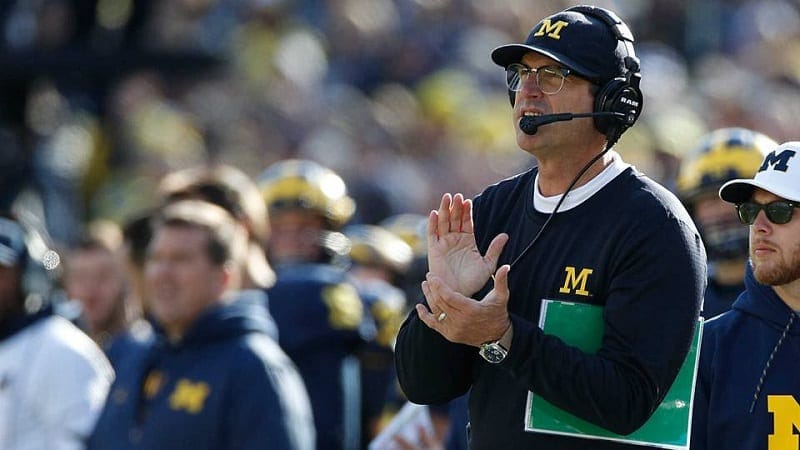 So—can Michigan do it?
Chances are–no. The Wolverines have too many questions and uncertainty in their starting units. Ohio State and Penn State, on the other hand, have veteran-laden offenses that are going to enjoy welcoming Michigan's defense to the Big Ten.
As for Harbaugh's fate, after another loss to Ohio State and another third-place finish in the division, there will be a lot of irritated boosters. So irritated they do something rash? No.
However, should Harbaugh fail to beat Ohio State and win the division or conference in 2018, the ax may fall.