---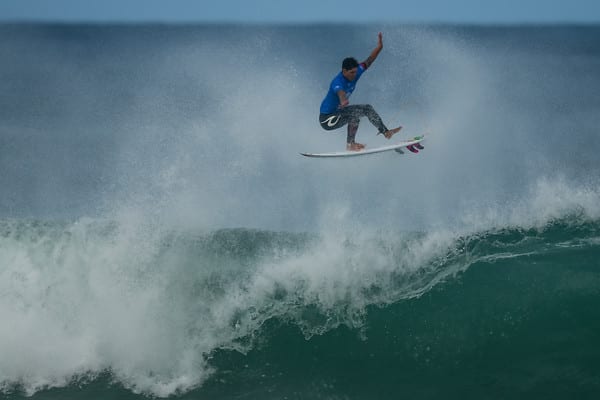 On Tuesday, April 17th a surfer was bit by a shark in Gracetown, Western Australia, prompting the closure of the World Surf League (WSL) Event: the Margaret (Margie's) River Pro, taking place only 15 km away from the attack. Alejandro Travaglini, 37, was bit in the leg and after being separated from his surfboard, managed to bodysurf his way into shore, according to an account on CNN.
As a result of the attack, the surrounding beaches were closed. Jason Longrass, 41, told reporters he hadn't heard of the beach closures and felt fortunate to find empty waves. He then paddled out at Lefthanders, where he too suffered a bite on his leg, per The Guardian. Longrass identified the shark that bit him as being a 4-meter long Great White Shark.
The Margie's River Pro was put on hold for an hour, and the WSL reported that they would resume the contest with, "enhanced safety measures, including ski and drone presence," to be used as mitigation protocols, as stated on their Instagram. They later canceled the event all together. 
Gabriel Medina, the most popular surfer on the tour and World Title Champion addressed the recent shark attacks  and the decision to continue with the contest. "I don't feel comfortable training and competing in that kind of place, something can happen to one of us at anytime," Medina wrote in an Instagram post.  

In Medina's defense, last year at the J-Bay Open in South Africa Medina and Mick Fanning had their quarter-final heat interrupted when they were both removed from the water after a 3-meter long shark was sighted cruising through the line-up.
Two years before that, in 2015, Fanning was infamously attacked by a shark while surfing in the J-Bay final against Julian Wilson. The two were in a world title battle at the time. Fanning punched the shark in the nose, and after narrowly escaping, he and Wilson both made it on the skis and out of the water unharmed.
Although those recent attacks are being attributed to a whale carcass that was found washed up at Lefthanders, the threat of shark interactions in this part of Australia are not a fluke. Since Great White Sharks, Western Australia's most threatening species, have changed status from endangered to vulnerable, new and debatably old-fashioned techniques are once again being considered.
In 2017, after a fatal shark attack, the Australian Government was contemplating instating a cull, like they did previously in 2014. But culls aren't always successful. According to NBC, in Hawaii they culled 4,600 sharks over an 18-year period but there was no reduction in shark attacks. In Australia's 2014 cull, 50 sharks were killed and the results were similar to those in Hawaii. So, in addition to shark culls damaging the fragile ocean ecosystem, they also appear to be ineffective in preventing attacks, and thus were not voted into effect. Though many are still in favor of implementing them, especially with the recent increase in attacks.
According to Time Magazine, the reason for the recent spikes in shark attacks are more likely related to climate change than to a fiercer breed of shark. Shifts in ocean temperatures affect where sharks are, where their food sources are and how they navigate through the ocean. This combined with the warmer temperatures encouraging humans to spend more time in the ocean increases the potential of human and shark proximity. 
Still, the question remains, how can recreational and professional surfing in the world's sharkiest areas become safe again?  Increased monitoring techniques via drone footage and added safety measures out in the water definitely help the professional circuit remain alert to dangers in the water, while increased communication about beach closures and common shark activity can help swimmers and surfers maintain safe beach-going practices.
Although the fear of sharks hasn't stopped pro-surfers from competing, their potential presence at some of the sharkier spots on tour is rarely overlooked. Finding a humane solution to help protect surfers is imperative, especially as climate change continues and human/shark interactions may increase. It's an added stress for World Tour competitors to have to focus on sharks, and creating a safer surfing environment will help increase performances and decrease stress on athletes.
The possibility of changing tour stops to less shark-prone breaks could be an option, but it's one that seems unrealistic. With the caliber of wave expected at World Tour locations, finding alternative waves to match the criteria would be a challenge, and removing World Tour stops can damage local economies and give an advantage/disadvantage to different competitors.
Sophie Goldschmidt, CEO of the WSL, discussed the reality of sharks at pro events in her press release. "Sharks are an occasional reality of WSL competitions, and of surfing in general. Everyone associated with our sport knows that. There have been incidents in the past – and it's possible that there will be incidents in the future," says Goldschmidt, rather discouragingly. The WSL cancelled the remainder of the Margie's' Pro event after deeming that the circumstances have "crossed the threshold for what is acceptable." An incredibly rare and bold decision. 
At least in the NHL, the only Sharks you have to worry about are from San Jose.