The starting quarterback is the person who is viewed as the leader, or captain, of their football team. They read the field, call plays, and get the ball from wherever they are to the endzone. A quarterback must rely on his ability to be able to anticipate what plays his opponents my try to use against him as well as defend himself while looking for a teammate to pass to. We wanted to look at some of our favorite quarterbacks from the 1990s and see where they are today.
Michael Vick – Then
Michael Vick began his road to football stardom while playing for Virginia Tech. He was then drafted to the Atlanta Falcons who selected him as the first overall draft pick.
His mere selection made history, as he was the first ever African American quarterback to be picked in the first round.Vick ran into trouble with the law while playing for the Falcons, and the team ultimately decided to trade him to another team.
Michael Vick – Now
It didn't take for Vick to be picked up by the Philadelphia Eagles. He played on the team for five seasons, and even got sent to the Pro Bowl.
However, he started slowing down as he got older, and he got traded to the New York Jets in 2014. He served as a backup quarterback there before being sent off to the Pittsburgh Steelers as a backup in 2015. Michael Vick has since retired from football and is now an analyst at Fox NFL Kickoff.
Matt Hasselbeck – Then
Matt Hasselbeck played football for Boston College before he was drafted to the Green Bay Packers in 1998. He was the second string quarterback behind the man with the cannon, Brett Favre.
Hasselbeck was kept in the background and eventually traded to the Seattle Seahawks where he was finally able to be be in the first string, bringing the team to the playoffs six times as well as a Super Bowl against the Pittsburgh Steelers.
Matt Hasselbeck – Now
Matt Hasselbeck ended up being traded to the Tennessee Titans following a contract dispute with the Seattle Seahawks. He played on the team for two seasons before being released and picked up by the Indianapolis Colts.
Still playing at the age of 40, Hasselbeck was taken out of play following a kidney injury incurred during a game against the Atlanta Falcons. He was not signed on for the next season, and he currently works as an analyst for Sunday NFL Countdown.
Robert Griffin III – Then
Robert Griffin III is better known by his moniker RG3. The quarterback (who was born on the island of Okinawa, Japan) started his football career at Baylor before becoming the number two pick of the 2012 season.
He was picked by the Washington Redskins to be their quarterback and played on the team for three seasons. Unfortunately for RG3, he was released by the team after suffering a concussion in a game against the Detroit Lions.
Robert Griffin III – Now
Robert Griffin III was eventually traded to the Cleveland Browns but suffered a shoulder injury during the 2016 season opener against the Philadelphia Eagles. He was then put on injured reserve before being released by the team.
In his personal life, RG3 was married to a fellow Baylor student, but he has since divorced her a little over a year after fathering his first daughter with his first wife. He is now married to Estonian heptathlete Grete Šadeiko, with whom he has another daughter.
Daunte Culpepper – Then
Daunte Culpepper almost did not make it into college, but the University of Central Florida payed for tutors to help him get into the school and play football for them.
Culpepper was then drafted to the Minnesota Vikings following his career in Florida, having been drafted 11th overall in the first round. He became Minnesota's first string quarterback, playing in the position for five years. However, Culpepper ended leaving the team following a dispute with the management.
Daunte Culpepper – Now
Culpepper was eventually traded to the Miami Dolphins. Following a severe knee injury the year before while on the Vikings there was speculation as to whether or not Culpepper would be able to perform.
However, he decided to go on and play – but injured his shoulder in the process. He was eventually traded to the Oakland Raiders who passed him off to the Detroit Lions. He eventually retired after playing one season in minor league football.
Donovan McNabb – Then
Donovan McNabb went off to play football at Syracuse University as it was one of the only schools which would give him a scholarship in order to go there.
He was then the number two draft pick in the first round of the 1999 NFL Draft, being picked by the Philadelphia Eagles to play quarterback for them. He played with the team for 10 years before the Eagles decided to trade him to the Washington Redskins.
Donovan McNabb – Now
Donovan McNabb went on to play one season for the Washington Redskins. However, McNabb did not play up to the standards he had set for himself as a younger player, and he was eventually relegated to third string quarterback.
He was then traded to the Minnesota Vikings, where he played for another season. McNabb has since retired from football and now works as an analyst on ESPN Radio. However, he is currently suspended from that pending a harassment investigation.
Rex Grossman – Then
Rex Grossman is a native Hoosier from Bloomington, Indiana, the home of Indiana University. However, he decided to go out of state for school attending the University of Florida and playing for the Gators.
Grossman was then drafted to Chicago Bears in the 2003 NFL Draft's first round. He played for the Bears for five years where he was known as being a positive role model in the City of Chicago. He was also well known for being unliked by Bears fans.
Rex Grossman – Now
Rex Grossman went on to become a free agent and was eventually picked up by the Houston Texans. Grossman only played one game with the team, throwing nine passes, one of which was intercepted.
He was eventually signed to the Washington Redskins, but he was dropped by them after one year. Grossman and his wife have since moved to northern Florida where they own a company that staffs nurses for the elderly.
Vince Young – Then
Born and Raised in Houston, Texas, Vince Young went to first play ball at the University of Texas for the Longhorns.
He was debating between finishing up his degree or going straight into the NFL, but after speaking with his mother and his pastor, Young decided to drop out of college and go pro. He was drafted to the Tennessee Titans where he played quarterback between 2006 and 2010.
Vince Young – Now
Vince Young eventually got injured and was traded to the Philadelphia Eagles, where he claimed that he would turn them into the "Dream Team" in American Football.
However, he was dropped as a starter after the first three games of the season. Young eventually went on to play in the Canadian Football league for the Saskatchewan Roughriders but left after an injury. Young now works with the University of Texas in their alumni outreach office.
Chad Pennington – Then
Chad Pennington was chosen in the 2000 NFL Draft to play quarterback on the New York Jets. His pick is notable as he was one of the six quarterbacks picked before Tom Brady that season.
He played for the Jets for a total of seven years before he was released by the team. However, unlike many other quarterbacks, Pennington was not released due to sustaining an injury, but because Brett Favre had joined the team.
Chad Pennington – Now
Chad Pennington went on to play for the Miami Dolphins as their quarterback for three seasons between 2008 and 2010.
He had suffered several injuries in the past, but in his third game of the 2010 season, Pennington suffered an injury which was so severe that it sadly ended his career. He retired from the NFL and became a football analyst on Fox Sports. Pennington currently lives with his wife and three children – all of whom are said to be very competitive – in Kentucky
Jared Lorenzen – Then
Jared Lorenzen started playing football at the competitive level in high school, but was only put on the practice squad when he first started out at the University of Kentucky.
He first started out his career as a backup quarterback for the New York Giants, and while he performed well, he did not perform well enough. He was eventually signed to the Indianapolis Colts, but they cut him so he went to play for a small Kentucky team. He ultimately went back home to coach quarterbacks at his former high school.
Jared Lorenzen – Now
Jared Lorenzen went back to Covington, Kentucky (right across the river from Cincinnati, Ohio), where he played for the short lived Indoor Football League.
However, he ended up breaking the tibia in his leg while playing, thus ending his career. Lorenzen currently hosts a radio show out of Lexington, Kentucky which primarily analyses University of Kentucky Wildcat sports. He is also working on a documentary about his fight with obesity.
Brett Favre – Then
Brett Favre began his path to greatness playing for the University of Southern Mississippi before being drafted to the Atlanta Falcons.
After not reaching his potential on that team, Favre was traded over to the Green Bay Packers where he quickly rose to prominence for having cannons for arms. He stayed on the team for 15 years, and become one of the best quarterbacks in the game.
Brett Favre – Now
Favre was eventually traded to the New York Jets where, perhaps due to his age, he severely underperformed.
He was then transferred to the Minnesota Vikings where he went on to play against (and beat) his former teammates on the Green Bay Packers, thus making him one of the only players to ever beat every single NFL franchise. He eventually retired from the sport in 2010 and has been focusing on his family life.
Doug Flutie – Then
Doug Flutie was originally from Maryland but went to school at Boston College. He was the cause of what was called the Flutie Effect at the college, where as he started to win games for the college, more people started to apply.
While Flutie was considered to be too short to play in the NFL,  he persevered and eventually played for many different NFL teams. He also played eight years in the CFL, where he was a six-time Most Outstanding Player and a three-time Grey Cup champion.
Doug Flutie – Now
Doug Flutie finished his football career at the age of 40 with the New England Patriots, famously drop kicking the ball for an extra point following a touchdown in 2006 – the first time this kick was done since the mid 1940's.
Flutie now spends his retirement going between New York, Boston, and Melbourne Beach, Florida. He plays in a band with his brother (called The Flutie Brothers Band of course), and even ran a restaurant in New York City.
Trent Green – Then
Trent Green played football for the Indiana University Hoosiers before graduating from the internationally ranked Kelley School of Business in 1993. After getting drafted to the San Diego Chargers he decided to go to play ball in Canada for the British Columbia Lions.
He eventually went on to play for the St. Louis Rams for a year before getting injured, then going on to play for the Kansas City Chiefs. He got traded to the Miami Dolphins in 2007 after five years with the Chiefs, and ultimately rounded out his career on the Rams.
Trent Green – Now
Green was originally signed onto the Rams for three years but was ultimately dropped from the team. He decided to retire from the NFL for good in 2009, announcing that he wanted to go into a career in broadcasting.
He became an analyst for FOX for one season before going over to the NFL Network to become an analyst for them. He eventually moved on to CBS in 2014. These days he is CEO of the Trent Green Family Foundation which helps Kansas City families in need.
Jeff Garcia – Then
Jeff Garcia began his road to football stardom at San Jose State University in California where he played with the San Jose State Spartans. Because he was considered too small to play in the NFL he was first drafted into the Canadian Football League, and it was there that he would prove his mettle.
Garcia then went on to play for the San Francisco 49ers before being traded to the Cleveland Browns. He bounced between the Browns to the Detroit Lions to the Philadelphia Eagles Before a two year stint on the Tampa Bay Buccaneers.
Jeff Garcia – Now
Jeff Garcia was asked to be a coach for the Canadian Football League's Montreal Alouettes team, but a few days after signing the contract he decided that he wanted to coach for the Los Angeles Rams.
In his personal life he is married to 2004 Playboy Playmate of the Year Carmella DeCesare. Garcia has four children with her, daughters Presley and Faith and sons Jason and Jax. Garcia is very proud of his Mexican heritage and is very involved in the Hispanic Scholarship Fund.
Brad Johnson – Then
Brad Johnson originally played basketball at Florida State University before switching over to football for the Seminoles. He got drafted to the Minnesota Vikings in the 1992 NFL draft, starting as the third string quarterback.
He eventually became the starting quarterback, and in 1997, he somehow managed to throw the ball to himself for a touchdown! Johnson was eventually traded to the London Monarchs, then returned stateside to play for the Washington Redskins, the Tampa Bay Buccaneers, and finally, the Dallas Cowboys.
Brad Johnson – Now
Brad Johnson retired from football back in 2009, becoming one of the few NFL quarterbacks to have ever thrown for more than 3,000 yards five times, and is only one of two Redskins quarterbacks to throw for more than 4,000 yards.
He also set all of the records for Tampa Bay Quarterbacks. Johnson currently lives in Athens, Georgia with his wife Nikki and his two children. His brother-in-law is Mark Richt, the head coach of the University of Miami football team.
Josh Freeman – Then
Josh Freeman began his college career strong with the Kansas State Wildcats.
After graduation Freeman was picked 17th overall in in the 2009 NFL Draft by the Tampa Bay Buccaneers, the team he would play with for four years. He was then traded to the New York Giants in 2014. This led to him being passed around by various teams in the NFL, including the Miami Dolphins as well as the Indianapolis Colts.
Josh Freeman – Now
Josh Freeman is currently trying to break into the Canadian Football League, attending training camp for the Montreal Alouettes. However, he is still fondly remembered by Tampa Bay Buccaneers fans, having set several records with that franchise.
His father Ron Freeman was inducted into the Pittsburg State University Athletics Hall of Fame recently, and his brother Caleb played football for the University of Missouri starting in 2008. We wish Josh and his family all the best!
Peyton Manning – Then
Peyton Manning is perhaps the greatest quarterback to have ever played the position. After playing at the University of Tennessee, Manning was picked first overall in the 1998 draft by the Indianapolis Colts, and he quickly proved his worth.
Playing for Indianapolis for 13 years, Manning broke pass record after pass record, won MVP several times, and even won a Super Bowl (we won't talk about the one he lost). He was eventually traded to the Denver Broncos where he played for four more seasons.
Peyton Manning – Now
Peyton Manning's legacy has certainly left its mark on the City of Indianapolis. He built a giant children's hospital in the city, and was the catalyst for a new stadium to be built there.
The stadium led to the Super Bowl being held in the city in 2012, leading to the sleepy city's revival. Manning continues to do charity work, hosted the 2017 ESPY Awards, and manages 21 Papa John's restaurants throughout Colorado. You're alright in our books, Peyton!
John Elway – Then
This quarterback legend is best known for the 16 years he spent playing on the Denver Broncos. By the time he retired in 1999, John Elway had already broken the record of the most wins of any quarterback.
According to the stats, he was the second most productive passer in the entire history of the NFL, and was also an outstanding rusher.  Elway ended up leading the Broncos to six AFC title games, and five Super Bowls – two of which they won.
John Elway – Now
While Elway's playing career has been over for quite a long time, he has not at all vanished from the NFL scene. In 2004, he was inducted into the Professional Football Hall of Fame, further cementing his legacy in the NFL history books.
Since then, he has been active in the Bronco front office, getting named executive vice president of football operations for the team in 2011. He's made a number of substantial moves for the team since beginning in his position, including signing quarterback Peyton Manning.
Dan Marino – Then
Dan Marino is an NFL Hall of Famer who is known best for playing on the Miami Dolphins for 17 seasons.
He is considered by many to be one of the best quarterbacks in NFL history, and considering he has never won a super bowl, that is saying something. In fact, out of all of the quarterbacks to have never won a Super Bowl, Marino leads the entire crowd in career wins, with a whopping total of 155.
Dan Marino – Now
Dan Marino has continued to stay relevant in the NFL despite retiring from his role as a professional football player.
He briefly worked for the Dolphins as a senior vice president of football operations, but resigned very soon after so that he could spend more time with his family. Marino eventually set his sights on the world of broadcasting, becoming an analyst for the sports talk show The NFL Today, a position he has held for 11 years. More recently, he returned to the Dolphins as a special advisor.
Troy Aikman – Then
Troy Aikman was drafted as the number one pick in the 1989 NFL draft, and would go on to play 12 straight seasons as quarterback for the Dallas Cowboys.
This Hall of Famer has made the Pro bowl team six times over the course of his career, and for good reason. Not only did he lead the Cowboys to three separate Super Bowl victories, but he was named the MVP in one of them. Not a bad resume.
Troy Aikman – Now
Troy Aikman's love for football never wavered after his retirement, as evidenced by his desire to remain a part of the football scene.
It was because of this that he decided to become a professional sportscaster for Fox, color commentating on football games alongside Joe Buck and Cris Collinsworth, and working on five Super Bowls. He even earned an Emmy Award nomination for his work he has done as a sports broadcaster. Other than broadcasting life, he is also a partial owner of the MLB team the San Diego Padres.
Steve Young – Then
Steve Young emerged from Brigham Young University into the NFL as a stellar quarterback, playing 15 seasons altogether – although his 13 year stint with the San Francisco 49ers is what he is the most well known for.
His entire NFL career was an everlasting display of efficient passing, and when he retired, his quarterback passing rating was the highest of all time. He also earned the title of NFL MVP for his performance in Super Bowl XXIX.
Steve Young – Now
Since his time in the NFL, Young has shown the world that he has the ability to do more than play football.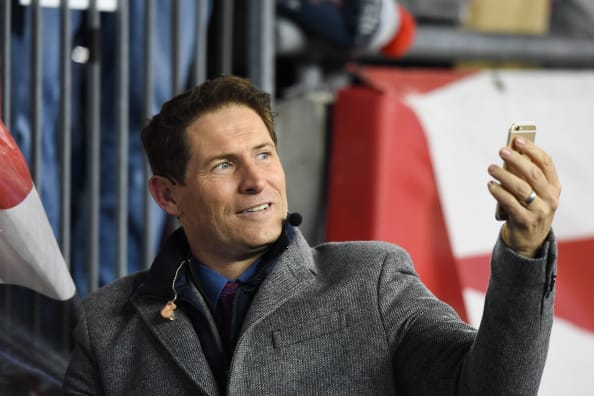 He has tried his hand as an actor, and has managed to appear in a wide variety of TV shows, such as Frasier, Dharma and Greg, and Beverly Hills 90210. Aside from acting, Young is also an activist, serving as an advisor for ASCEND, which is an organization that aims to send aid to Africa and South America in the form of education, health, and basic technology.
Warren Moon – Then
Warren Moon spent most of his career as a quarterback for the Houston Oilers.
In addition, he also played for the Seahawks, Vikings, and the Chiefs. Moon was selected to be a member of the Pro Bowl nine times over the course of his time in the NFL,  and he has also made seven overall playoff appearances. He was inducted in 2006 to be in the Pro Football Hall of Fame, and in the process became the first undrafted African American quarterback to receive this honor.
Warren Moon – Now
Since Moon's retirement, he has remained in the football scene, eager to be around what he loves most. Due to his vast knowledge, he decided to become a color commentator for the Seahawks, and he currently works for the Seahawks network radio after having teamed up with Steve Raible.
While he has been busy as a successful broadcaster, things may not always be fine and dandy at work. Recently, he was involved in a lawsuit with his assistant Wendy Haskell, who filed misconduct allegations against him.
Joe Montana – Then
No list of classic NFL quarterbacks could be complete with Joe "The Comeback Kid" Montana. He played college football at Notre Dame, where he won a national championship.
He played 16 seasons in the NFL with the San Francisco 49ers, and was the face of their franchise before he retired and Steve Young came along. Montana is also the winner of four Super Bowls, and was the first to get the Super Bowl MVP award three times.
Joe Montana – Now
These days, there aren't many physically strenuous activities out there that doesn't cause Montana pain to take part in.
Not a foreign concept to many people at the age of 60, Montana had a long football career that most definitely has taken a toll on his body. In 2016, he detailed the specific pain that he has had to suffer from for over 20 years since he retired in 1994. He has stated that he "can't really run or do much."
Drew Bledsoe – Then
Before Tom Brady graced his way into the NFL's loving arms, Drew Bledsoe was the sharp shooting quarterback and face of the Patriots.
The 1993 draft first pick had the honor of being the youngest quarterback to ever have been selected to an all star game at the time. He joined New England during a decline in the teams history, and was an immediate aid for their squad. Before he joined, they hadn't made the playoffs for eight straight seasons, and after he joined, they made the playoffs six times.
Drew Bledsoe – Now
Bledsoe chose to retire in April 2007, and when he did, he had a few nice accomplishments to his name. He was fifth of all time for pass attempts and pass completions, seventh for passing yards, and 13th of all time in passes that led to touchdowns.
He was voted into the Patriots Hall of Fame in 2011, winning in a fan vote over former coach Bill Parcells. Football Nation also ranked Bledsoe as the 30th greatest quarterback of all time.
Randall Cunningham – Then
Randall Cunningham played college football for the University of Nevada and got drafted by the Philadelphia Eagles in 1985, a team with whom he stayed with for 11 years.
It was then that he told the public that he'd be retiring from football, but this decision would be short-lived. He later on got signed by the Vikings where he started playing some of the best football of his entire career, and helped them set the record for the most points in a season at the time.
Randall Cunningham – Now
Randall has been quite busy since he retired from professional football. He went back to college to pursue a degree in leisure studies.
In addition to all of this he is also involved in the music business, opening up his own recording studio which produces Christian worship music. His decision to produce this style of music is actually a direct reflection of his spirituality since he is also a Protestant minister.
Vinny Testaverde – Then
Vinny Testaverde played a total of 21 seasons in the NFL, a truly impressive feat for anyone who knows how rigorous the game is, and especially when you consider that quarterback is a prime sacking target for all opposing linebackers.
Originally drafted by the Tampa Bay Buccaneers in 1987, he eventually went on to play for the Browns, the Ravens, and the Jets, to name a few. Testaverde truly made his way around the league, earning himself a spot on the Pro Bowl team twice.
Vinny Testaverde – Now
Vinny is a perfect example of a player who loved football so much that he just could not get enough of it. He stayed in the league as long as he could, and even when he finally retired, he knew that he wanted to stay as close to the field as possible.
Perhaps this is why he became a football coach for the Jesuit High School, a school that his son Vincent Jr. attended. These days, Vinny is settling down comfortably with his wife Mitzi, and their three kids.