The world famous former quarterback for the Green Bay Packers, Brett Favre, is just like any one of a number of professional athletes. He has recently been getting into trouble by sending lewd text messages not once, not twice, but three times. There was one time with a New York Jets hostess, and another time with two massage therapists (who were fired after they complained).
---
---
Favre grew up in rural Mississippi with a loving mother, interesting siblings, and a strong father who ruled them all. Their house was way out of the way, but when people came to visit (which they did often), the Favres made sure that everyone felt welcome.
Favre would grow up to become one of the most powerful, most recognizable, and strongest quarterbacks the NFL had ever seen. He broke record after record and won more awards than he could count over the course of his nearly 20 year long career.
The Green Bay Packers quarterback was well known for all manner of awards and strengths, and he was considered one of the best of the best throughout the 1990s and early 2000s. He played for four teams – the Atlanta Falcons, Green Bay Packers, the New York Jets, and the Minnesota Vikings – and has the unique distinction of being one of only two quarterbacks to have defeated every NFL franchise.
He was everybody's friend and had an extremely nice and easy going attitude. He always made sure to treat everyone with the respect they deserved. Sadly, this friendliness could sometimes be misconstrued as something sinister and had the potential to damage his reputation.
And yet, despite it all – from his fights with the heads of the Green Bay Packers to the scandals he had with other women, and even his addiction to pain medication – Brett Favre managed to win over the hearts and minds of Americans all over the United States, so much so that he was inducted into the NFL Hall of Fame.
[post_page_title]An exceptional talent[/post_page_title]
Brett Favre was born and raised in the small town of Kiln, Mississippi. This tiny little blip on the map is home to only about 2,000 people. This small number of residents helped Favre cement his place as a big fish in a small pond. Interestingly enough, despite the fact that Kiln is on the complete other side of the United States from Favre's former home in Green Bay, Packers signs are everywhere.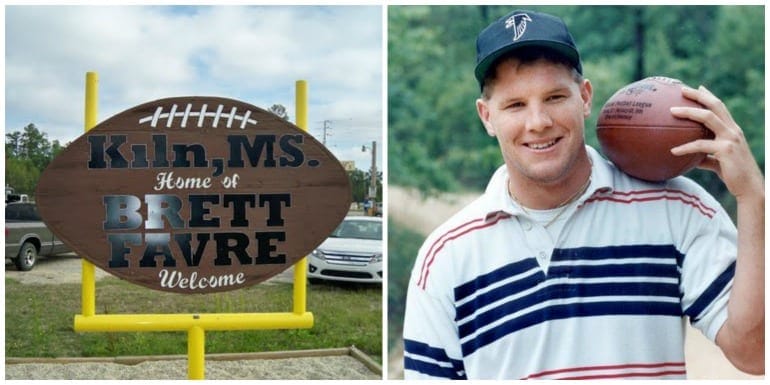 Pages:
Page

1
,
Page

2
,
Page

3
,
Page

4
,
Page

5
,
Page

6
,
Page

7
,
Page

8
,
Page

9
,
Page

10
,
Page

11
,
Page

12
,
Page

13
,
Page

14
,
Page

15
,
Page

16
,
Page

17
,
Page

18
,
Page

19
,
Page

20
,
Page

21
,
Page

22
,
Page

23
,
Page

24
,
Page

25
,
Page

26
,
Page

27
,
Page

28
,
Page

29
,
Page

30
,
Page

31
,
Page

32
,
Page

33
,
Page

34
,
Page

35
,
Page

36
,
Page

37
,
Page

38
,
Page

39
,
Page

40
,
Page

41
,
Page

42
,
Page

43
,
Page

44
,
Page

45
,
Page

46
,
Page

47
,
Page

48
,
Page

49
,
Page

50
,
Page

51
,
Page

52
,
Page

53
,
Page

54
,
Page

55
,
Page

56
,
Page

57
,
Page

58
,
Page

59
,
Page

60
,
Page

61
,
Page

62
,
Page

63
,
Page

64
,
Page

65