Some have referred to today's NBA as a point guard's paradise, or even a golden era of floor generals. Need some convincing? Just look at last year's MVP race, a close call between Russell Westbrook and James Harden, two offensive-minded point guards ready to go off at any moment. When was the last time you saw a player finish the season averaging 31.6 PPG, 10.4 APG AND 10.7 RPG with 42 triple-doubles?
We haven't even mentioned Steph Curry who's shooting nearly 50-40-90 for his career and Chris Paul who teamed up with Harden in search of a first ring, for both. Then there's rookie sensation Ben Simmons, who may have missed all of last season but is playing as if he never missed a beat, averaging 16.8 PPG, 7.6 APG and 8.8 RPG in his first 32 games in the league. And of course we cannot forget Kyrie Irving, who has become a better defensive player to start the 2017-18 season and is leading the Celtics, who are currently the top team in the East.
There's no denying the fact that we're in the midst of a golden age of point guards, and with the talented players who are just starting their careers (Simmons, Lonzo Ball, Dennis Smith Jr.) it seems as if this era may last for a while.
But how do today's point guards measure up to the greatest floor generals of all time? Can they measure up to Bob Cousy, Oscar Robertson and Magic Johnson. Are they as well-rounded as Isiah or as defensive-minded as Gary Payton and Jason Kidd?
They may someday find their names on this list. But as of right now, these are still the greatest point guards in the history of the league, and it's going to be tough to tackle those at the top.
[post_page_title]40. Doc Rivers[/post_page_title]
Glenn Anton Rivers, known to everyone as Doc, was a defensive-minded point guard during his playing career, which lasted for 13 seasons across four teams. A McDonald's All-American in high school, Rivers was selected in the second round of the 1983 draft by the Atlanta Hawks after three years at Marquette University, but went on to complete his coursework and graduate while playing in the NBA.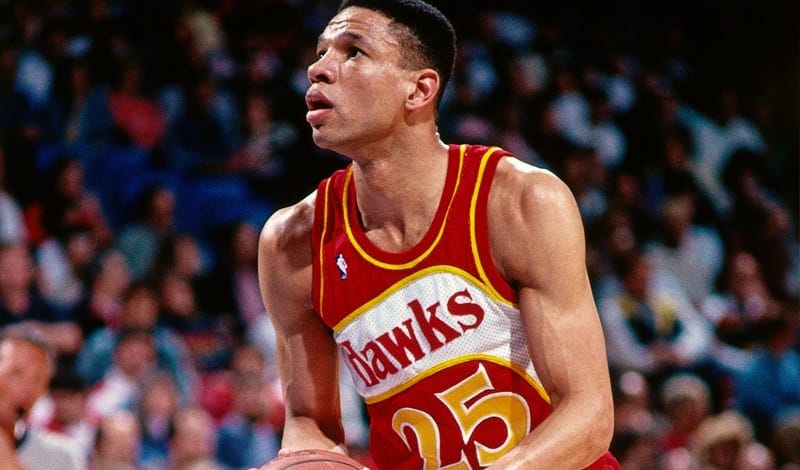 A starter for most of his career, Rivers was hardly ever flashy but always dependable. Playing alongside the "Human Highlight Film" Dominique Wilkins for several seasons and achieving regular season – if not playoff – success, his best campaign came for the Hawks in 1986-1987, when he averaged a double-double with 12.8 points and ten assists.
Pages:
Page

1
,
Page

2
,
Page

3
,
Page

4
,
Page

5
,
Page

6
,
Page

7
,
Page

8
,
Page

9
,
Page

10
,
Page

11
,
Page

12
,
Page

13
,
Page

14
,
Page

15
,
Page

16
,
Page

17
,
Page

18
,
Page

19
,
Page

20
,
Page

21
,
Page

22
,
Page

23
,
Page

24
,
Page

25
,
Page

26
,
Page

27
,
Page

28
,
Page

29
,
Page

30
,
Page

31
,
Page

32
,
Page

33
,
Page

34
,
Page

35
,
Page

36