The success of the movie The Blind Side is well-known, but its many making-of stories are not. Read on to get all of the behind the scenes facts about the film that touched millions of hearts. They are sure to make you turn in your seats.
[post_page_title]Rocky past[/post_page_title]
One part of the film that was accurate was Oher's tough past. It tells the audience that he was homeless and never had a real family, both of which are true.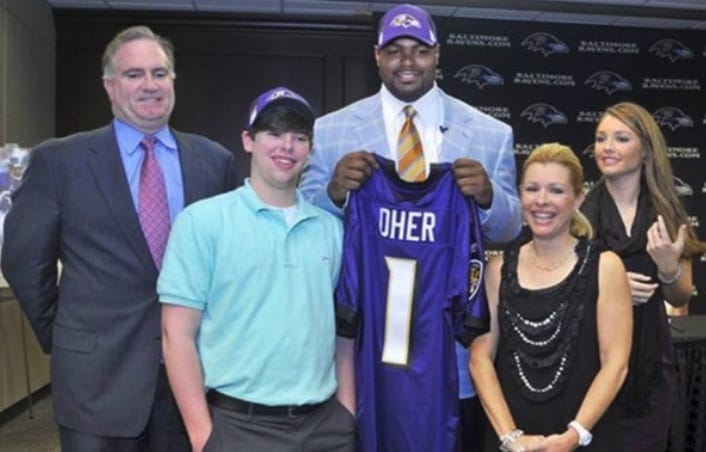 Oher's mother drank excessively and took illegal substances and ultimately neglected her son. His father was in jail until another prisoner took his life. Oher does indeed come from a big family, just like the movie suggests, and has 11 brothers and sisters.
Pages:
Page

1
,
Page

2
,
Page

3
,
Page

4
,
Page

5
,
Page

6
,
Page

7
,
Page

8
,
Page

9
,
Page

10
,
Page

11
,
Page

12
,
Page

13
,
Page

14
,
Page

15
,
Page

16
,
Page

17
,
Page

18
,
Page

19
,
Page

20
,
Page

21
,
Page

22
,
Page

23
,
Page

24
,
Page

25
,
Page

26
,
Page

27
,
Page

28
,
Page

29
,
Page

30
,
Page

31
,
Page

32
,
Page

33
,
Page

34
,
Page

35
,
Page

36
,
Page

37
,
Page

38
,
Page

39
,
Page

40
,
Page

41
,
Page

42
,
Page

43
,
Page

44
,
Page

45
,
Page

46
,
Page

47
,
Page

48
,
Page

49
,
Page

50
,
Page

51
,
Page

52
,
Page

53
,
Page

54
,
Page

55
,
Page

56
,
Page

57
,
Page

58
,
Page

59
,
Page

60
,
Page

61