To get your name on the yearly Forbes list of richest Americans is no easy task. In order to make the cut, you need to be sporting an impressive net worth of at least $2 billion. And to get your way to the top half of the list, that is a whole different story and will require at least a good 70 or 80 billion to your name. With numbers like these, the majority of us will sadly never see even the bottom of the list in our lifetime.
So what does a multi-billionaire do with all of his or her extra billions? Well, if they are a sports fan they could buy a professional sports team. And that is exactly what the men and women on our list did, and what many of them are known for. This is the complete list of America's wealthiest sports team owners at the moment. Now let's take a moment to meet the richest sports teams owners, you might be surprised to see how their net worths compare. Who do you think has the number one slot?
Stephen Ross – owner of the Jacksonville Jaguars ($12 billion)
Stephen Ross is a businessman and philanthropist known for being the founder, chairman, and majority stake owner of Related Companies which is an international real estate development company.
The company's most famous development was the Time Warner Centre and the Hudson Yards Redevelopment Project. All of this amounts to a net worth of $12 billion. Stephen spent a total of $1.1 billion in order to be a 95% stake owner of the NFL Miami Dolphins franchise as well as the stadium.
Charles Johnson – owner of the San Francisco Giants ($6.4 billion)
Charles Johnson has a net worth of approximately $6.4 billion and is the 208th wealthiest man in the world according to Forbes magazine.
Charles was the chairman of a mutual fund company called Franklin Resouces which was started by his father, Rupert Sr. Charles attended Yale University and ever since, he has been donated stadiums and colleges to help build up the university. Charles in the current majority owner of the Major League Baseball team the San Fransisco Giants which he paid $100 million for back in 1993.
Daniel Gilbert – owner of the Cleveland Cavaliers ($5.7 billion)
Daniel Gilbert is the current chairman as well as the founder of Rock Ventures, a holding company for Dan's portfolio and investments, and Quicken Loans Inc., a mortgage lending company.
Dan is also the chairman of Jack Entertainment which is a gaming and hospitality company. All of these business ventures add up to Dan's net worth of $5.7 billion. Dan became the owner of the NBA Cleveland Cavaliers in 2005 when he paid a whopping $375 million for the team.
Jerry Jones – owner of the Dallas Cowboys ($5.2 billion)
Jerry Jones is a businessman and was a college football champion and co-captain of his Arkansas Razorbacks team. Jerry played the position of an offensive lineman for the Hall of Fame coach Frank Broyles.
Jerry actually had many failed business attempts and was even was handed a job by his father to work with him at an insurance company. Nonetheless, Jerry persevered and built Jones Oil from the bottom up and became wildly successful with a net worth of $5.2 billion to prove it. in 1989 Jerry purchased the NFL Dallas Cowboys for $140 million.
Ann Walton Kroenke – owner of the Denver Nuggets ($6 billion)
Ann Walton Kroenke is the stakeholder of Walmart and the wife of the billionaire Stan Kroenke. Ann's father was the co-founder of Walmart and when he passed away Ann and her sister Nancy inherited his fortune along with shares to the Walmart corporation.
Ann may be a registered nurse but her net worth is $6 billion dollars, talk about a power couple. Ann and her husband both own the Denver Nuggets and purchased the NBA team for $202 million in 2000.
Richard DeVos – owner of the Orlando Magic ($5.2 billion)
Richard DeVos is a businessman who co-founded the company Amway which sells beauty, health and home care products. According to Forbes, Richard is the 60th richest man in America and at one point he was one of the top ten wealthiest Americans.
Richard's net worth is $5.2 billion and he used only a bit of that fortune to purchase the NBA team Orlando Magic. Richard purchased the team in 1991 for $85 million.
Marian Ilitch – owner of the Detroit Red Wings ($5.5 billion)
Marian Ilitch is a trailblazing American businesswoman who co-founded the Little Caesars Enterpises Inc. which is the third largest pizza chain in America. Marian founded the Pizza company with her husband Mike Ilitch.
The pizza business has expanded from only selling pizza to include entertainment, sports, restaurants, and gaming. Marian also serves as the chairwoman and secretary-treasurer of Ilitch Holdings, Inc. which includes all of their family's ventures. Marian owns the Detroit Tigers as well as the NHL Detroit Red Wings. Marian paid $9 million for the Red Wings in 1982.
Charles Dolan & family: owner of the New York Knicks, New York Rangers ($5 billion)
Charles Dolan is a multi-billionaire who founded both HBO and Cablevision, a cable television company that serves areas around New York City. He has control over AMC Networks, MSG Networks, Newsday, and The Madison Square Garden Company.
Charles' son, James Dolan, is the CEO of The Madison Square Garden Company, which owns the NBA's New York Knicks as well as the NHL's New York Rangers. The Dolan family are up there on the list with an incredible net worth of $5 billion.
[post_page_title]Ted Lerner & family: owner of Washington Nationals ($4.9 billion)
Ted Lerner is a real estate developer, and the founder of real estate company Lerner Enterprises, which he runs with his family and has developed more than 20 million square feet of real estate.
Besides real estate, he is also the owner of the Washington Nationals baseball team based in Washington, D.C. He was named by Forbes as the richest person in the state of Maryland in 2015, and has a net worth of $4.9 billion.
Jeremy Jacobs Sr: owner of the Boston Bruins ($4.4 billion)
Jeremy Jacobs Sr. has owned the NHL team, the Boston Bruins, since 1975. He was also listed for multiple years in Sports Business Journal's Most Influential People in Sports, and is a Sports Hall of Fame inductee since October 2006.
He is also the founder of Delaware North, a worldwide business that focuses on hospitality and food service. The company also owns and manages TD Garden, the home of NBA's Boston Celtics and NHL's Boston Bruins. Forbes ranked Jacobs as the 481st richest person in the world, and has a net worth of $4.4 billion.
Terrence Pegula: owner of the Buffalo Bills, Buffalo Sabres ($4.3 billion)
Multi-billionaire Terrence Pegula is a businessman who has made investments in real estate, natural gas, and of course- professional sports teams.
He is the owner of Pegula Sports and Entertainment, which includes full ownership of NHL's Buffalo Sabres and NFL's Buffalo Bills, which he shares with his wife of 24 years, Kim Pegula. Terrence is now sitting pretty on this list with a total estimated net worth of $4.3 billion, not too bad if you ask us!
Joan Tisch: owner of the New York Giants ($4 billion)
Joan Tisch was a billionaire heir to the Tisch family fortune. She purchased a 50 percent share of NFL New York Giants in 1991, and became one of the first ladies of the Giants. Joan was always looking to do some good in her life.
She persuaded Jack Mara, the president of the New York Giants at the time, to donate 400 seats for each home game to disabled fans and their companions. She passed away in November 2017 at the age of 90, and her son Steve Tisch is now in charge of the ownership.
Steve Ballmer – owner of L.A the Clippers ($2 billion)
Steve Ballmer is the owner of the Los Angeles Clippers team of the NBA. This basketball fan was hired by Bill Gates himself to work for him at Microsoft when he was only a university dropout from Stanford University.
Steve rose up the ladder to eventually become the president of Microsoft and then the CEO in 2000 when Gates stepped down. Steve paid $2 billion for the Clippers and in 2014 he officially became the owner. That was a steal fora man with a net worth of $33.1 billion.
Paul Allen – owner of the Seattle Seahawks ($20.7 billion)
Paul Allen is the co-founder of Microsoft right alongside Bill Gates. Paul was listed in 2017 as the 46th richest person in the world with an estimated net worth of $20.7 billion. Paul actually owns two and a half sports teams.
He owns the NFL Seattle Seahawks, the NBA Portland Trail Blazers and he is a part owner of the Major League Soccer team Seattle Sounders FC. The biggest purchase was the Seattle Seahawks which he bought in 1996 for $194 million but the team is currently worth 41.33 billion.
Philip Anschutz – owner of the L.A Kings ($12 billion)
Philip Anschutz amassed his fortune of a net worth of $12 billion by being a savvy investor and an entrepreneur. He bought out his father's drilling company and even co-founded Major League Soccer as well as multiple sports teams.
He partially owns the Staples Centre, the StubHub Centre, and both the Los Angeles Lakers and the Los Angeles Kings. Philip even has his own entertainment corporation. Philip purchased the Los Angeles Kings Hockey team for $113 million in 1995.
Micky Arison – owner of the Miami Heat ($5.9 billion)
Micky Arison was born in Tel Aviv, Israel and has an estimated net worth of $5.9 billion and is the 169th richest individual in the world. He earned that large fortune from being the chairman of the Carnival Corporation which is the world's biggest cruise ship operator.
Micky purchased the Miami Heat NBA team in 1995 for $33 million which was well worth the price since the Miami Heat has won 3 championships and are a team to be reckoned with.
Stanley Kroenke – owner of the L.A Rams ($8 billion)
Stan Kroenke is a businessman that owns Kroenke Sports & Entertainment and many sports teams such as the NBA Denver Nuggets, the NHL Colorado Avalanche, and of course the NFL Los Angeles Rams.
Forbes estimated that Stan is worth approximately $8 billion. It helps that his wife, Ann Walton Kroenke, is the daughter of the co-founder of Walmart and she inherited her father's stake in Walmart which is now worth $4.8 billion. Stan paid a mere $750 million from his fortune to buy the Los Angeles Rams.
Steve Bisciotti – owner of the Baltimore Ravens ($3.3 billion)
Steve Bisciotti became the majority owner of the NFL Baltimore Ravens when he paid $325 million for the team in 2004. This may sound like a big deal, but it's just a drop in the bucket for Steve who has a net worth of $3.3 billion.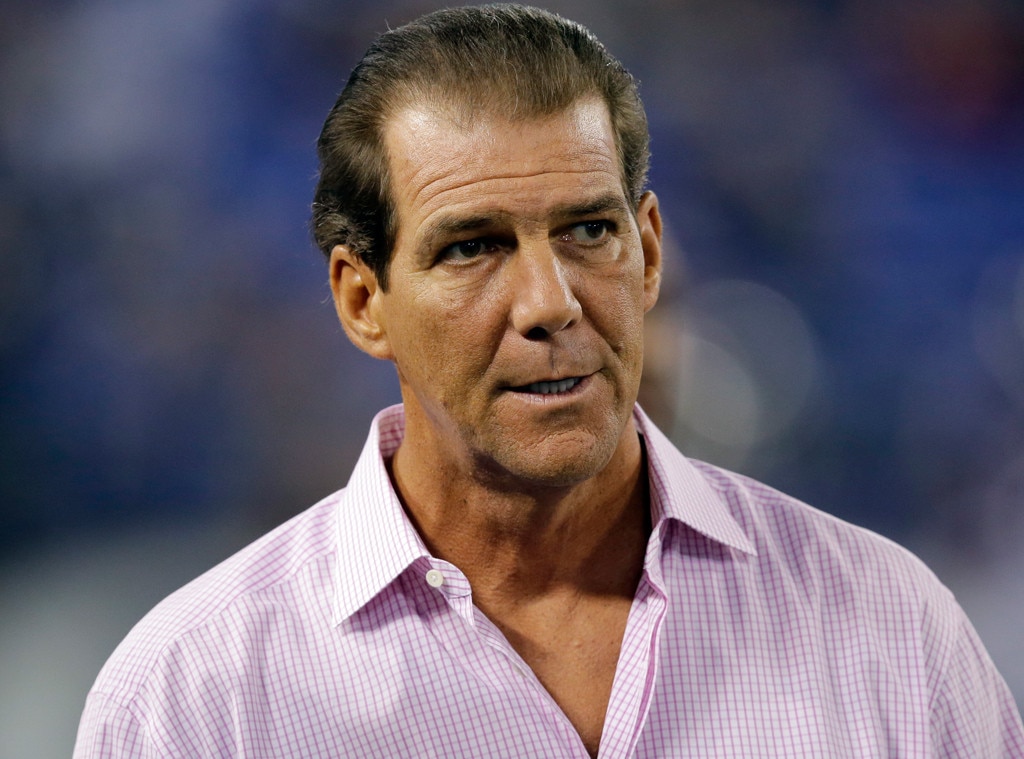 How did he amass this fortune you ask? He came from a working-class family and when he was only 23 years old Steve started a company called Aerotek with his cousin out of his basement. Within their first year, they already grossed $1.5 million in sales.
Robert Kraft – owner of the New England Patriots ($4.7 billion)
Robert Kraft is the CEO if Kraft Group which is multifaceted corporation with assets in sports, entertainment, packaging and paper, real estate development and has its own private equity portfolio.
Robert is both a Columbia and Harvard graduate with a net worth of $4.7 billion. At Columbia Robert even played football himself as a running back and safety. Now he owns the Major League Soccer Team New England Revolution and the NFL New England Patriots, which he paid $172 million for, as well as the stadium that they both play in.