[post_page_title]Beginning of her career[/post_page_title]
It was at just 11 years old that Rousey's mother first started to teach her the ways of judo. The two trained together for two years until Rousey broke her mum's wrist accidentally! After that Rousey began to train professionally with larger men and would become frustrated at not being able to throw them.


By 15 she was welcomed onto the Olympic team for the United States. The following year Rousey was ranked at number one nationally in the half-middleweight section for women, becoming the youngest ever American to receive the title!
[post_page_title]Going for gold[/post_page_title]
Even though Rousey had qualified to be on the Olympic team, she was unable to win a medal at the 2004 Olympics held in the game's home city of Athens. Determined not to end the year medal-less, Rousey amazingly took home gold in Hungary at the world championships for the sport.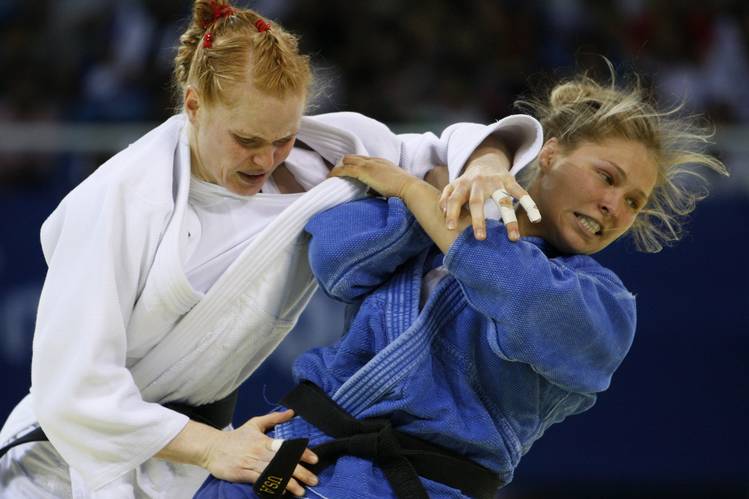 Two years after her success, in 2006, Rousey took home gold in the UK, and was the first U.S. female to win a tournament of A-level in close to 10 years!
Pages:
Page

1
,
Page

2
,
Page

3
,
Page

4
,
Page

5
,
Page

6
,
Page

7
,
Page

8
,
Page

9
,
Page

10
,
Page

11
,
Page

12
,
Page

13
,
Page

14
,
Page

15
,
Page

16
,
Page

17
,
Page

18
,
Page

19
,
Page

20
,
Page

21
,
Page

22
,
Page

23
,
Page

24
,
Page

25
,
Page

26
,
Page

27
,
Page

28
,
Page

29
,
Page

30
,
Page

31
,
Page

32
,
Page

33
,
Page

34
,
Page

35
,
Page

36
,
Page

37